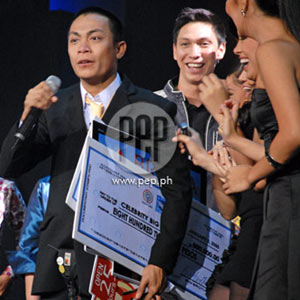 ---

There were a few seats left unoccupied in the patron area butotherwise, all the seats of the Araneta Coliseum were filled up during the BigNight of Pinoy Big Brother Celebrity Edition 2. Last Saturday, January5, a male winner was hailed for the first time since the Pinoy Big Brother franchisewas aired in the Philippines.
Ruben Gonzaga, a comedian from Davao, bested the othercelebrity housemates when he received 32.17 percent or 506,402 votes from theviewing public. As the Big Winner of PBB Celebrity Edition 2, he was given acash prize of P2 million, a Sony Bravia, a Goodah business franchise worth P2million, and a condominium unit from Chateau Valenzuela. His chosen charityalso received a million pesos.
The show started at around 8:30 pm and ended a few minutesbefore midnight. The opening act had a roaring '20s theme, wherein ToniGonzaga, Nikki Gil, Vina Morales and former celebrity housemate Mcoy Fundalesperformed a jazz-inspired song number.
Itwas reported in PEP (Philippine Entertainment Portal) that Riza Santos's fanswere upset with houseguest Mariel Rodriguez after she cursed the Fil-Canadianbeauty queen inside Big Brother's house. However, it wasn't Mariel that gotboos from the crowd but former celebrity housemate Gladys Guevarra who had a confrontation with Will inside the house and left the house voluntarily because she felt she did not fit in with the housemates. She wasunable to attend the Big Night because she had to attend to personal matters inthe United States.
ADVERTISEMENT - CONTINUE READING BELOW
On Day 84 of the reality show, the Big Four—composed ofRuben, Gaby dela Merced, Will Devaughn, and Riza Santos—remained inside the BigBrother house in Quezon City until Kuya gave them the signal to proceed to theBig Dome in Cubao. Even though Jon Avila wasn't able to join the Big Four sincehe was meted with a forced eviction a few days ago, his chosen charity wasstill able to receive a generous amount of P20,000. This amount used in theTower of Coins task of the Big Four went to Tahanang Sta. Luisa, a haven for abused children.
The Big Four also got the chance to spend 100 seconds withspecial persons in their life. Riza's father, Ruel, gave inspirational wordsfor the housemates. Will received a special phone call from his mother, DorisDorman, from Kentucky, U.S.A, causing him to cry and tell his mom, "We're alreadywinners."
Ruben shared his handkerchief with the weeping Will and madelight of the moment by taking it back and saying, "Sa akin 'yang panyo, bro."
ADVERTISEMENT - CONTINUE READING BELOW
Using their native dialect, the Davao housemate talked excitedly withhis uncle whom he affectionately calls Papa Locloc. Ruben introduced him as theman who inspired him to be a comedian. Finally, a man with a sprained leg wasushered inside the confession room. He was actually Gaby's older brother, Jan,who looked so much like the Racing Goddess.

Just like in PBB Season 2, the Big Four were also impersonated by fourcomedians. Tuesday Vargas imitated race car driver Gaby, RS Francisco mimickedmodel-actor Will, Giselle Sanchez was transformed into the beauty queen-militarysoldier Riza and Ricci Chan portrayed the comedian Ruben.
Whenthe votes were finally tallied, it became apparent that the Komedyanteng Promdihad the support of the viewing public. His closest competitor, Riza Santos, got430,135 text votes or 27.33 percent. Third Big Placer Gaby received 406,892text votes (25.5 percent) while model-turned-actor Will Devaughn landed in fourthplace with 230,509 text votes (14.65 percent).
The Big Winner emerged onstage as fireworks lit up the BigDome and a huge star was shown in the background. Ruben jumped up and down forjoy and told the crowd: "Ang pangarap ng taong bayan natupad na! Maramingsalamat po!"
ADVERTISEMENT - CONTINUE READING BELOW
Ruben is the first male winner of
Pinoy Big Brother,
after Nene Tamayo (First Season), Keanna Reeves (Celebrity Edition 1), KimChiu (Teen Edition), and Beatriz Saw (Second Season).
Click
MORE PICTURES
to view photos of the event.