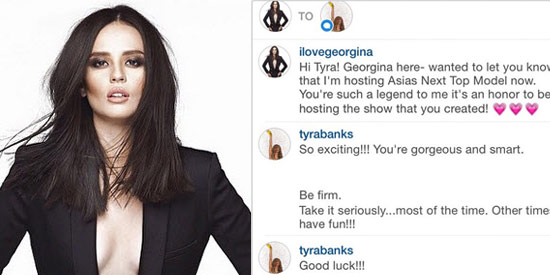 ---

Georgina Wilson says it felt "surreal" receiving positive messages from supermodel Tyra Banks.

Georgina, who is set to host Asia's Next Top Model Cycle 3, sent a message to Tyra, the creator and host of the American modeling competition.

In her Instagram account, the British-Filipina model posted a screencapture of the messages she exchanged with Tyra.

Georgina told Tyra (published as is): "Hi Tyra! Georgina here- wanted to let you know that I'm hosting Asias Next Top Model now. You're such a legend to me it's an honor to be hosting the show that you created!"

Tyra responded by saying: "So exciting!!! You're gorgeous and smart. Be firm. Take it seriously...most of the time. Other times, have fun!!!

"Good luck!!!"

Georgina provided this caption to accompany the said screencapture: "Most surreal instagram message!!! @tyrabanks I will forever love you!"






The Asian franchise of the American reality show was previously hosted by Nadya Hutagalung.

International model Joey Mead King returns as mentor and judge.

Fashion designer Alex Perry will serve as a creative director/judge for AsNTM Season 3. He previously served as a judge in Australia's Next Top Model.



ASNTM IN THE PHILIPPINES. Manila has the distinction of being the first city where auditions were held for Asia's Next Top Model Season 3.

Beach House Pictures Senior Development Producer Marc Checkley previously told the Philippine media:

"It was so important for such a show like Next Top Model to open the open casting in Manila. We've got so many characters coming out of the online applications, so coming here and launching open casting for here and the subsequent countries was a fantastic idea."

Members of the press were given a sneak peek of the girls who arrived for the open casting. It was clear that for many girls, this was their first time to be surrounded by so many lights and cameras and press people. Then of course there were the seasoned veterans, like members of Professional Models Association of the Philippines (PMAP) who are used to the bright lights of the Philippine fashion runways.

It was evident as well that Marc Checkley, along with Lourd Ramos and other members of the Season 3 casting crew of AsNTM were beyond excited to have such a diverse range of girls arrive for open casting.

Marc Checkley predicts, "that model house will be a great mixture of personalities. It's gonna be in Singapore, like Season 1. We're taking it back to Singapore but really stepping it up a different level."

What will set this season apart from the previous two seasons? Marc explains, "we think the last two seasons have been excellent but what gets lost sometimes in the reality aspect is the fashion-centric nature of the show. We wanna marry the great characters but really make it fashion-centric, Asian fashion-centric but of an international level and some of the stylists and the labels we're working with are on that level. It's really exciting, their interest in us and their passion to support the modeling industry here."

A distinguishing feature of AsNTM Season 3 is this, says Marc Checkley, "it's really going back to glam, I think there is a real big push of making the show about glam again."

Does it mean that some girls from some countries will automatically be at an advantage given such a push?

Marc says not really and promises a level playing ground because "with Next Top Model, every country does it differently. But we wanna keep pushing the boundaries, the limit, for every model to be excellent at international level tasks. So when they do make it to Europe, when the winner is announced, they know exactly what the international runway is about."

What Marc is basically saying is that there will be a balance between the reality aspect of the show -- telling the girls' stories and highlighting personalities while the meat of it is really the modeling.

He points out: "we wanna have characters that really want to be models and are really gonna push for models, and thirdly, international level models. We want them to be known internationally out of Asia, taking Asian celebrities and stylists and making them international models."

Are they then looking for anything or anyone in particular? Marc quickly answers, "part of the casting is finding out what makes the girls tick and using that to make them international models. We don't just want them to be girls that can pose. We want them to be girls with stories, and who are determined to model and that's their only dream and they'll stop at nothing. Because once they're all in the same house, you're gonna have twelve, thirteen girls competing, we really need to see what it takes."

Since Filipinos are traditionally the ones who are vertically-challenged when it comes to modeling and beauty competitions, does AsNTM have any tips on how the Filipinas vying for a spot can compensate for this?

Marc explains, "we've been seeing a real range of girls and the height thing, we're not having an issue yet. Yes, international models need to be in the 170's cm, but we are seeing really strong girls who are meeting that height but also have great stories and I think what we're trying to do is marry the best of what a model requires on an international level but then those Asian stories and Asian characters that make Asia's Next Top Model a signature brand in the region.

"Modeling is more than just the height and the poses."

He continues, "you're looking at what attitude they bring. We're not gonna discount a girl just because she's a 165cm but she has amazing attitude and determination and personality to make it to the top. We're open and the casting process has been really rewarding."

For Marc, there's definitely more to getting into and winning AsNTM than just the poses. "It's more about just what is required of an international model and so the challenges, no matter what the location is, the challenges are really key to testing the girls, their patience, their passion, but also, see what they can bring, what they're bringing to the competition."

He concludes by sharing that AsNTM has opened many doors for Asians into the worldwide fashion scene.

"That's the big thing. We are slowly getting more Asians into Europe, be it on their own accord, through their agencies or through shows like this."

How will former contestants Jodilly Pendre and Katarina Rodriguez be figuring in AsNTM Season 3?

Lourd Ramos, a casting member of Season 3, points out that Jodilly and Katarina are an inspiration for the Filipina contestants because of what they have achieved.

Jodilly emerged as the first runner-up while Katarina
was named as second runner-up. Malaysia's Sheena Liam was chosen as the winner of Asia's Next Top Model Cycle 2.

Lourd recalls: "During the second season when we went to Malaysia, the two Filipinos they nailed it. And they're bringing it back to Manila, in showing them this is the proper way an Asian model should be walking in the runways and catwalks of Europe and America. I am just very proud of Jodilly and Katarina. They're doing well!

"Katarina is one of the favorites of the billboards, meanwhile Jodilly is doing so good in the runways abroad.

"We're seeing a lot of good things with our models and aspirants right now. I think they started it. From season 1 to the second season, they're trying to carbon copy everything and learning them, 'oh I should be Jodilly, oh I should be Katarina.'

"It is a good thing, but they cannot forget that it has to be original, it has to be at par with international levels."
ADVERTISEMENT - CONTINUE READING BELOW
SHARE THIS STORY Asia's Next Top Model Cycle 3" data-url="https://www.pep.ph/guide/tv/14910/tyra-banks-wishes-georgina-wilson-good-luck-as-she-hosts-asia39s-next-top-model-cycle-3" data-desc="Tyra Banks told Georgina Wilson: "You're gorgeous and smart. Be firm. Take it seriously...most of the time. Other times, have fun!!!"" data-image="https://contents.pep.ph/images2/guide/f38e2d843.jpg"> Asia's Next Top Model Cycle 3" data-url="https://www.pep.ph/guide/tv/14910/tyra-banks-wishes-georgina-wilson-good-luck-as-she-hosts-asia39s-next-top-model-cycle-3" data-desc="Tyra Banks told Georgina Wilson: "You're gorgeous and smart. Be firm. Take it seriously...most of the time. Other times, have fun!!!"" data-image="https://contents.pep.ph/images2/guide/f38e2d843.jpg"> Asia's Next Top Model Cycle 3" data-url="https://www.pep.ph/guide/tv/14910/tyra-banks-wishes-georgina-wilson-good-luck-as-she-hosts-asia39s-next-top-model-cycle-3" data-desc="Tyra Banks told Georgina Wilson: "You're gorgeous and smart. Be firm. Take it seriously...most of the time. Other times, have fun!!!"" data-image="https://contents.pep.ph/images2/guide/f38e2d843.jpg">
SHARE THIS STORY
Asia's Next Top Model Cycle 3" data-url="https://www.pep.ph/guide/tv/14910/tyra-banks-wishes-georgina-wilson-good-luck-as-she-hosts-asia39s-next-top-model-cycle-3" data-desc="Tyra Banks told Georgina Wilson: "You're gorgeous and smart. Be firm. Take it seriously...most of the time. Other times, have fun!!!"" data-image="https://contents.pep.ph/images2/guide/f38e2d843.jpg"> Asia's Next Top Model Cycle 3" data-url="https://www.pep.ph/guide/tv/14910/tyra-banks-wishes-georgina-wilson-good-luck-as-she-hosts-asia39s-next-top-model-cycle-3" data-desc="Tyra Banks told Georgina Wilson: "You're gorgeous and smart. Be firm. Take it seriously...most of the time. Other times, have fun!!!"" data-image="https://contents.pep.ph/images2/guide/f38e2d843.jpg"> Asia's Next Top Model Cycle 3" data-url="https://www.pep.ph/guide/tv/14910/tyra-banks-wishes-georgina-wilson-good-luck-as-she-hosts-asia39s-next-top-model-cycle-3" data-desc="Tyra Banks told Georgina Wilson: "You're gorgeous and smart. Be firm. Take it seriously...most of the time. Other times, have fun!!!"" data-image="https://contents.pep.ph/images2/guide/f38e2d843.jpg"> Asia's Next Top Model Cycle 3" data-url="https://www.pep.ph/guide/tv/14910/tyra-banks-wishes-georgina-wilson-good-luck-as-she-hosts-asia39s-next-top-model-cycle-3" data-desc="Tyra Banks told Georgina Wilson: "You're gorgeous and smart. Be firm. Take it seriously...most of the time. Other times, have fun!!!"" data-image="https://contents.pep.ph/images2/guide/f38e2d843.jpg">