Kontrabidas have come a long way.

In the past, kontrabidas were only known to make the lives of the bidas a living hell.
That was it.

While that type of malevolence still exists today, our ever-growing pools of writers have since resurrected the kontrabida with new attributes, new takes, new dimensions, adding to the richness of the storytelling.
A great deal of this is thanks to the regular, ever-growing churn of seryes on television, unarguably the biggest production house of stories today.

So phenomenal are these seryes, a word has actually been coined for them: teleserye.

And the word has stuck. See how you don't need to italicize the word? It's become part of the lexicon.

These teleseryes shine, of course, with the big stars and big love teams they have for leads. These stars, after all, the same big names that can dominate movie box-office returns, and having them on free TV is a treat.

But, really, where would these big beautiful stars be without a story? And where is a story without conflict, without tension, without trouble? In other words, without a kontrabida?

In local television, dominated by ABS-CBN and GMA-7, the kontrabida has been resurrected in a particularly modern fashion: as sexy, sometimes even soft and soulful, sensual, attractive.
No longer are they the stereotypical frowning, aged, ugly, revolting kontrabidas who, without having uttered one word, make you jump out of your skin.

This, of course, means that a number of teleseryes are going the route of the sensual. There is a third party, there is lust, there is evil committed in the name of passion.

And thanks to really talented actors—steamy and cunning females; hot and conniving males—these kontrabidas come to life and, yes, make the bida's life a living hell.
PEP.ph (Philippine Entertainment Portal) puts out a LIST OF 12 HOT KONTRABIDAS.
YAM CONCEPCION AS JADE BARTOLOME IN HALIK (2018-2019)
Jade Bartolome is the wife of Lino (Jericho Rosales) who is discontented with the middle-class life Lino has been providing her. Meeting the rich and good-looking Ace (Sam Milby), Jade engages in an affair with him, believing that he can provide her with the life that she really wants. Jade abandons Lino. Yam's portrayal of Jade is so effective, she started receiving hate messages from viewers who called her "malandi!"
HOT KONTRABIDA MOMENT: Jade is seductive and sexy and catches the attention of Ace in no time. He cannot erase her from his mind. He actually has a wild dream of Jade seductively removing her bathrobe and appearing before him only in a sexy lingerie. The dream escalates quickly, Ace suddenly finds himself naked, and Jade is on top of him. But, the dream does not reach its climax. Jacky wakes up to find a perspiring Ace, and thinks that her husband is having a bad dream.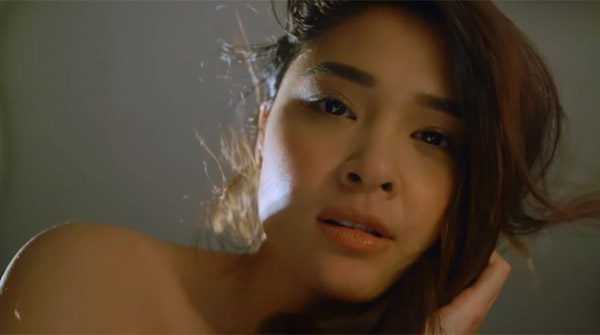 SAM MILBY AS ACE CORPUZ IN HALIK (2018-2019)
Ace Corpuz (Sam Milby) is the husband of Jacky (Yen Santos), who willingly gets into an illicit affair with Jade (Yam Concepcion). Jade happens to be the wife of Lino (Jericho Rosales), Jacky's ex-boyfriend. Ace's obsession with Jade and his desire to take over Jacky's family business cause him to manipulate the people around him and plot to destroy Lino.
HOT KONTRABIDA MOMENT: Ace and his mistress Jade are making in love in the terrace, with Ace wearing only black boxer shorts. Their lovemaking turns too steamy and they move to the bathroom. While in the throes of passion, Jade tells Ace that she wants their kids to look like him!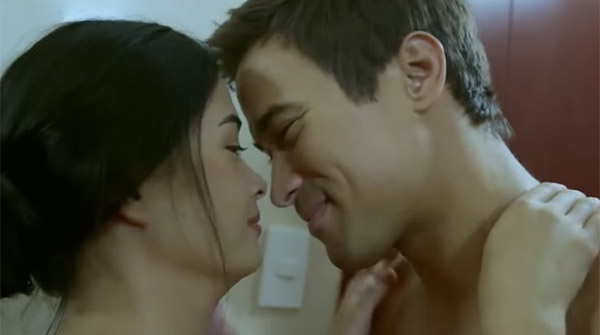 KATRINA HALILI AS ANGELIKA SANTIBANEZ IN MARIMAR (2007-2008)
In the original version of MariMar starring Thalia, Angelika Santibanez is the stepmother of Sergio Santibanez who despises the innocence and good fortune of Marimar.
But in GMA-7's 2007 adaptation of MariMar, Angelika (Katrina Halili) is the former girlfriend of Sergio (Dingdong Dantes) who marries his father Renato (Richard Gomez) for his wealth. Sergio decides to marry the impoverished Marimar (Marian Rivera) as his vengeance to Angelika and Renato. Angelika, still in love with Sergio, makes Marimar's life a living hell.
HOT KONTRABIDA MOMENT: One of the show's iconic scenes is Angelika and Marimar's swimsuit showdown that leads to a catfight. While Marimar and her fiance Rodolfo (Marvin Agustin) are in a double date with Angelika and Sergio by the poolside, Angelika wants to steal attention and changes into a sexy swimsuit that shows off her curves very well. She then insults Marimar and calls her "manang."
To give Angelika a taste of her own medicine, Marimar changes into a sexier bikini, which catches Sergio's attention. The jealous Angelika tries to splash wine on Marimar, but her plans do not succeed because Marimar pushes Angelika into the pool! The confrontation scene heats up after Marimar calls Angelika "malandi" and Angelika slaps her, but the rumble is cut short after Marimar pushes Angelika again into the pool and walks out. Sergio is unable to defend to Angelika. Instead, he follows Marimar with his glance.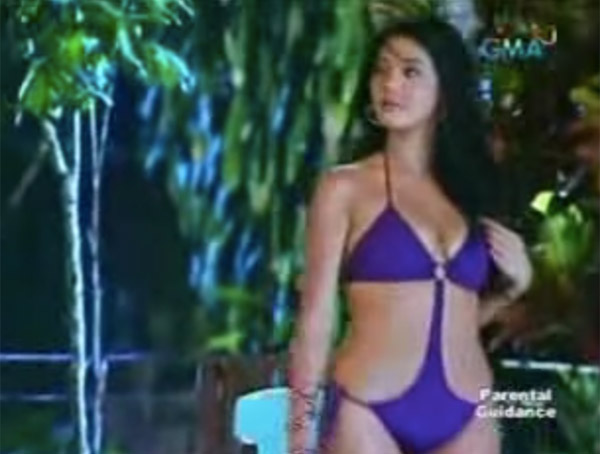 ELLEN ADARNA AS TAMARA IN MOON OF DESIRE (2014)
Ellen Adarna's first project in ABS-CBN is in sync with her sexy image. She portrays Tamara, the bestfriend of Jeff (JC De Vera) who still has feelings for him. She uses her body and looks to win him back. It is Ellen's first project with ABS-CBN after leaving GMA-7 in 2013.
HOT KONTRABIDA MOMENT: Tamara's first scene showcases Ellen Adarna's sexy body when, wet from the pool and wearing a red bikini, she runs to Jeff whom she misses a great deal. She even gets Jeff's blue polo wet after hugging him!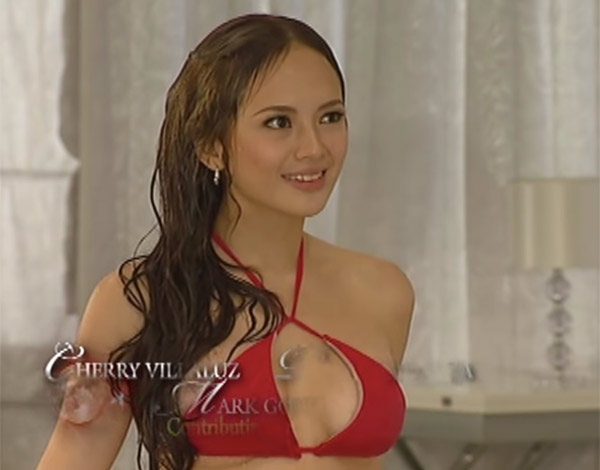 ALBIE CASINO AS JIGGS IN ON THE WINGS OF LOVE (2015-2016)
Jiggs (Albie Casino) is the short-tempered boyfriend of Leah (Nadine Lustre). Leah breaks up with him when she pushes through with her plans of working in San Francisco. To extend her visa, Leah agrees to a marriage of convenience with Jiggs's cousin, Clark (James Reid), which eventually makes Jiggs extremely jealous. Jiggs follows Leah and his mother Jack (Cherry Pie Picache), and tries to win Leah back, who has already fallen in love with Clark.
The role of Jiggs was originally assigned to Arjo Atayde, but he had to be pulled out of the show to become part of FPJ's Ang Probinsyano.
HOT KONTRABIDA MOMENT: Jiggs gets things really steamy when he starts living with Clark and Leah under one roof. At breakfast one time, Jiggs bares his toned body and engages in an abs-and-muscles showdown with Clark.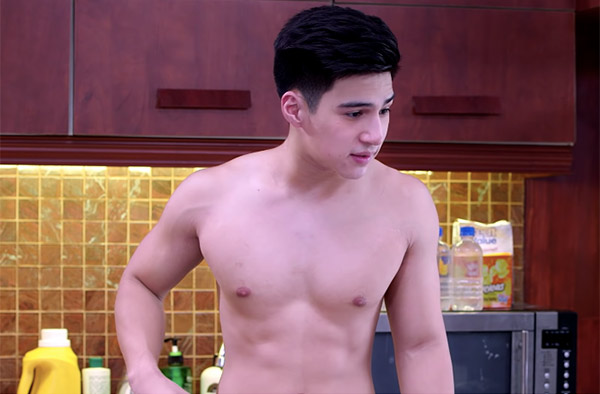 KRIS BERNAL AS ROSETTE IN IMPOSTORA (2017-2018)
Rosette (Kris Bernal) is the social-climbing wife of Homer (Rafael Rosell) who only married him for his money. She eventually decides to elope with her true love, Jeremy (Ryan Eigenmann), a plastic surgeon. Rosette and Jeremy then get the ugly Nimfa (Kris Bernal), to undergo plastic surgery and have the face of Rosette. This way, Nimfa can pretend to be Rosette in the household of Homer. But Rosette realizes that she wants to return to Homer, so she plots to evict Nimfa, who is now in love with Homer and his family.
HOT KONTRABIDA MOMENT: In one of the show's love scenes, Rosette sneaks into Homer and Nimfa's bedroom and pretends to be Nimfa. She starts undressing and kissing Homer. While Rosette is on top of Homer—with him kissing her neck passionately—Nimfa opens the door and sees the two. Rosette, seeing Nimfa, maintains eye contact with her as she prods Homer to continue with their lovemaking.
The love scenes in Impostora looked so steamy and real, they caught the attention of the Movie Television Review and Classification Board (MTRCB). Kris comments about the scene being called out by the MTRCB: "Ibig sabihin, pwede pala ako gumawa ng love scene, believable pala yung love scene na ginagawa ko!"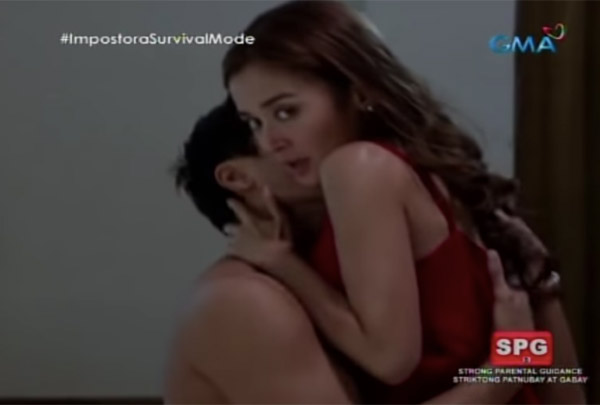 MARCO GUMABAO AS MATTEO CARDINAL IN LOS BASTARDOS (2018-2019)
Matteo Cardinal is the third illegitimate son of Roman Cardinal (Ronaldo Valdez), after a one-night affair with Maddie Silverio (Joyce Ann Burton), the abused wife of Menandro (Lito Pimentel). The Silverios are the business rivals of the Cardinals. Living in a house without love and full of cruelty, Matteo grows up to be a bad son. Even after learning who his real father is, Matteo chooses to side with the Silverios to wreak havoc on the lives of his brothers and father.
HOT KONTRABIDA MOMENT: To orchestrate his plans and become powerful again, Matteo seduces Nina (Sarah Jane Abad), the right-hand woman of Catalina (Jean Saburit), and get her on his side. Matteo succeeds with his plan. Nina kisses him passionately while they stand outside his car, then pushes him inside to continue making out.
RK BAGATSING AS DAVID IN ARAW GABI (2018)
David (RK Bagatsing) is a doctor who suddenly appears in the life of Mich (Barbie Imperial) and Adrian (JM de Guzman). Turns out, David is plotting his revenge against Adrian, who David believes is the reason his ex-girlfriend died. Part of David's scheme is to steal Mich away from Adrian, but he ends up falling in love with her. Araw Gabi is RK's follow-up project after the success of Wildflower.
HOT KONTRABIDA MOMENT: David's first appearance in Araw Gabi makes him out to be a knight in shining armor, appearing before Mich when she needs big help after her taxi breaks down. David removes his shirt, revealing his toned, six-pack abs, to help the driver fix the taxi. He also asks Mich to hold his shirt for him. Catching Mich's attention are David's confidence and kind heart, or so she thinks.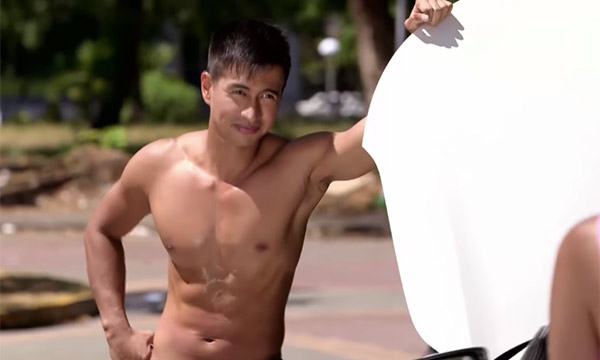 KIM DOMINGO AS AGATHA IN JUAN HAPPY LOVE STORY (2016)
Newlywed couple Juan (Dennis Trillo) and Happy (Heart Evangelista) begin to have challenges in their married life, as their personality differences surface. With relationships, Happy remains conservative, while Juan has always been adventurous. Juan later finds company in Agatha (Kim Domingo), who is ready to fulfill the desires of Juan that Happy cannot give him. Agatha becomes Juan's mistress.
HOT KONTRABIDA MOMENT: Agatha tries to win Juan back when she sees he's slowly losing interest in her. In one of the nights they spend together, Agatha dresses as a sexy catwoman, complete with rope, and she ties a topless Juan in bed. Unfortunately, despite the roleplay, Juan and Agatha are unable to satisfy their needs. The night ends up with Agatha calling Juan "naughty"... which stands for "no tigas."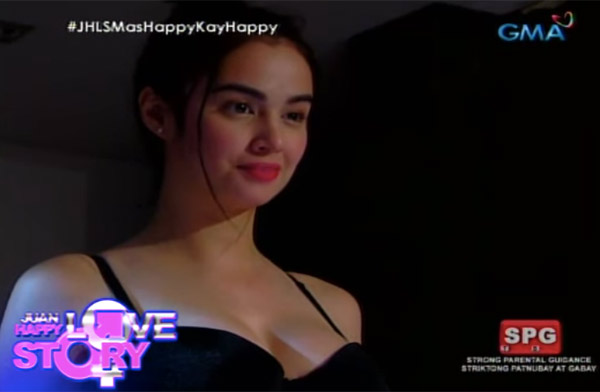 DERRICK MONASTERIO AS LANCE DECENA IN BEAUTIFUL JUSTICE (2019-2020)
Lance Decena (Derrick Monasterio) is a PDEA agent engaged to his long-time girlfriend, Brie Cuevas (Gabbi Garcia). In a failed PDEA operation where a yacht explodes, Lance goes missing. This leads Brie to believe Lance is dead. Weeks later, Lance resurfaces and is shown now on the side of the drug syndicate the PDEA was trying to bring down. With his return, Brie's newfound romance with Lance's friend, Vin Ocampo (Gil Cuerva), is cut short.
HOT KONTRABIDA MOMENT: Lance goes ballistic after finding out that Vin and Brie are involved with each other, even after he had faked his death. This results in a wild shower-room confrontation between Lance and Vin. Both fresh from the shower and only covered in towels, Lance challenges Vin to a fight that turns into a brawl between two topless men, good enough to show their abs, muscles, and fighting skills.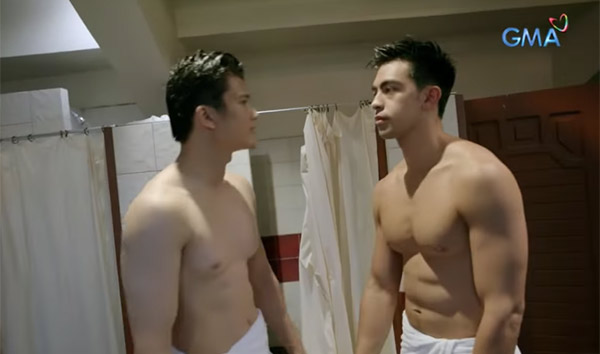 ANDREA TORRES AS JULIET SANTOS IN THE BETTER WOMAN (2019)
Juliet (Andrea Torres) is the long-lost twin sister of Jasmine (also played by Andrea). After years of estrangement, Juliet lives under one roof with Jasmine and her husband, Andrew (Derek Ramsay). Things get hot and intense when Juliet, who has always been jealous of her sister Jasmine's life, engages in an affair with Andrew.
HOT KONTRABIDA MOMENT: Juliet decides to do some night-swimming when she catches Andrew in the kitchen. Wearing a sexy black nightgown, she throws Andrew a seductive look as she goes to the pool. She then checks out Andrew, who is in fact secretly peeking through the window. Juliet then slowly, seductively, removes her whole nightgown, and goes into the pool naked. A stunned Andrew continues to watch her, coming to his senses only after he breaks a figurine beside him. After seeing Andrew walk away from the window, Juliet says, "Mukhang may hindi makakatulog ngayong gabi."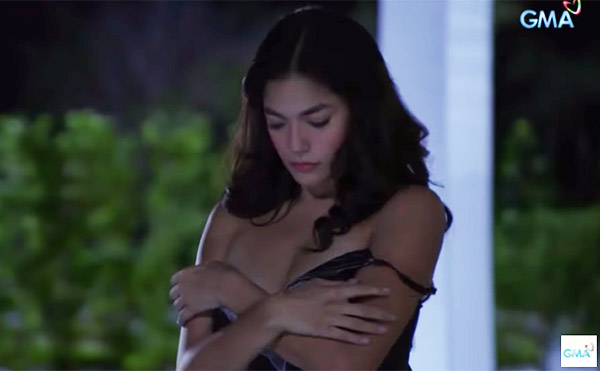 DAVID LICAUCO AS KOBE GENEROSO IN TODA ONE I LOVE (2019)
Kobe (David Licauco) is the only son of the corrupt mayor, Dyna Generoso (Gladys Reyes). He dislikes his mother's way of running their town. His heart is captured by Gelay (Kylie Padilla), the president of their city's tricycle driver's association. However, Gelay does not reciprocate his feelings and, instead, chooses her bestfriend Emong (Ruru Madrid). This causes Kobe to turn dark, plotting to get Gelay back.
HOT KONTRABIDA MOMENT: Kobe catches Gelay's attention when she finds him having trouble with his car. Gelay is stunned after seeing that Kobe is topless, which bares his toned abs. While talking to a topless Kobe, Gelay is obviously distracted because she can't help but take a peek at his abs.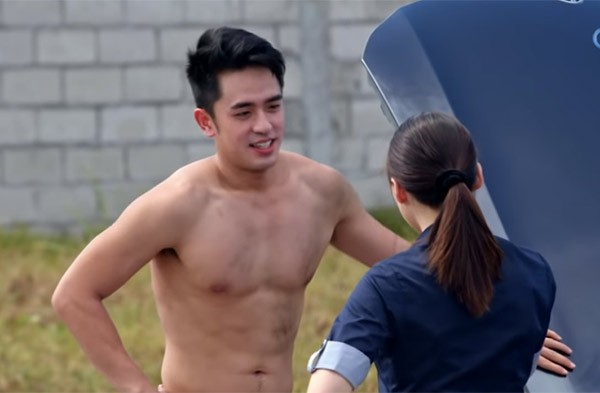 Who do you consider as the hottest kontrabida? Cast your vote in this PEP.ph poll: