Tales about infidelity do not only work in Pinoy teleseryes, they definitely work just as well in Korean dramas.
Currently, one of the most talked-about Korean dramas—easily recognizable as K-Drama—in South Korea and the Philippines is A World of Married Couple.
Marketed in Korea as The World of the Married, this K-Drama tells the story of family doctor Ji Sun Woo (Kim Hee-ae) who believes her family is picture-perfect. She is happily married to her husband Lee Tae Oh (Park Hae Joon) and has a good relationship with her son Jeon Jin Seo (Lee Jeon Young).
Sun Woo's life starts to fall apart when she finds out that her husband has been cheating on her.
The K-Drama started airing on South Korea's cable TV channel JTBC on March 27, 2020. It surpassed the ratings of the hit drama series, Itaewon Class, which top-bills Park Seo Joon.
Right here, social media has been abuzz about this K-Drama, which Filipinos are able to access via the streaming site Viu.
But even before A World of Married Couple became popular in the Philippines, K-Dramas have already been introduced locally through the two top TV networks, ABS-CBN and GMA-7.

These K-Dramas have infidelity for their theme.
Dubbed in Filipino, most of these K-Dramas are warmly accepted by the Filipino audience, to go by the show's ratings.
PEP.ph (Philippine Entertainment Portal) looks at eight infidelity-themed K-Dramas aired in the Philippines in the past years.
Take note that their titles are the titles used in the K-Drama's Philippine broadcast.
1. Temptation of Wife
Original broadcast in Korea: 2008, SBS
Philippine broadcast: 2010-2011, GMA-7
Temptation of Wife tells the story of Angeline (Jang Seo-Hee), who is majoring in make-up artistry, and whose plans of studying in France are halted after she unexpectedly gets pregnant by Marcel (Byun Woo-Min). Angeline decides to give up her dreams and marries Marcel to become a full-time mother, but an unfortunate incident causes Angeline to miscarry.
Years later, Angeline's cousin and best friend, Heidi (Kim Seo-Hyung), returns after five years of studies in France. Angeline will discover that Marcel has been cheating on her with Heidi. To add insult to injury, Heidi reveals that it was Marcel who funded her studies in France, and that she has a child with him. This prompts Angeline, who is now pregnant again with Marcel's child, to file for divorce.
Learning about Angeline's pregnancy, Heidi and Marcel talk Angeline into getting an abortion, but Angeline refuses. At one point, Marcel brings Angeline to a beach, and throws her necklace to the sea. Angeline tries to retrieve the necklace, but she is dragged by the waves and goes missing. Believing that Angeline is dead, Marcel and Heidi use the opportunity for themselves. They fake Angeline's death as a suicide.
Angeline later resurfaces, and with the help of Nigel (Lee Jae-Hwang), assumes the identity of Chantal to take revenge on Heidi and Marcel.
Because of the success of Temptation of Wife in Korea, its producers did two more Wife series: Two Wives (2009) and Wife Returns (2009-2010). The three shows would be called the "Wife Trilogy."

Two Wives aired on ABS-CBN, while Wife Returns aired on GMA-7.
Temptation of Wife, one of the first K-Dramas about infidelity to air in the Philippines, was received well by the Filipino audience during its GMA-7 run.
Based on AGB Nielsen data, Temptation of Wife ranked first in the Top 10 daytime programs several times, beating Eat Bulaga! and other local teleserye productions in the two networks.
Because of Temptation of Wife's success, GMA-7 immediately aired a primetime rerun in 2011.
In 2012, the Kapuso network produced a Philippine adaptation of Temptation of Wife, with Marian Rivera, Dennis Trillo, Glaiza de Castro, and Rafael Rosell playing the four lead roles.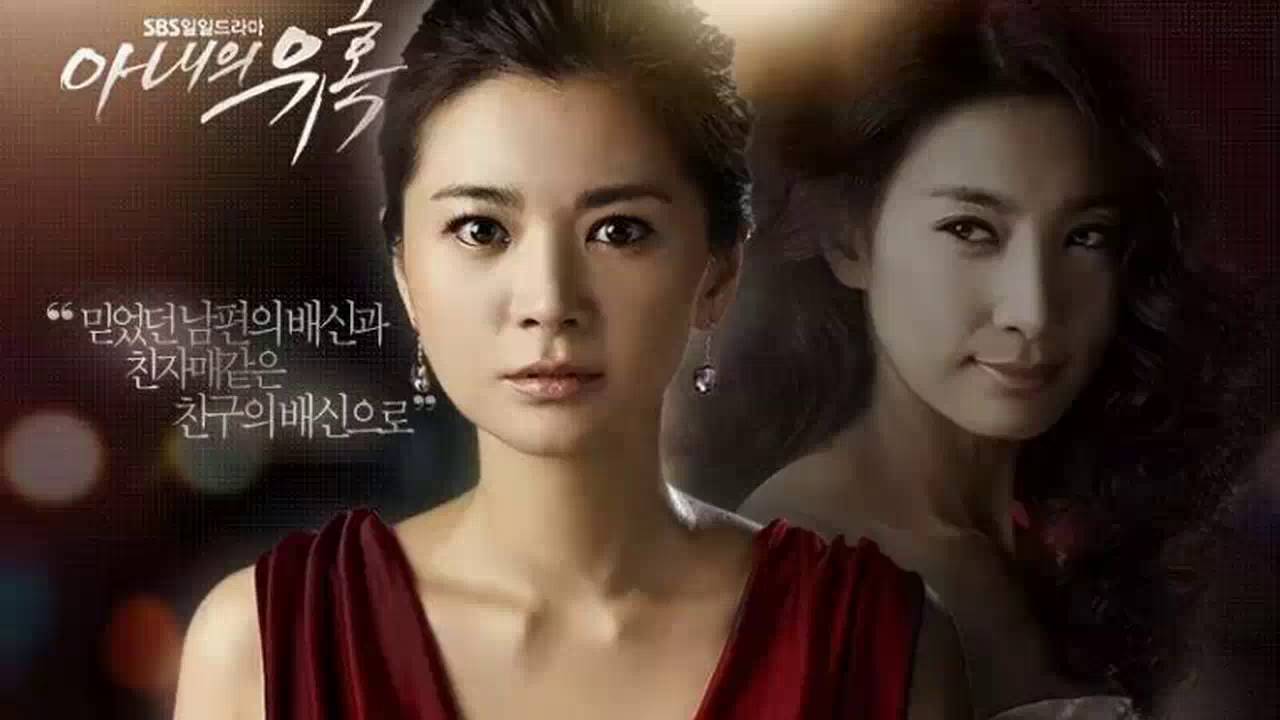 2. Two Wives
Original broadcast in Korea: 2009, SBS
Philippine broadcast: 2012-2013, ABS-CBN
Two Wives tells the story of married couple Yvonne (Kim Ji-Young) and Victor (Kim Ho-jin). Yvonne believes that her family is perfect. They don't live a lavish life, but she has a loyal husband and an adoring son.
Yvonne will discover that her husband is having an affair with Janine (Son Tae-young), a single mom. Victor has fallen so madly for Janine, he wants a divorce from Yvonne.
After several attempts to save her family, Yvonne comes to her senses and signs the divorce papers. She even orders flowers from Janine's shop for her and Victor's "divorce celebration."
Victor and Janine are already living the life they want when Victor meets a car accident. This causes Victor to have selective amnesia, which erases his memories with Janine.
Yvonne and Janine play along with the setup until Victor recovers from his condition.
Two Wives is the second installment of Korea's "Wife Trilogy," with Temptation of Wife as its predecessor. Temptation of Wife aired in GMA-7 in 2010, two years before Two Wives had its Philippine run.
Two Wives premiered on ABS-CBN's "Umaganda" block at 10:00 a.m. in July 2012, back-to-back with the local drama series Be Careful with My Heart.
Two Wives and Be Careful with My Heart both prooved their success in the ratings game. According to Kantar Media ratings, during their run Two Wives would often place second only to Be Careful with My Heart in the Top 10 daytime programs.
The success of Two Wives with the Filipino audience prompted the Kapamilya network to do a remake, with Kaye Abad, Jason Abalos, and Erich Gonzales as the lead actors.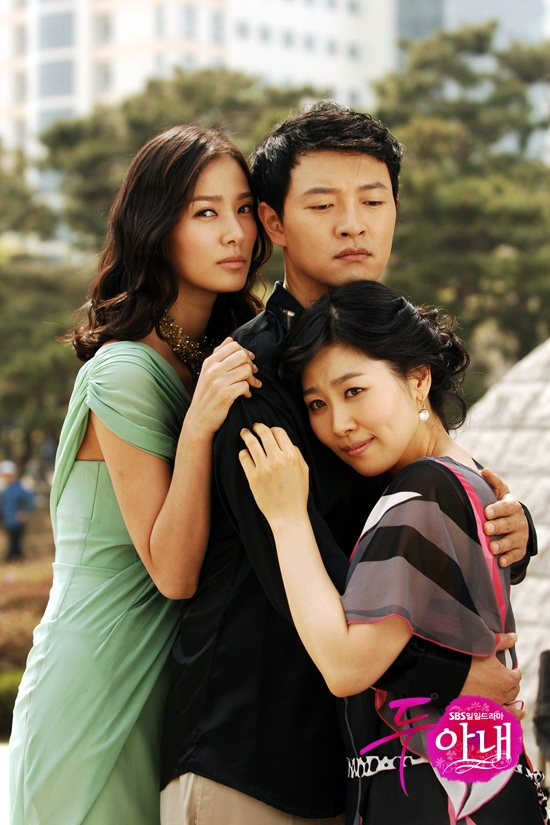 3. Angel's Temptation
Original broadcast in Korea: 2009, SBS
Philippine broadcast: 2012, GMA-7
Angel's Temptation, also known as Temptation of an Angel in Korea, tells the story of Angelo Ahn (Bae Soo Bin), who wakes from a coma and undergoes plastic surgery to get back at the people who wronged him, particularly his wife, Anna Joo (Lee So Yeon).
It is touted as the male version of Temptation of Wife because it also tackles infidelity and revenge.
Cedric Shin (Hang Sang Jin) is the son of businessman Larry Shin who marries Anna Joo.
Anna Joo has been planning revenge against Larry Shin and his family. Anna has long believed that Larry Shin has something to do with the death of her parents when she was still a child. Part of Anna's schemes is to marry Cedric.
Cedric, who has fallen deeply in love with Anna, later finds out about Anna's plans and her secret lover. Cedric confronts Anna while he is driving in the rain, and gets into an accident. Cedric falls into a coma.
After some time, Cedric miraculously wakes up from his coma. It is then that he plots his revenge on Anna. Cedric undergoes plastic surgery to completely change his appearance. He returns to Anna's life as Angelo Ahn.
Angel's Temptation is part of GMA-7's short-lived Koreanovela block called K-Prime. It aired in the last slot of GMA Telebabad at 10:00 p.m.
Angel's Temptation, though not as successful as Temptation of Wife in the Philippines, still registered decent figures in the ratings. According to AGB Nielsen, Angel's Temptation beat ABS-CBN's newscast Bandila throughout the K-Drama's run.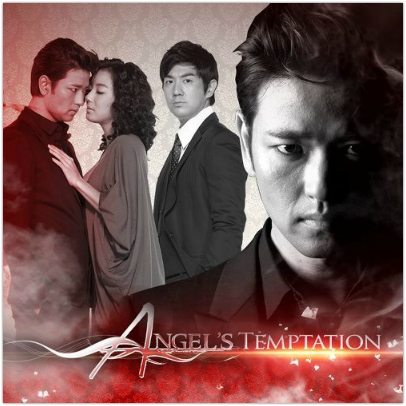 4. You're Still The One
Original Korean broadcast: 2012, SBS
Philippine broadcast: 2013, ABS-CBN
You're Still The One, known in Korea as Still You, tells the story of a couple who had to give up their marriage to save each other.
Susan (Shin Eun-Kyung) and Nelson (Kim Seung-Soo)'s marriage goes through a rough period when Nelson's shampoo business falls apart. Nelson's business troubles cause his debts to pile up, which leads Susan to nearly selling her organs.
To solve their problems, Nelson seeks the help of his ex-flame Sheree (Wang Bit-Na), the heiress of a big business company. However, her every help comes with a price. Sheree agrees to help Nelson on one condition: he has to pretend to be Sheree's fiance. Sheree's personal agenda is get back Nelson.
Nelson and Susan do not agree to Sheree's terms until Nelson is imprisoned because of his debts. Susan pleads to Sheree to help them.
As soon as Nelson receives Sheree's help, Susan and Nelson undergo a legal divorce but continue to live as a happy family. But this becomes a challenge when Sheree insists on her plans of marrying Nelson.
You're Still The One served as the follow-up offering of ABS-CBN in the daytime slot, following the success of Two Wives.
Unfortunately, You're Still The One was not able to replicate the success of Two Wives in the ratings.
Even then, its Philippine theme song, "Alipin Ako," performed by Liezel Garcia, became a radio hit.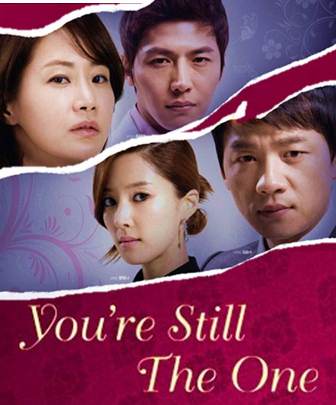 5. Crazy Love
Original Korean broadcast: 2013, tvN
Philippine broadcast: 2013-2014, ABS-CBN
Crazy Love tells the story of Michelle (Park Sun-young) and Rupert (Go Se-won), two people who build a friendship in the midst of their respective marriage problems.
Michelle discovers that her husband is having an affair with his secretary, while Rupert is tired of his possessive wife who keeps nagging him.
Michelle and Rupert later meet at a time when they are about to give up on their respective relationships. As they find a common ground, Michelle and Rupert become friends, but the friendship develops into a secret affair.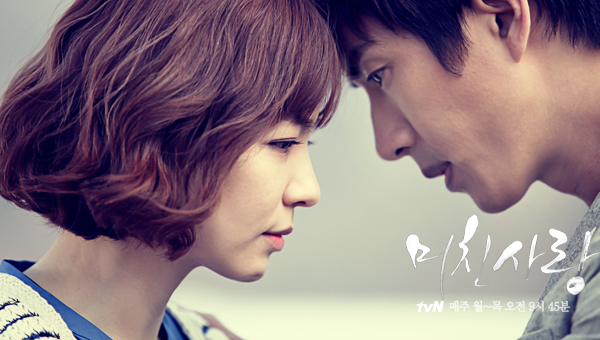 6. Return of the Wife
Original Korean broadcast: 2009-2010, SBS
Philippine broadcast: 2014, GMA-7
Return of the Wife tells the story of Rosaria Jung (Kang Seong-Yeon), who marries the love of her life, Gabriel Yoon (Jo Min-Gi). Gabriel's mom, however, despises Rosaria. When Rosaria and Gabriel's daughter is diagnosed with a congenital heart disease, Rosaria seeks help from her mother-in-law. The mother-in-law agrees to help the couple on one condition: Rosaria must leave her family.
Rosaria, desperate to save her daughter's life, agrees. This leaves Gabriel dumbfounded, not understanding why his wife would suddenly leave him.
Years later, Rosaria decides to return to her family, only to find out that Gabriel is now married to Celine Min (Yoon Se-Ah). Celine is threatened by the return of Rosaria and does everything to fight for her husband.
One day, Rosaria disappears without a trace. Her sister Roxanne Jung (also played by Kang Seong-Yeon) appears on the scene and pretends to be Rosaria to get to the bottom of her sister's disappearance.
Return of the Wife, known as Wife Returns in Korea, is the last installment of SBS' "Wife Trilogy" after Temptation of Wife and Two Wives.
Return of the Wife is one of GMA-7's few K-Dramas that aired in the daytime slot before Eat Bulaga!
Unfortunately, it did not replicate the Philippine success of Temptation of Wife in ratings, suffering in fact from low ratings throughout its GMA-7 run.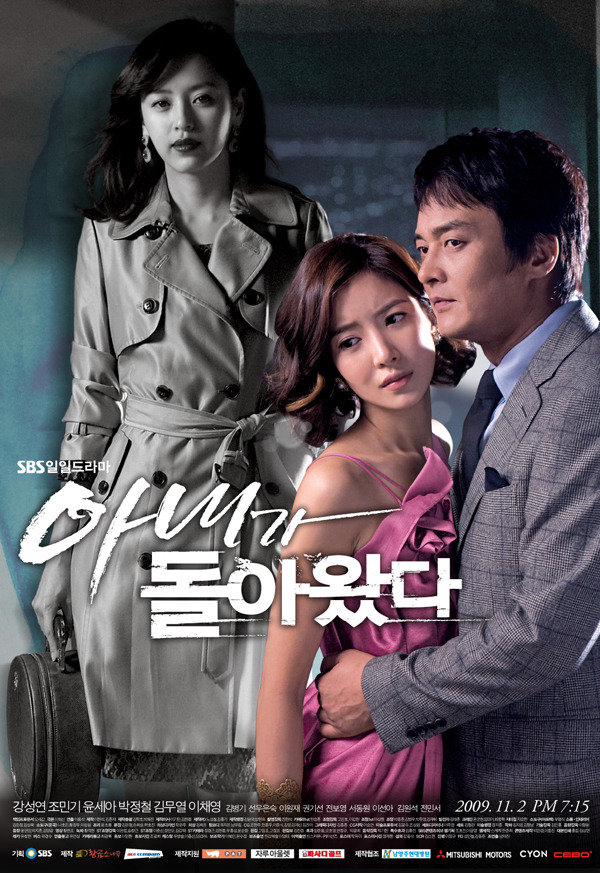 7. Temptation
Original Korean broadcast: 2014, SBS
Philippine run: 2016, GMA-7
Temptation serves as the comeback of Choi Ji-Woo and Kwon Sang Woo on Philippine primetime television, after their 2003 series, Stairway To Heaven, which became a massive hit in the Philippines in 2004.
Temptation tells the story of Shawn (Kwon Sang Woo), a determined man who worked hard to finish college. He is married to Trisha (Park Ha Sun), an understanding wife who makes sacrifices for their family.
Shawn figures into money trouble after a failed business venture with a partner.
Shawn and Trisha, on a vacation in Hong Kong, meet Sophie Yoo (Choi Ji Woo), a hotel heiress who has been trained to take over her father's company at a young age. Sophie is powerful, a workaholic, and is known as a "woman of iron." When Sophie meets the couple, she is amused with the two and makes an offer that will test their marriage: Sophie will pay Shawn's debts if he spends four days with her.
Shawn takes the deal. This causes his marriage to fall apart, as Trisha now finds it hard to trust Shawn. Sophie, for her part, finds herself falling for Shawn.
Temptation is the first K-Drama offering of GMA-7 in 2016. Although it did not make much noise compared to Stairway To Heaven, Temptation still registered impressive ratings throughout its run.
According to AGB Nielsen, Temptation consistently won against its ABS-CBN rival program, You're My Home, top-billed by Dawn Zulueta, Richard Gomez, Jessy Mendiola, and JC De Vera.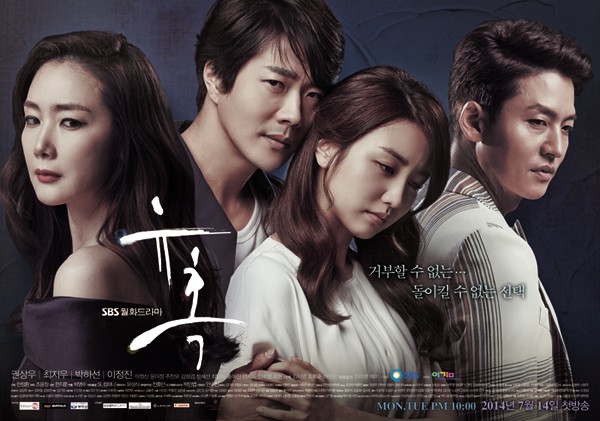 8. I Have A Lover
Original Korean broadcast: 2015, SBS
Philippine broadcast: 2019-2020, ABS-CBN
Among the K-Dramas in this list, I Have A Lover is the latest from South Korea with an infidelity theme that is aired in the Philippines. It also marks the return of K-Dramas on the ABS-CBN daytime slot, after the network aired a string of locally produced teleseryes.
I Have A Lover tells the story of Aira (Kim Hyun-Joo) and Marvin (Ji Jin-Hee), a married couple who start to drift apart after the death of their daughter. Aira pushes herself to move on, but Marvin continues to grieve.
Aira and Marvin's differences lead Marvin to engage in an affair with his student, Sofia (Park Han-Byul).
Aira finds out about the affair and fights for her marriage, but her husband continues to cheat on her. Aira is so devastated, she gets in a mysterious car accident, resulting in memory loss.
Years later, still believing that Aira is dead, Marvin meets a woman who looks very much like Aira. He pursues the girl, whose name is Yolly, even as she insists that she is not Aira and does not know Marvin. Sofia, who is still carrying on an affair with Marvin, is distraught when she learns about Yolly's existence in their lives.
ABS-CBN's strategy to put K-Drama as It's Showtime's pre-programming proved to be a good strategy. I Have A Lover continued the network's winning streak in the timeslot, despite no longer producing a local teleserye.
I Have A Lover registered impressive ratings based on Kantar Media data. Its pilot episode got a rating of 16.9 percent compared to GMA News and Public Affairs daytime drama, Wagas, which registered just 7.6 percent. I Have A Lover sustained its high rating until its last episode in February 2020.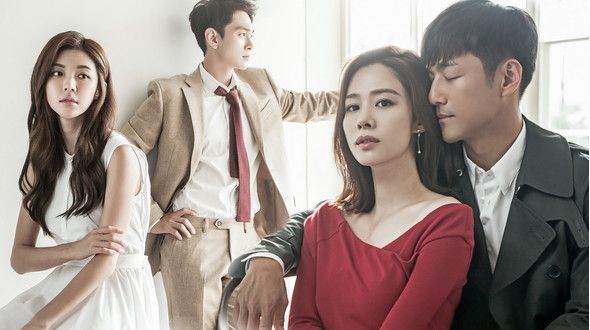 ***
Alam mo ba ang latest sa showbiz?
Find out kung anong level ang showbiz IQ mo by subscribing to PEP.ph Viber Chatbot here: https://bit.ly/PEPBotQuiz