We will certainly be missing the ABS-CBN Station IDs.

No one does it better.

A tradition and trademark of the Kapamilya network, these Station IDs have always been grand and stylish celebrations of special moments—such as Christmas, the longest, merriest holiday in predominantly Catholic Philippines; summertime, when schools grind to a halt and whole families swarm the archipelago's sunniest islands; and anniversaries, when the network feels a need to cheer and toast to another year well done.
Over the years, this small tradition has become a major operation, and this major operation has become a clever play for dominance on television: The Station ID would be ABS-CBN's way of marking its territory. And, quite often, it will dominate.

And so, what began as nice, short animated videos showcasing the network's logo and tagline, and later, the Sarimanok, a flamboyant bird with a huge wingspan that became part of the ABS-CBN brand, evolved into far fancier, more expensive productions.
The Kapamilya network's Station IDs transformed into nothing less than full-length music videos!

Fully production designed, skillfully edited, and deliberately directed, it showcased, if not an all-star cast of the network's high-profile personalities in entertainment and news, then its biggest box-office draws, its veteran stars to give gravitas to its current matinee attractions, and its most popular romantic pairings.

Fans trilled to the star power. This is a station, after all, that was always known as home to the biggest number of the biggest stars in local showbiz.
Since then, ABS-CBN Station IDs became the network's signature for lifting, not just the spirit of its millions of viewers, but its very own.

Documenting ABS-CBN's milestones, goals, and the twists and turns of free TV, these visually arresting videos became a virtual chronicle of the history of the network.

They also became the station's reading of the pulse of the times.

At this juncture when the network has been shut down again—the first time, under President Ferdinand Marcos; the second, under President Rodrigo Duterte—the ABS-CBN Station ID, like it or not, has achieved the status of icon.

And, if today it had the spirit to make one more Station ID, with full freedom to create the video it wished, we can only imagine how unforgettable this would be, too.
For now, let us content ourselves with this: The PEP.ph (Philippine Entertainment Portal) List Of The 12 Most Unforgettable ABS-CBN Station IDs.
ABS-CBN STATION ID: The Philippines' Largest Network (1988)
ABS-CBN was the No. 1 network in the years when the Philippines was touted as having "the freeiest press" in Asia.

On September 21, 1972, Marcos changed all that. Having developed a taste for one-man rule, he declared martial law throughout the country and, under the banner of a "New Society," vowed to lead the fight against the oligarchy.

The Lopez family—owners of vast landholdings and businesses, including print, radio, and television facilities—was, by convention, in the top tier of that oligarchy. Marcos found his excuse to seize the Lopezes' pride and prize: ABS-CBN.

It would be a long 14 years after, in September 1986, when the station would return to the Lopezes, during the era presided over by a woman instrumental in toppling Marcos, President Corazon Aquino.

By then, ABS-CBN was in shambles. Its infrastructure would be have to be rebuilt, and so too its standing with the public. Its facilities, largely cannibalized, were inferior, and its shows, having no traction with the new public, suffered poor ratings.

It will be more than a decade later, in 1988, when ABS-CBN would become a national habit once more, reclaiming its status as the No. 1 television station of the country.

The network could not contain its euphoria. Going straightaway to creating a new tagline, a new jingle, and a new Station ID, it would produce a 40-second video that opens with the announcement that here is the first-ever jingle to be sung by a thousand voices.
Indeed, what could be a thousand bodies—including those of big bosses Eugenio "Gabby" Lopez III and chairman emeritus Eugenio "Geny" Lopez Jr.—are shown standing shoulder to shoulder, singing the network's jingle.
Their employees, singing with them, end the jingle with vigorous, collective clapping, as the new station logo reveals itself, and the huge letters boom: ABS-CBN The Philippines' Largest Network.

It is a masterstroke of PR. Were it not yet the largest network, the Station ID would have it beating all contenders to the title just the same. As it was, ABS-CBN had really become the biggest network in the land.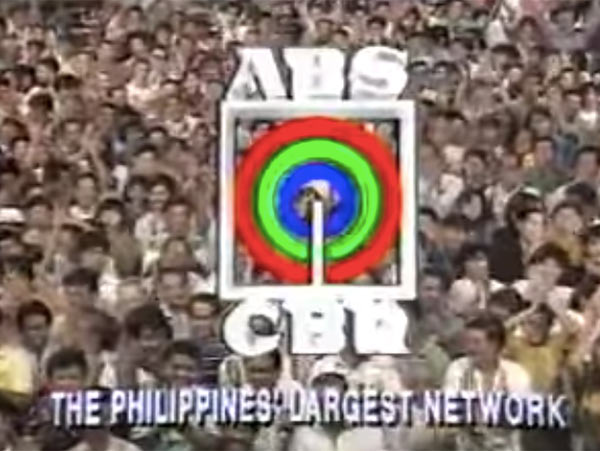 ABS-CBN STATION ID: Sarimanok (1993-1998)
The Sarimanok is a colorful, legendary bird in Philippine folklore, and was first used by the network in 1966 to introduce color television to the Philippines.
In 1993, in time for the Chinese Year of the Rooster and ABS-CBN's 40th anniversary, the station relaunched the Sarimanok as part of its branding, and it did so with an animated Station ID.
The Sarimanok became ABS-CBN's official mascot through the '90s.
A promo dubbed ABS-CBN Sarimanok Milyung-milyong Pasasalamat Raffle Papremyo was launched, which made the fabled bird of the Maranaos even more famous and forever associated with the network.

After all, the promo was aired every day, throughout the day.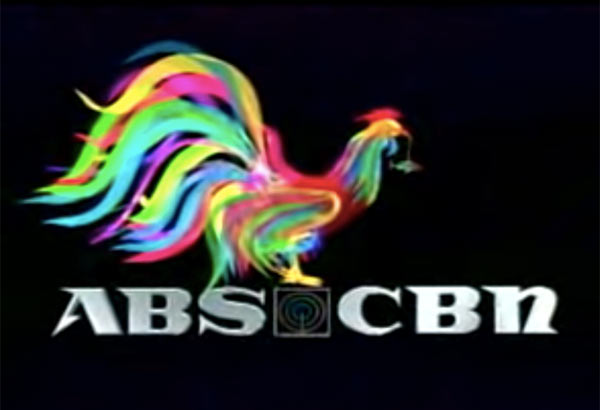 ABS-CBN STATION ID: "Saya ng Summer sa ABS-CBN" (2002)
In March 2002, ABS-CBN begins producing Station IDs akin to full music videos. One such Station ID jumpstarts the network's 2002 summer campaign, "Saya ng Summer sa ABS-CBN."
The Station ID uses the studio-recorded song, "Free," interpreted by Roselle Nava and composed by Gino Santos for the ABS-CBN songwriting competition JAM: Himig Handog sa Makabagong Kabataan.
The network's first summer Station ID features more than 50 of stars in its stable—including Judy Ann Santos, Piolo Pascual, Claudine Barretto, Rico Yan, Sharon Cuneta, Aga Muhlach, Kris Aquino, Gretchen Barretto, Maricel Soriano, and Dolphy. (It will be the last Station ID of Rico Yan, who would die in April 2002.)

But if the video's sheer star presence can seem overwhelming for viewers, it obviously was that for its video editors. Their intercutting and pacing felt frenzied, almost manic, in parts. It rendered the video practically a game of "Name That Star!", so fleeting were the seconds given to so many stars. Definitely, the video could boast an all-star cast—establishing ABS-CBN'S star dominance—but the hyperactive mash-up of faces and games can be a pain to watch.

Overall, of course, it's still a winner. Because, really, which fans will complain about having too many superstars on their home screen, every day, on free TV?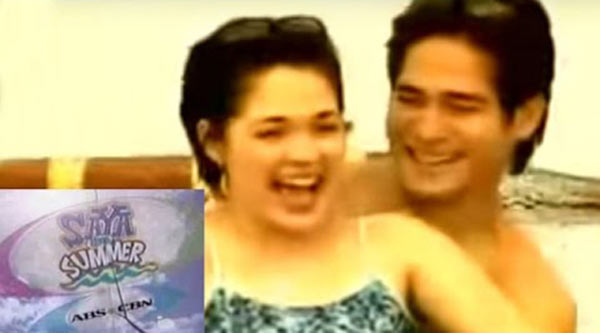 ABS-CBN STATION ID: "Umulan, Umaraw, Magkasama Tayo" (2002)
With Kapamilya viewers applauding the summer Station ID, ABS-CBN follows it up with a Station ID for—why not?—the rainy season.

Dubbed "Umulan, Umaraw, Magkasama Tayo," the delightful music video shows the many ways Pinoys behave during rainy days.

Nearly everyone is rained under—from network executive Charo to very small kiddie stars to pretty and handsome faces on the rise; and, although Sharon, Claudine, Maricel, Eula and other big names are clearly spared from the downpour, they help provide the calm spots in a video filled with non-stop play and fun.

Featuring the song "Sukob Na" by 17:28, the video is obviously playing to the gallery. The network's hottest pairings at the time—Heart Evangelista and John Prats, Kristine Hermosa and Jericho Rosales, Judy Ann Santos and Piolo Pascual—are all over the place, and then it all ends with the loveable Dolphy doing a solo gig in the rain in a bright yellow raincoat.
In the next years, ABS-CBN would not be producing a Station ID with the rainy-season theme. Maybe "Sukob Na" was such a tough act to follow? But eight years after, in 2010, the network would tap Aiza Seguerra for a revival of this theme.
And this time the Station ID showcases the network's upcoming shows for the third quarter of 2010. Thus, the network hits two birds with one stone: it gets to beat its own chest and, at the same time, it gets to do a big promo of its shows. A year later, Anne Curtis will do an upbeat version of "Sukob Na" for another ABS-CBN rainy season 2011 Station ID.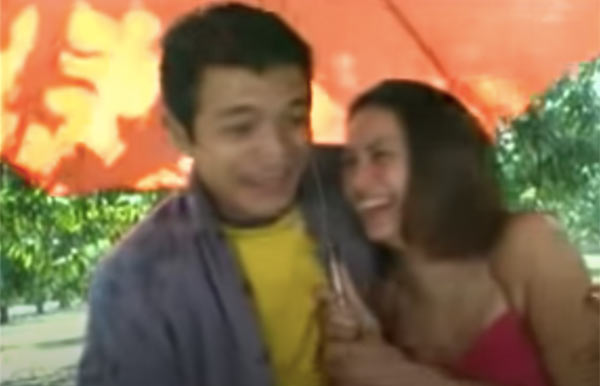 ABS-CBN STATION ID: "Isang Pamilya, Isang Puso Ngayong Pasko" (2002)
In 2002, ABS-CBN begins its tradition of producing Station IDs for the Christmas holidays.
Carol Banawa interprets the Station ID's theme song, which is a mash-up of Jackie DeShannon's "Put A Little Love In Your Heart" and the original Tagalog composition "Isang Pamilya, Isang Puso Ngayong Pasko," the network's Christmas 2002 campaign.
Big-marquee names working for the Kapamilya network are featured in the Christmas video—no less than Nora Aunor and Lorna Tolentino, Maricel Soriano and Cesar Montano, Kris Aquino and Cherie Gil, Gloria Romero and Aga Muhlach, Sharon Cuneta and Dolphy, and even Fernando Poe Jr., the Action King.

Also in it are ABS-CBN homegrown talents Judy Ann Santos, Claudine Barretto, Kristine Hermosa, Jericho Rosales, and Piolo Pascual.

Happily, the editing here is less hyper than it was for the summer Station ID. Now there's actually a match between the music (low-key, sentimental holiday sounds) and the visuals (calmer closeups, quiet medium shots). Finally, the camera is allowed to linger a few seconds more on faces. A fan can now actually appreciate the smile on the face of a favorite star.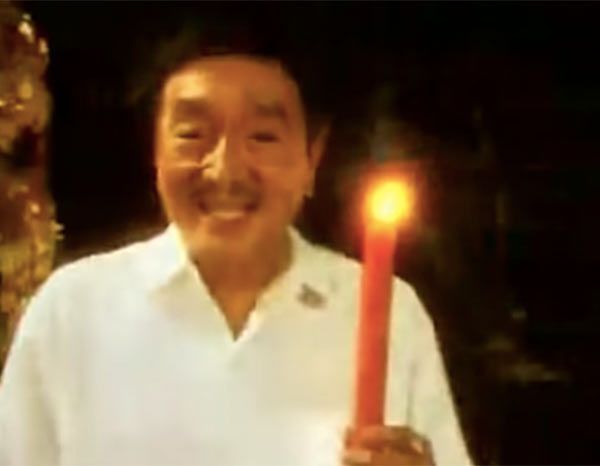 ABS-CBN STATION ID: 50 years of Television (2003)
In 2003, ABS-CBN would celebrate its 50th year on television. For this, it would produce what may be the network's most-inspired Station ID yet.

Bathed in sepia, it streams the whole lot—voiceovers, cut-out photographs, snippets of dialogue in the background, quotes in the foreground, black-and-white pictures that seem to have come out of albums long kept in special trunks, and voices of contemporary broadcast journalists.

All come together for an almost-low key, almost-modest narrative of the history of the giant network from 1953 to 2003.

It is a Station ID that rises to the level of documentation.

Milestones and downturns—the merger of the ABS and CBN networks, the "Man on the Moon" coverage of 1969, the network closure of 1972, the comeback after the Edsa Revolution—all are told craftily, masterfully, and almost as if from a quiet, respectful distance.
The Station ID does not forget to bring in its iconic shows—Student Canteen, TV Patrol, ASAP, Game KNB?, Pangako Sa 'Yo, and Maalaala Mo Kaya—but even here, the narration keeps to the tone. Nothing jars, nothing dazzles, nothing offends even if self-congratulatory.
This is an intelligent appeal to the heart. It is also a class act.
Apart from this superior Station ID, the network will also produce omnibus plugs for celebrities featured in various ABS-CBN programs, from comedy to drama, from news to variety shows.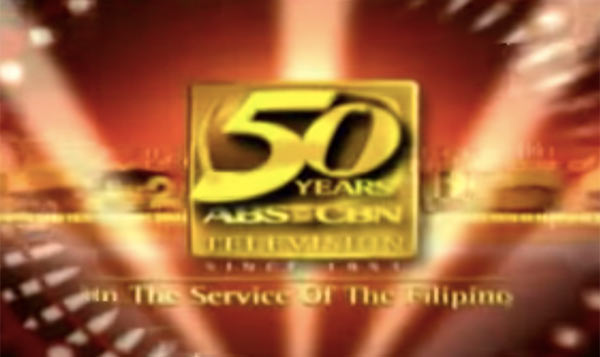 ABS-CBN STATION ID: "Sabay Tayo, Kapamilya" (2004)
In late 2004, a year after celebrating its 50th year on television, the Kapamilya network experiences a devastating crash in the ratings, losing all Top 20 program slots in Mega Manila to rival network GMA-7.
Working to lift its spirits, ABS-CBN produces a Station ID for the Christmas season that it calls "Sabay Tayo, Kapamilya." The song succeeds in being warm and touching.
The video knows where and how to begin—with the expected holiday balikbayan scenes at the airport and with ordinary people hugging their returning grandparents and sweethearts. Everything is grounded on family.

Christmas is that, after all, and the chosen theme song doesn't shy from spelling it out—beat as one heart, feel joy together, work and persevere as one.

With lighting and styling that makes each one look gorgeous, the station's best singers make that same plea to the public—Martin Nievera, Zsa Zsa Padilla, Kuh Ledesma, Gary Valenciano, Vina Morales, rapper Gloc-9, and reality show graduates Sarah Geronimo, Erik Santos, Christian Bautista, Mark Bautista, Sheryn Regis, Frenchie Dy, and Rachelle Ann Go.
Toward the video's end, Kapamilya talents are gathered for the "Sabay Tayo, Kapamilya" song. Anne Curtis, who just made the transfer from GMA-7, is present. So are Star Circle Quest graduates Hero Angeles and Sandara Park, veteran actresses Jean Garcia and Malou de Guzman, real-life couple Charlene Gonzalez and Aga Muhlach, and seasoned news anchors Bernadette Sembrano and Korina Sanchez.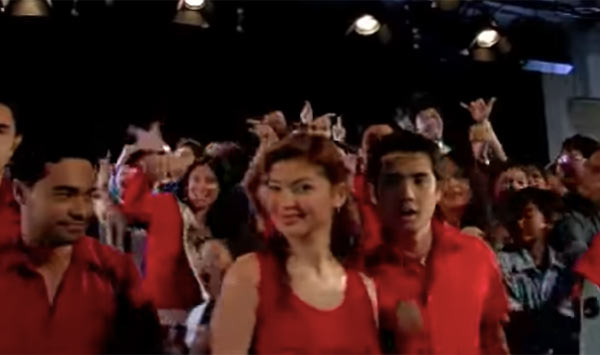 ABS-CBN STATION ID: "Bro, Ikaw Ang Star ng Pasko" (2009)
ABS-CBN's 2009 Christmas Station ID campaign, "Bro, Ikaw Ang Star ng Pasko," is inspired by the network's top-rating series, May Bukas Pa, where the lead character Santino (Zaijian Jaranilla) talks to God and calls him "Bro."
The Station ID is completed at a time when the country, particularly Metro Manila, has been devasted by Typhoon Ondoy. The song is upbeat, speaking of joy, of hope, and of unity, but is not loud or excitable or rushed. Its rhythm is just so—just right for after a big storm has passed, when everyone still remembers the feeling of fear and loss, and when all rally to get each other up and about again.
This Station ID has soul.

Opening with a child retrieving a string of Christmas lanterns from the ground, it goes on to show Kapamilya stars holding up more lanterns as they sing the "Star ng Pasko" song. Prominent in the video are KC Concepcion, Piolo Pascual, Billy Crawford, Erik Santos, Rachelle Ann Go, Mark Bautista, Yeng Constantino, Jed Madela, and Sarah Geronimo.
To date, this remains the most-viewed Christmas Station ID in the Kapamilya network's Youtube channel, garnering more than 37 million views.
ABS-CBN STATION ID: "Kwento ng Summer Natin" (2013)
In 2013, ABS-CBN celebrated its 60th year on Philippine television. To jumpstart the revelry, its Station ID puts together scenes of Pinoy summer memories and scenes from iconic shows that the network aired once upon a time.
It is a delight to see current ABS-CBN stars doing remakes of moments from hit sitcoms like Palibhasa Lalake, Home Along Da Riles, Chika Chika Chicks, and Abangan Ang Susunod na Kabanata.
Visually, the production numbers are wonderful.

Done with imagination and skill, they feature the best of the young ones. Kathryn Bernardo and Daniel Padilla appear as Yna and Angelo of the ABS-CBN teleserye Pangako Sa 'Yo. Kim Chiu and Xian Lim portray Shan Cai and Dao Ming Si from the Taiwanese drama Meteor Garden, which had a phenomenal run in the Kapamilya network in 2003. Angel Locsin and Jericho Rosales recreate a scene from Baywatch, an American TV series that aired in ABS-CBN.
In the news and current affairs department, ABS-CBN news pillars Ted Failon, Korina Sanchez, and Noli de Castro deliver their iconic lines from news programs Hoy Gising!, Balitang K, and Magandang Gabi, Bayan. Angeline Quinto and Sam Milby interpret the theme song of this summer station ID.
This one can be viewed again and again. It gives enough, but its images are so well staged and lit, it leaves viewers wanting more.

Ai-Ai delas Alas doing a Tessie Tomas. Bea Alonzo and Piolo Pascual in prom clothes and bouffant hairdos doing a Grease dance. Iya Villania, Shaina Magdayao, Nikki Gil, and Melissa Ricks with big hair and faces fully caked making like the Supremes. Julia Montes, with that lovely conservative face, dressed in a flowing flowery moo-moo, looking like the girl lola would love you to bring home—only to break into the Otso-Otso dance!

Talk about wit.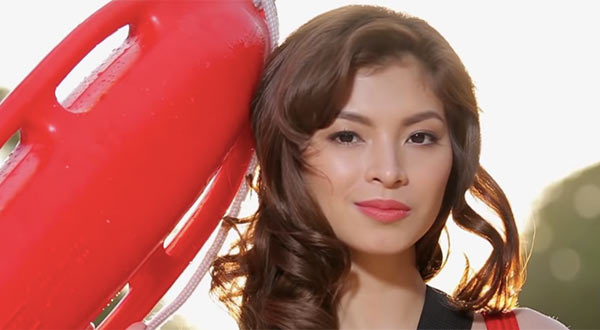 ABS-CBN STATION ID: "KWENTO NATIN ITO: 60 YEARS OF PHILIPPINE TV" (2013)
In August 2013, ABS-CBN released its special Station ID officially celebrating its 60 years on Philippine television.
Zsa Zsa Padilla and Zia Quizon interpret ABS-CBN's official anniversary theme song "Kwento Natin Ito." Never have we heard or seen mother and daughter so beautiful.

Composed by Ferdinand Dimadura, lyrics by Robert Labayen, and conducted by Gerard Salonga, it is recorded with the ABS-CBN Philharmonic Orchestra. Sentimental, the song is simply saying to the listener, "Kay sayang kasama ka sa kwento nating kayganda," but it is set to music of such heartbreaking poignancy, it stretches all emotion.
The visuals accompanying the song are, once again, sentimental clips of ABS-CBN shows from the early '60s till 2013. Sentimental but welcome.

Some classic shows in the video are: The Nida and Nestor Show (owning the dance floor, of course); Larawan ng Pag-ibig; Palibhasa Lalake (Gloria Romero herself is show throwing water at fully-clothed co-stars, a trademark ending); Teysi ng Tahanan, Maalaala Mo Kaya; Gimik; Pangako Sa 'Yo; Mula sa Puso; and Tabing Ilog (where the boyish John Lloyd Cruz is all smiles).

Th more recent shows included are Walang Hanggan, Princess and I, Huwag Ka Lang Mawawala, and ASAP.

It's a joy to see everyone so alive and young and with nary a care in the world.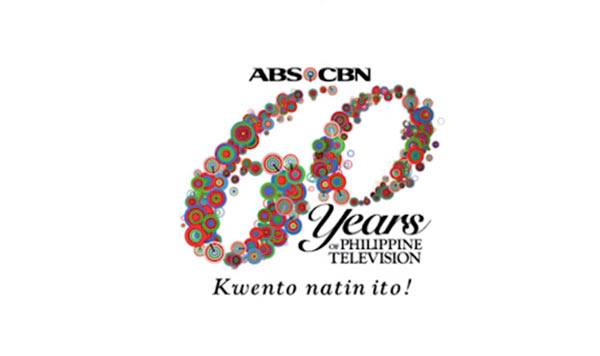 ABS-CBN STATION ID: "Thank You For The Love" (2015)
ABS-CBN's 2015 Christmas Station ID "Thank You For The Love" features Kapamilya stars giving back to Filipinos with inspiring stories.
For this, the Station ID calls on the star power of the three top love teams of ABS-CBN for the first time. Singing the theme song are KathNiel (Kathryn Bernardo and Daniel Padilla), LizQuen (Liza Soberano and Enrique Gil), and JaDine (James Reid and Nadine Lustre).

The Voice Kids 2015 grand champion Elha Nympha and her coach, Bamboo Mañalac, also lend their voices for the Station ID's theme song.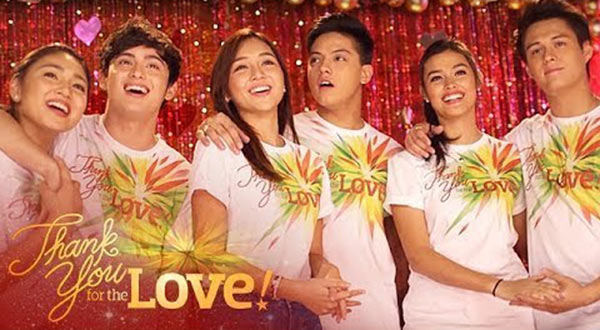 ABS-CBN STATION ID: "Family Is Forever" (2019)
ABS-CBN's 2019 Christmas station ID, "Family is Forever," looks back on ABS-CBN's 65 years on Philippine television.
The 2019 ABS-CBN Christmas Station ID incorporates elements and lyrics from 65 years of Station IDs, not to mention Christmas features of ordinary people in 2009, 2013, 2015, 2016, 2017, and 2018.
The almost 13-minute video opens with the written message: "Balikan natin ang ilang alaala sa 65 na taon nating pagsasama."

It features old news footage capturing how the Filipino spirit has remained intact despite the onslaught of super typhoons Ondoy in 2009 and Yolanda in 2013.
It also features ABS-CBN stars reuniting with regular folk featured in past Station IDs: Kim Chiu; It's Showtime hosts; and the network's personalities, Korina Sanchez, Toni Gonzaga, Coco Martin, and Judy Ann Santos.
The Voice Kids coaches Sarah Geronimo, Bamboo Mañalac, and Lea Salonga, along with contest finalists, perform the theme song of the 2019 Station ID. This is currently the last big production of ABS-CBN for a Station ID.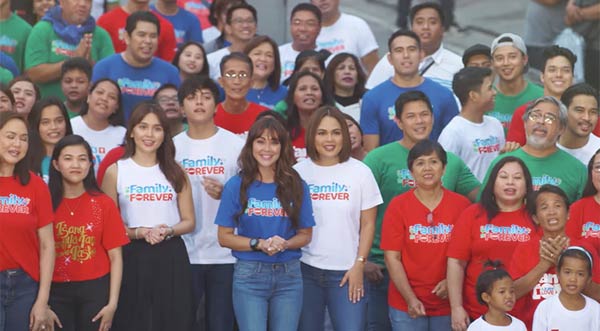 Research by James Patrick Anarcon
***
Alam mo ba ang latest sa showbiz?
Find out kung anong level ang showbiz IQ mo by subscribing to PEP.ph Viber Chatbot here: https://bit.ly/PEPBotQuiz