It has been 23 years since Trina Zuñiga was launched by GMA Artist Center.
As part of the first batch of talents managed by GMA Artist Center, Trina joined other showbiz newbies in the GMA-7 youth-oriented series Click.
The show was GMA-7's attempt to groom the stars into becoming household names, just like TGIS did for VIVA talents Angelu de Leon and Bobby Andrews.
However, Trina later decided to leave GMA-7 and transfer to ABS-CBN. It did not take long before she decided to leave showbiz and focus on her studies.
Fast forward to 2020, Trina now leads a private life and uses her real, married name, Kat Maderazo. But she has not totally distanced herself from showbiz because of her business.
In an e-mail interview with PEP.ph (Philippine Entertainment Portal), the former teen actress looks back at her showbiz days and gives us a peek into her life outside the biz.
This feature is part of PEP.ph's WHERE ARE THEY NOW series, where celebrities who have decided to leave showbiz take the spotlight.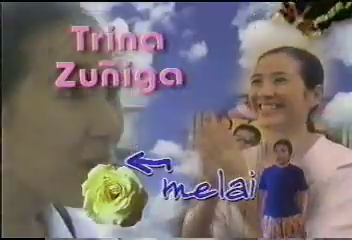 TRINA ZUÑIGA AND CLICK
Trina Zuñiga, Katrina Maria Zuñiga Delgado in real life, started her showbiz career in early 1999.
She was part of the first batch of talents under GMA Artist Center. Their careers were handled by the late talent manager Wyngard Tracy.
As far as Trina can remember, her first show was a hosting stint in GMA-7's weekly program Campus Video.
She got her first taste of acting in the weekly romance anthology Campus Romance and, later, in the drama series Di Ba't Ikaw.
In November 1999, the phenomenal youth-oriented series TGIS, a VIVA TV production aired on GMA-7, wrapped up its run.
GMA-7 then created its own youth-oriented show to replace TGIS.
Titled Click, the show premiered on December 4, 1999 with Trina as part of the cast.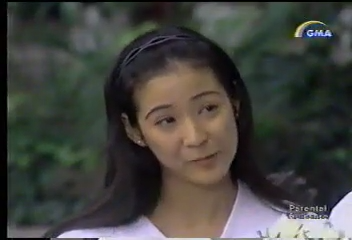 Click was headlined by TGIS cast member Maybelyn Dela Cruz and Best Friends love team Tricia Roman and Joseph Ison.
Trina was included in the show's first batch along with then-newbies Roxanne Barcelo, James Blanco, and Biboy Ramirez.
Trina played the role of Melai and was initially paired with Biboy. Eventually, she became the screen partner of Sherwin Ordonez.
Alessandra de Rossi, Angelika dela Cruz, Antoinette Taus, Wendell Ramos, and Wowie de Guzman eventually joined the cast.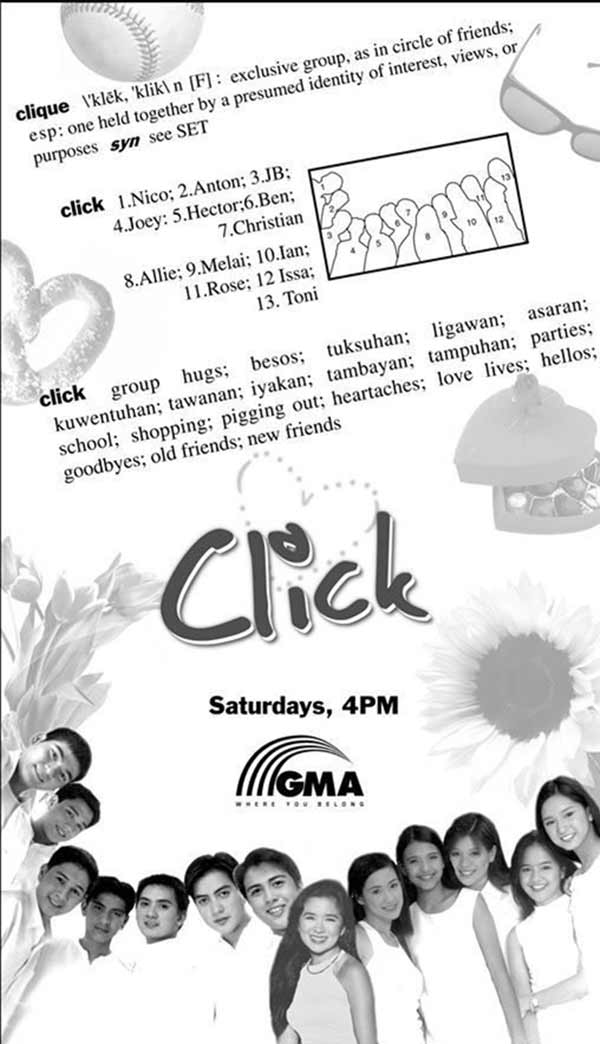 Trina recalls, "When I was launched as part of the first batch of GMA Artist Center, most of us wished to be a part of a youth-oriented show, so I was very happy to be cast as Melai of Click. I have a lot of good memories from that show."
What are her most memorable moments from the show?
"My most memorable episode was when I had to do a very emotional scene with my mother played by Irma Adlawan, and I felt so much pressure from our director because I couldn't cry.
"Luckily, I was working alongside a senior theater actor who helped me bring it all out. The scene turned out great. I learned so much from Direk Mac Alejandre.
"Our out-of-town shoots in Boracay, Tagaytay, and Baguio were among the most fun and memorable."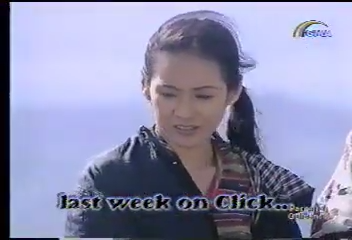 Looking back, Trina says she misses the energy she and her co-stars had to survive a "puyatan" taping.
"I miss the energy of our cast back then. We were all so young and pagpupuyat was an extra skill we had to master.
"It's amazing how we could work and shoot for back-to-back shows. It was exhausting and yet exciting."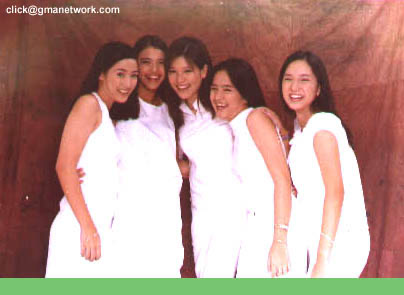 Trina's stint in Click ended in 2001 when she transferred to ABS-CBN.
But she maintained her close ties with two of her co-stars from Click: Tricia Roman and Maybelyn dela Cruz.
"I am still close to Tricia Roman and Maybelyn dela Cruz. We'd still see each other when our schedule permits. Most of us are connected through Facebook.
"We had two reunions a few years ago, but I don't know when it will happen again. Sometimes, I'd bump into one of them in random places."
TRINA AND HER DRAMA SHOWS WITH GMA-7
While doing Click, Trina also had supporting roles in Kapuso teleseryes, like in the mini-series Umulan Man O Umaraw and the prime-time series Ikaw Lang Ang Mamahalin. Trina's Click co-star, Angelika dela Cruz, was the lead star in both shows.
In Umulan Man O Umaraw, Trina played Angelika's friend while in Ikaw Lang Ang Mamahalin, she portrayed the third wheel to Angelika and Sherwin Ordonez's love affair.
Trina also did guest appearances in GMA-7's drama and romance anthologies like Campus Romance, GMA Love Stories, and GMA Telesine.
Trina says she enjoyed doing drama projects and working with veteran actors like Spanky Manikan, Irma Adlawan, Ali Sotto, Amy Austria, and Eddie Gutierrez.
Trina tells PEP.ph, "Working on drama shows gave me the opportunity to share the screen with seasoned actors that I've always looked up to.
"I loved listening to them share stories and life lessons.
"I remember I would get massive headaches after days of non-stop crying scenes. Haha!
"Finally, I will never forget my most painful sampal. I thought I lost my hearing. Haha!"
Trina recalls that it was G. Toengi who gave her "most painful sampal" during a confrontation scene, but she can no longer remember the name of the show.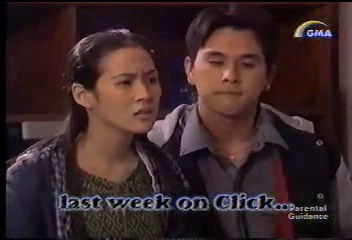 TRINA LEAVES GMA-7 FOR ABS-CBN
Sometime in 2001, Click aired an episode where the characters of Trina and Maybelyn were held hostage in their university.
A shoot-out ensued and led to the death of Melai, Trina's character.
Apparently, it was Trina's last episode in Click, as she decided not to renew her contract with GMA Artist Center.
She recalls in her PEP.ph email interview, "When the time came where they had to kill off my character, I honestly felt guilty for not renewing my contract with GMA Artist Center.
"I remember I was anxious about taping that part because I had to be shot. But on the other hand it was also very exciting because it was something I've never done before.
"It was amazing to see the blood effects and other elements that went with building such an intense scene."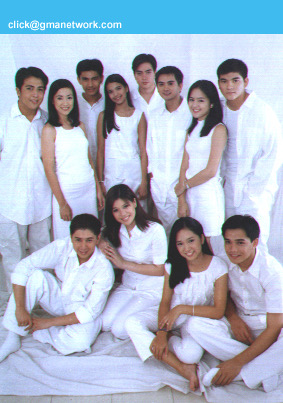 Still, Trina does not regret leaving the show.
She continues, "At the end of the day, I stand by my choice for leaving when I did.
"I have no regrets but I do remember feeling sad when it was time to say goodbye to my co-actors, staff and crew. It was fun working with them."
After leaving Click, Trina transferred to ABS-CBN.
Upon her entry to the Kapamilya network, Trina was tapped to join another youth-oriented show, Tabing Ilog.
She became the love interest of Patrick Garcia's and Paolo Contis's respective characters.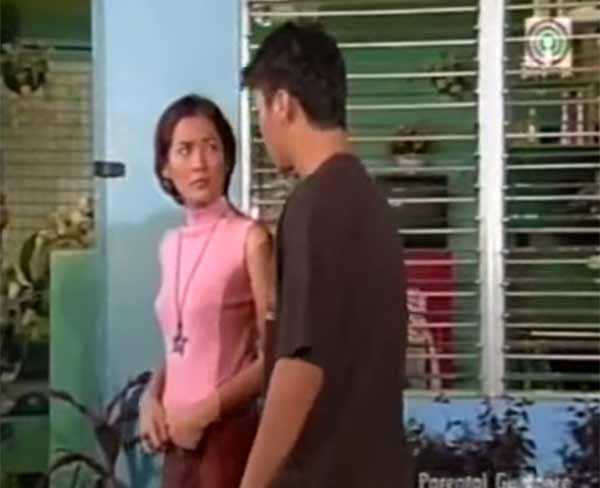 She later joined the first season of Tanging Yaman: The Series, where she played the love interest of Marvin Agustin.
After Tanging Yaman: The Series, Trina decided to choose her studies over showbiz.
She says of her decision, "When I moved to ABS-CBN, I was geared towards focusing on my studies. I remember I totally left showbiz when I started my OJT in a hotel in Makati.
"I would get calls for tapings but I just couldn't accept it because I really wanted to graduate and have a different career path."
It may have been a short stay, but Trina says she enjoyed her time in the Kapamilya network.
"Working in ABS-CBN was quite a different experience for me. Maybe because I only worked there for less than a year, and I didn't have enough time to adjust and get to know more people in the network.
"Although it was short, I had a good experience working there."
What was it like to work for both GMA-7 and ABS-CBN?
She tells PEP.ph, "I consider it a blessing to be able to work for both stations. It was a good run to see how different both stations are in terms of facilities, culture and work ethics at that time.
"But I do think it's also not fair for me to even compare them because I had a very short stint with ABS-CBN."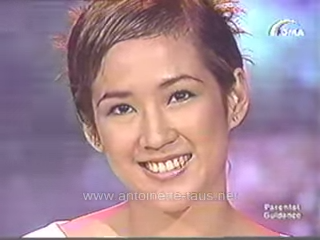 LEAVING SHOWBIZ
In 2002, Trina decided to leave show business, bringing with her a lot of life lessons.
"Aside from the craft of acting, dancing and hosting, showbiz taught me how to be resilient and strong in the face of adversity and trials.
"I learned to be open-minded and be more accepting of the things that I had no control over. I also learned how to deal with all sorts of people from all walks of life."
She began using her nickname Kat, and took on different jobs, particularly in the hospitality industry.
Trina narrates, "When I left showbiz, I was still a college student. I decided to focus on my studies because I wanted a career outside of show business.
"After I graduated, I worked at a hotel and became an Events Manager for a few years. After I left the hospitality industry, I did makeup artistry for TV commercials."
In 2008, Trina married TV commercial director Sid Maderazo and decided to become a stay-at-home mom to their three kids.
TRINA'S BENTO BUSINESS
Since 2014, Trina has been holding bento-making workshops called BentoByKat.
Bento is a Japanese-style packed lunch composed of rice, meat or fish, and an assortment of pickled vegetables.
To make it more cute and appealing, especially to the kids, Bento makers use food to carve out designs and characters.
Trina narrates how she started BentoByKat.
"BentobyKat was born out of my passion for doing more for my kids. In this case, it's preparing cute and healthier baon for my kids.
"I started sharing my eldest's bento boxes on Instagram when she moved to first grade.
"One time, I was invited to do a workshop and then I just kept being invited by companies and even for private functions.
"I also sell bento tools because my workshop attendees would always ask where to buy."
Aside from doing Bento box workshops, Trina has also become a Sushi Art instructor.
She shares, "I took my certification in Tokyo a few years ago.
"Currently, I would still have bento making workshops from time to time. I rarely post bento-box creations nowadays because my older kids no longer need it but I will definitely go back to it when my youngest enters the big school.
"I share my work online to inspire other parents to do more for their kids."
Because of BentoByKat, Trina was able to appear again on television after many years in different networks.
"Since I started BentobyKat in 2014, I've been featured by different TV shows like Umagang Kay Ganda on ABS-CBN, CNN's Real Talk, Green Living on ANC, Happy Wife Happy Life on TV5, AHA! on GMA, TV5 Newsroom, radio show Jam 88.3 and even mall appearances and magazines.
"I guess I'm quite comfortable on stage so it's not as nerve-wracking as it was when I was in my teens as a newbie.
"But I can say it's quite refreshing to be sharing my love for bento boxes in front of the camera, as opposed to what I was used to doing on-cam many years ago."
TRINA'S FRIENDSHIP WITH JUDAY
Apart from the shows Trina mentioned, she also did a guest appearance in Judy Ann Santos's online show, Judy Ann's Kitchen, in December 2019.
Trina says she and Judy Ann have been friends for quite a while, primarily because their husbands are also good friends.
She says, "Juday and I became friends because of the Brappack, our husbands' motorcycle group. The wives decided to create our own group so we also have our own thing going.
"It's a fun bunch and we're rarely complete but we try our best to make it to our annual Christmas get-together with our kids."
Because Trina and Juday share the same love for cooking, it becomes their bonding activity whenever they see each other.
"Juday is such an awesome host, she would cook for all of us and we'd help her out in the kitchen while the kids play and our hubbies hangout.
"It always warms the heart whenever we all see each other. We're like a big family."
TRINA'S LIFE OUTSIDE SHOWBIZ
At present, Trina says she is very happy with her life outside showbiz.
She says: "Life outside has been great for me. I am very happy where I am."
Although Trina enjoys being a full-time mom and wife, she is not closing her doors on acting projects.
Trina explains, "If given the chance to go back to showbiz, a beautifully written story with an interesting role will probably make me take the job.
"I am unsure about doing a full comeback because I'm happy spending most of my time with my husband Sid and our three kids who are growing up so fast.
"I'm also enjoying my privacy and the freedom to spend time with my friends and do pockets of me-time to recharge. I have nothing more to ask.
"But I really do miss the craft of acting so maybe I can do small roles from time to time if given the opportunity to choose projects."
Video:
Rommel Llanes, John Henri Mariano, James Patrick Anarcon
.
***
Alam mo ba ang latest sa showbiz? Find out kung anong level ang showbiz IQ mo by subscribing to PEP.ph Viber Chatbot here: https://bit.ly/PEPBotQuiz)