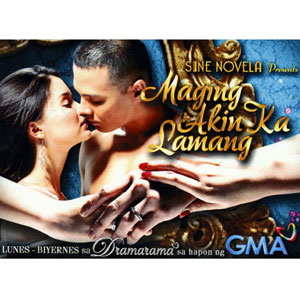 ---

When one loves excessively, it can turn into anobsession that's harmful for the lover as well as the people aroundhim or her. In the 1987 film Maging Akin Ka Lamang, a character'sobsession causes the suffering of others and leads to disastrousconsequences.
After two decades, GMA-7 remakes the Lino Brockafilm classic for today's generation. Starring Polo Ravales, Nadine Samonte, Isabel Oli,and Carlo Aquino, Maging Akin Ka Lamang is scheduled to air on theKapuso network this Monday, January 21, as part of Dramarama sa Hapon.
This TV series marksmany firsts for the Kapuso Network. According to Lilibeth Rasonable, GMA-7's AVP for drama, "This is the first projectof GMA-7 for 2008. This is very exciting for GMA-7: a new pairing for Polo andNadine; ang pagbabalik ni Nadine sa Sine Novela [after Kung Mahawi Man angUlap]; first lead role of Polo. Pag tiningnan mo si Isabel, sweet...this isreally her first strong role although she had a strong character in I Luv NY."
Director Gil TejadaJr. admits that they were inconvenienced by the replacement of Jennylyn Mercadoand Patrick Garcia while they were in the middle of taping the show. "We wereable to salvage only seven sequences out of the 50 shot in two taping days."
The director made ita point to make Polo and Nadine as comfortable as possible before reshootingthe scenes of Maging Akin Ka Lamang.
"Sabi ko nga sa kanila, it's ablessing for them. Don't treat it like second choice sila. Blessing ito athindi man natuloy kina Pat at Jen ito, may maganda namang napuntahan ang rolesnina Elsa and Polo. Nabigyan naman nila ng justice, more than sa hinihingi ko," said Direk Tejada.
ADVERTISEMENT - CONTINUE READING BELOW
Since Polo andNadine are not a real-life couple like Jennylyn and Patrick, the media werecurious to know how Polo and Nadine would be able to portray being loversonscreen.
"Unang-una po, mga artistakami," Polo pointed out during the January 14 press conference of Maging AkinKa Lamang at Annabel's Restaurant in Quezon City. "Hindi naman po kailanganmag-on kayo para makapag-perform ng maganda sa series. Tingin ko, based dun sareaction ng mga tao nang mapanood nila yung scenes namin ni Nadine, kinikiligsila. Tingin ko, good sign yun sa ginagawa namin."
For her part, Nadinestresses the importance of staying in character while shooting tender momentswith her onscreen partner. "As much as possible, ginagawa po naming kumportablesa isa't isa. Ako, ginagawa ko po in character. 'Pag nag-kiss kami, ako si Elsaat siya si Andy—hindi na kami Nadine and Polo."
SYNOPSIS. The lives of four young people areintertwined because of love and obsession. Elsa Paruel (Nadine Samonte) is atravel agent who accidentally meets the architect Andy Abrigo (Polo Ravales). They are attracted to each other immediately but rich heiress RositaMonteverde (Isabel Oli) wants to break up the couple so she can be with Andy.
Rosita, who is obsessed with Andy, seduces him, leading to aone-night stand. When Rosita's father, Don Augusto (played by Juan Rodrigo),finds out about his daughter's affair with Andy, he sends the young man abroad.Afraid that Don Augusto will fire his mother, Aida (Dexter Doria) who works asthe patriarch's secretary, Andy as no choice but to leave for the UnitedStates.
But true love waits. After five years, Andy returns to thePhilippines and rekindles his romance with Elsa and eventually they marry.Andy and Elsa's marriage leaves Rosita devastated and vengeful.
ADVERTISEMENT - CONTINUE READING BELOW
Using her wealth and even her family friend Ernie Balboa(Carlo Aquino), who is in turn obsessed with her, Rosita steals Elsa's baby andmakes it appear that the child died at birth. Elsa and Andyare distraught.
After several years, Rosita comes back with Elsa's child,whom she named Adrian. Is stealing Elsa's child enough to end Rosita'svengeance or is it just the beginning of her evil plans for the couple?
What if Elsa discovers her own obsession? Will sheremain true and faithful to Andy? Is Andy's great love for Elsa enough toprotect his family from Rosita's wrath? And will Ernie be able to find hismuch-needed space in Rosita's heart? Or will he end up being a scorned lover?
Find out how far people will go just to get what they wantin the sixth installment of Sine Novela. Maging Akin Ka Lamang airs onGMA-7's Dramarama sa Hapon after Daisy Siete, starting Monday, January21.