Do you still remember child actress Agatha Tapan?
She is best known for her role as Denise in ABS-CBN's iconic afternoon drama series Mara Clara, which ran for five years from 1992 to 1997.
Agatha was also part of the 1996 remake of the Vilma Santos starrer Trudis Liit, where she played the role of Goreng.
But instead of going further with her showbiz career, Agatha decided to lead a private life.
Why did Agatha leave showbiz, and what happened to her after leaving the limelight?
In an e-mail interview with PEP.ph (Philippine Entertainment Portal), the former actress looks back on her showbiz days, and lets us in on how she is pursuing her passion in her life today.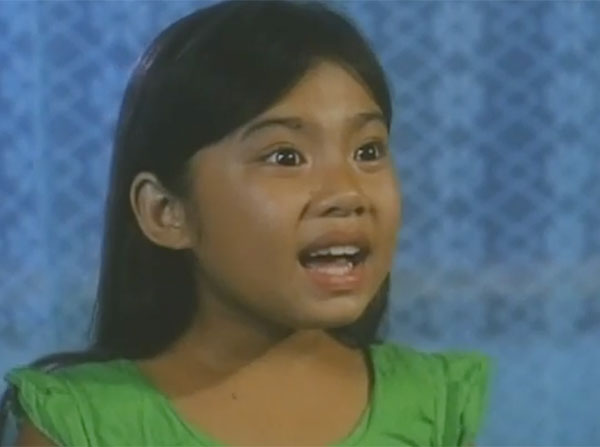 AGATHA TAPAN'S EARLY SHOWBIZ LIFE
As a child, Agatha had always wanted to become an artista. She looked up to Sharon Cuneta and Manilyn Reynes, both of whom started their careers at a young age.
She would even ask her mother to bring her to auditions, which led her to a contest in GMA-7's noontime show, SST: Salo-Salo Together.
She recalls, "As a little girl, I always asked my mother to bring me to the studio for an audition.
"She was amused by my interest in acting and modeling, until one day a talent scout encouraged and accompanied her to the studio (Broadway Centrum).
"I passed the screening for 'The Rainbow Princess' of Salo-Salo Together, a noontime show hosted by Randy Santiago and Dennis Padilla.
"I won as 2nd runner-up in that kiddie contest. From then on, I got hooked in the hustle and bustle of showbiz."
Even though she was only a runner-up in the contest, the experience got the ball rolling for Agatha's showbiz career.
She joined kiddie shows like ABC-5's Smart Squad, RPN-9's Pen Pen De Sarapen, and a TV show titled Iba't Ibang Horror Stories.
These stints opened more opportunities for Agatha and set her on a path that would eventually lead to being cast in ABS-CBN's afternoon series, Mara Clara.
AGATHA TAPAN'S MARA CLARA JOURNEY
In 1995, Agatha auditioned to become a part of the movie Sarah… Ang Munting Prinsesa, an adaptation of the Nippon anime Princess Sarah, which was based on the 1905 children's novel A Little Princess. The movie was top-billed by Camille Prats.
Agatha shared this in her recently published book, At The Peak.
She passed the auditions, but a bigger opportunity came knocking: a tailor-made role in the then-ongoing afternoon series Mara Clara.
Mara Clara was a drama series aired on ABS-CBN headlined by Judy Ann Santos and Gladys Reyes.
At the time Agatha received the offer from its director Emil Cruz, Jr., Mara Clara was already undisputed in its time slot, and had been running for three years.
Because Sarah… Ang Munting Prinsesa had to be shot in Baguio and would coincide with Mara Clara's taping schedule, Agatha had to choose between the two projects.
In the end, Agatha decided to forego the one-time appearance that Sarah... Ang Munting Prinsesa offered, and chose Mara Clara because it was a regular stint.
Agatha was very happy with the decision.
In the series, she played the role of Denise, the innocent but tactless younger cousin of Mara, played by Judy Ann.
Looking back, she tells PEP.ph, "Mara Clara was my most significant break. Its scriptwriter and director, Direk Emil Cruz, Jr., created the role of Denise, which reflected my curious and talkative nature as a child.
"People easily noticed, and at the same time, loved my character on screen."
Indeed, Agatha had fun doing Denise, especially since her co-stars like Judy Ann and Gladys treated her well.
"I enjoyed being a part of Mara Clara because they treated me like one of their babies on the set.
"The production staff and the cast of the show eventually became a family to me. The taping set was my playhouse, and acting was not a job at all.
"It came out naturally through the example that my co-actors gave me."
One of her most unforgettable memories in Mara Clara: shooting a whole episode in just one day!
"As I recall, we can shoot almost one episode within a day (Please note: FOR AIRING the next day!).
"That is how professional and adept my co-actors were; that was how fast our directors and the production staff/crew worked!"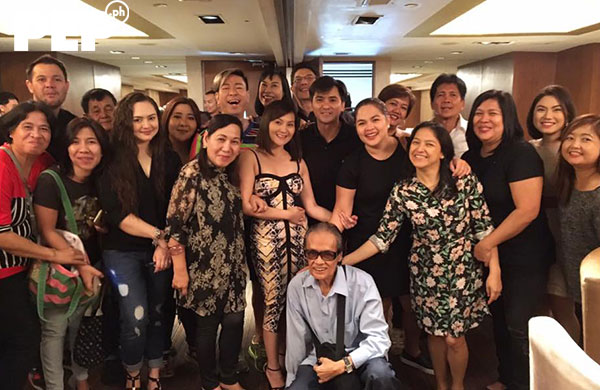 Agatha is glad that even though the show wrapped up years ago, in 1997, the cast of Mara Clara continues to stay in touch and even holds get-togethers once in a while.
"Occasionally, the cast of Mara Clara gathers in a reunion. We also keep in touch through a group chat in the social media where anyone can just shoot off a message anytime."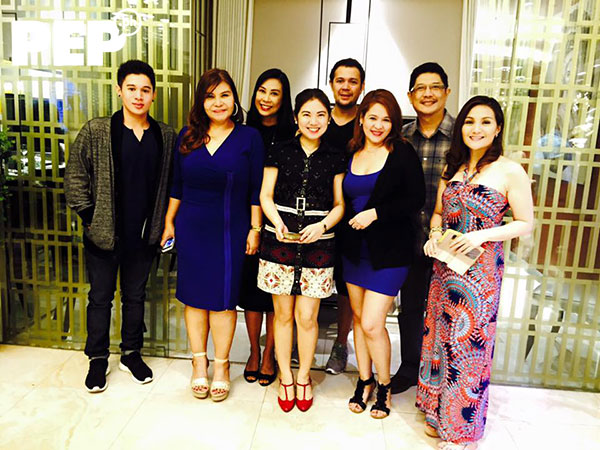 AGATHA TAPAN'S OTHER UNFORGETTABLE PROJECTS
Mara Clara paved the way for Agatha to do more TV and film projects.
One was the 1996 movie Trudis Liit, a remake of the 1963 movie of the same title starring Vilma Santos.
Nine-year-old Agatha played the role of Goreng, the best friend of Trudis. The role was originally played by former young actress Marjorie Inumerable.
It was an award-winning role for Agatha. She earned Best Child Actress awards from different award-giving bodies: FAMAS, Metro Manila Film Festival, and Parangal ng Bayan.
Aside from the awards, Trudis Liit also gave Agatha an unforgettable experience while shooting the movie.
"Trudis Liit is unforgettable for me because they had to place me inside the coffin to shoot a scene. It was also in Trudis Liit where I received awards as a Best Child Actress."
She also did appearances in Educational TV (ETV) shows like Bayani, Sineskwela, and Hiraya Manawari.
"I have good memories with everyone that I worked with, especially those of my age in the ETV shows I made, the film AEIOU that was composed of 5 kids, and the TV program Marinella where I worked with Camille Prats, Shaina Magdayao, and Serena Dalrymple."
Agatha is also happy to say that she remains in touch with some of her friends in showbiz.
"I am in touch with some of the cast of ETV shows such as Bayani, Sineskwela, and Hiraya Manawari. That includes Mara Babor, Allyzon Lualhati, Iwi Nicolas, Bea Nicolas, and Arra Reyes. One of my closest is Star Villareal.
"Apart from those who were of the same age, I am glad that today, I am still connected with the cast of Mara Clara and [the best friend of] Trudis Liit herself—Marjorie Inumerable."
Agatha later decided to slow down in doing acting projects, and Marinella became her last regular TV show.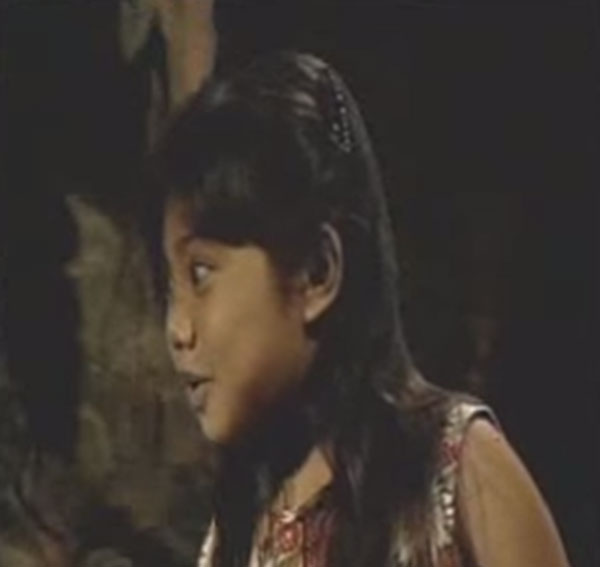 AGATHA TAPAN ON LEAVING SHOW BUSINESS
It was in 2001 when Agatha decided to leave the limelight.
As Agatha says in her book, "By 2001, I reached my adolescent stage, and my manager, the late Tita 'Angge' Cornelia Lee, paved the way for me to have another project. This time, with a love team in a popular program for teens.
"But I woke up one day, with hesitation in taking the offer although I knew that Tita 'A' was positioning me for more mature roles."
Agatha was 15 at the time, and she was a Sunday school teacher for kids—which was her first consideration.
She recalls in her book, "I do not know how to explain to my young students why reality should be different from what they see on TV or movies.
"It was an awkward stage for me because I felt that having a love team was too early for a 15-year-old girl like me. I knew that it was only a part of my job as an actress, but I wanted to set an example, especially to my students, knowing the immense influence of media on young people."
Agatha then decided to concentrate on her studies. She finished Mass Communication at De La Salle University in Dasmarinas, Cavite, and graduated magna cum laude.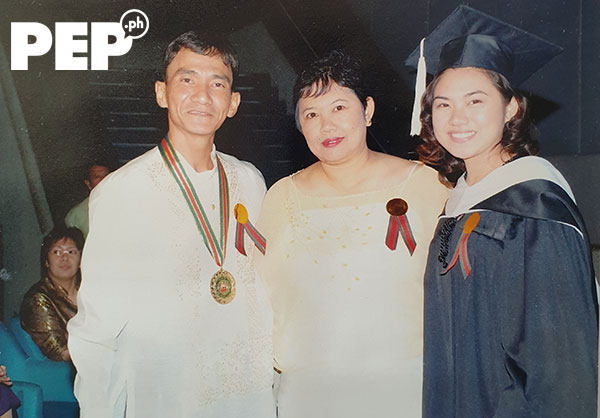 FROM BEING AN ACTRESS TO A MEDIA PRACTITIONER
In 2010, Agatha worked at ANC (ABS-CBN News Channel) as a business development specialist.
Recalling her experience, Agatha narrates to PEP.ph, "I worked in ANC because as an AB Communication graduate, I wanted to experience working in a network, even off-cam. Working at ANC was both a fresh and humbling experience.
"It was a fresh experience because I met a lot of new people, and I worked in a corporate setting. I saw the stark contrast between shooting films and recording some TV news programs.
"It was also humbling because I used to receive special treatment, and the crew used to serve me as an actress. But as an employee, I was the one who catered to some needs of the anchors.
"Even then, going to the office felt like being home because I used to walk through the same halls, visit the same studios, and eat in the same cafeteria when I was still a child actress."
Two years after working in ANC, Agatha decided to look for other opportunities for her growth.
"After two years of working as a business development specialist in ANC, I stopped to reassess where I was heading. Eventually, my mother asked me to help in her business and to assist in building an agency."
AGATHA TAPAN'S SHORT COMEBACK TO ACTING
A few years after working at ANC, Agatha saw herself returning to acting for a limited engagement.
It happened in 2013, when she had a short appearance in the daytime series Be Careful With My Heart, starring Jodi Sta. Maria and Richard Yap.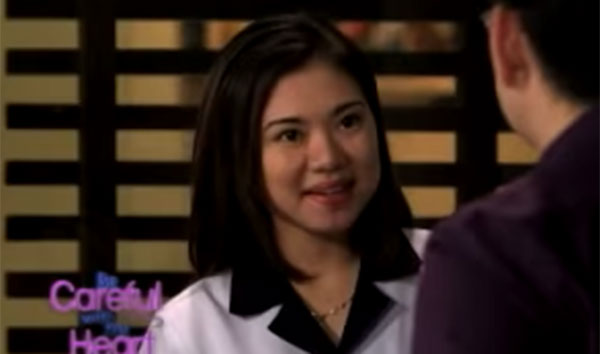 Be Careful With My Heart was the highest-rating daytime series at the time.
Agatha says of the short stint, "It was a time in my life when I was contemplating whether I should practice my degree in college (and 'how') or if I should use my ability to act again.
"I also wondered if there was still a role that would fit me. I thought, 'How will it be like working again with people that I used to work?'"
Agatha had a short stint in the show as the replacement of Maya (Jodi) as the nanny of Abby (Mutya Orquia), the youngest child of Richard (Richard Yap).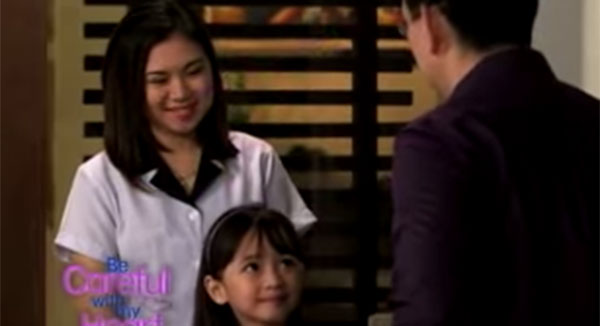 After that stint, Agatha did not pursue acting anymore.
In 2015, Agatha got married to her non-showbiz boyfriend Romel Galiza. Four years later, she gave birth to a baby girl.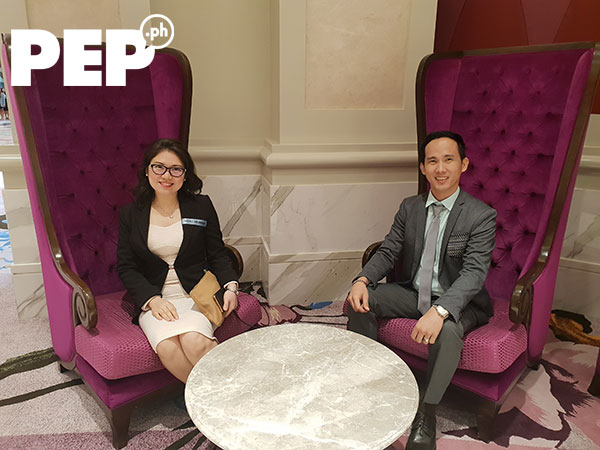 Today, Agatha works as a financial planner and is a hands-on mother.
She also has an active involvement in her church.
"I am a Financial Planner by profession and since I am hands-on with our little girl, my husband who is a manager in our office takes care of what I cannot handle at work in a day. In essence, he is currently doing double duty.
"We also involve ourselves in church works and services. For one, I participated in our theater ministry called the Lighthouse Theater.
"Occasionally, I write songs, a skill that I discovered ever since I stopped in showbiz."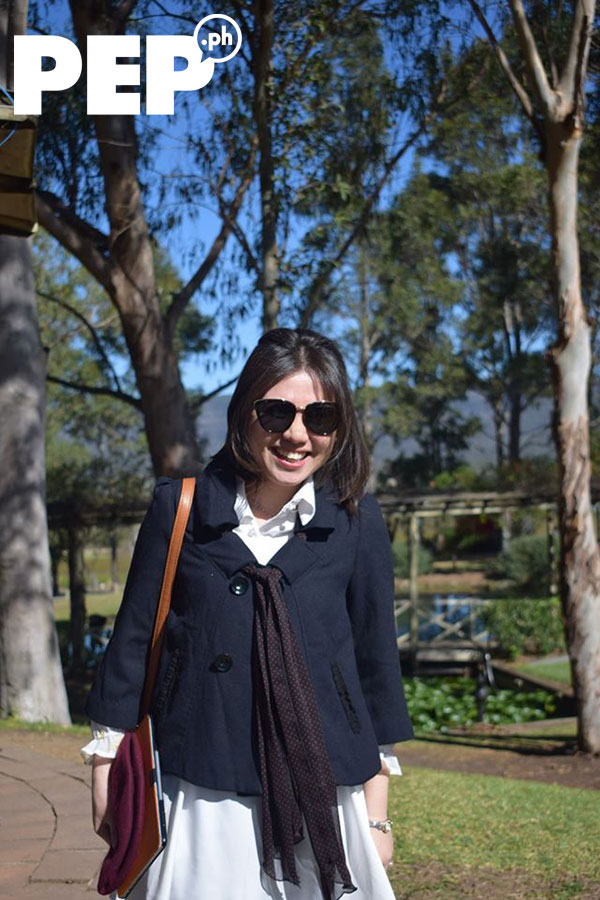 During the community quarantine, Agatha wrote and published her book At The Peak.
She tells PEP.ph, "During the ECQ period, I had the chance to rearrange at home, and I saw some of my old files. I saw a draft of a book cover that I printed back in 2008, which made me remember my commitment to write a book in honor of God and His goodness in my life.
"I made that promise as I graduated from college. The title in the book cover was AT THE PEAK.
"Back in 2008, I knew that I wanted to write, but God has His time for everything. I never thought that during the quarantine period, He would enable me to fulfill this commitment that I made."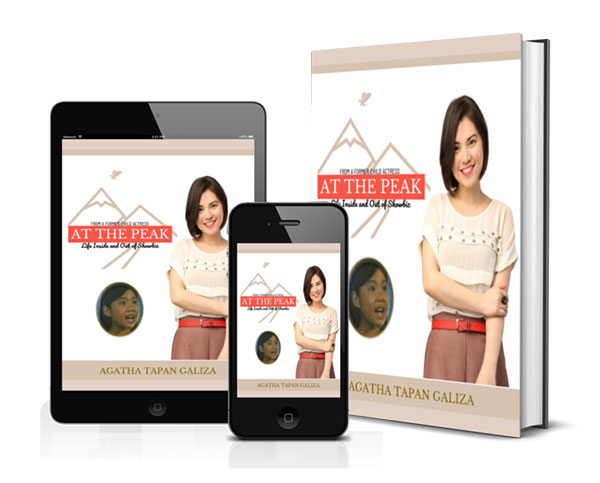 The book is about Agatha's showbiz journey, why she decided to leave the limelight, and how God led her to her current life.
She adds, "Even before ECQ started, left and right, most of my friends were sending links of articles about me as a young actress and my life now.
"It's very timely that I realized, people who used to watch me on TV are wondering what happened to the young Agatha and why I left showbiz."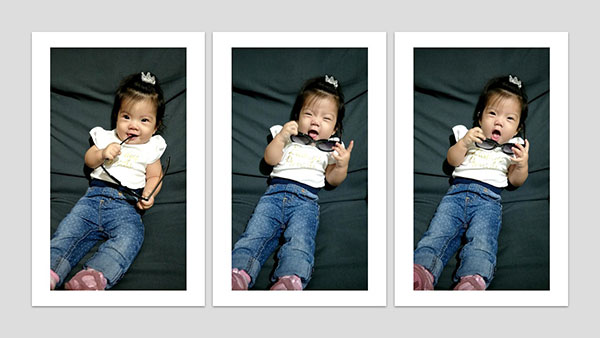 DOES AGATHA TAPAN MISS SHOWBIZ?
Agatha has learned a lot of lessons during her eight-year stay in show business.
She says, "Much like life, showbiz is uncertain, ever-changing, and it requires you to adapt.
"My stay in the industry taught me to seize the life that God gave me. I learned to live according to His design; to use the talents that He gave, according to His purpose.
"The ECQ period has taught me important things. One of those is valuing and treating the people around us even more significantly.
"Being locked inside our home and away from the people I love like my parents, siblings, and friends, I realized how important it is to create good memories together while there is a chance. Not only with our relatives, but even with the relationships that God gave us, which we sometimes consider to be less significant."
What does she miss the most about showbiz?
"I miss receiving challenging roles, gaining new experiences, and the fun/camaraderie behind the scenes with people I worked with before."
Agatha is also welcome to give acting on TV or film another try.
"I am willing to act again if it will be an avenue to make use of my God-given gifts. Also, if there will be a good opportunity."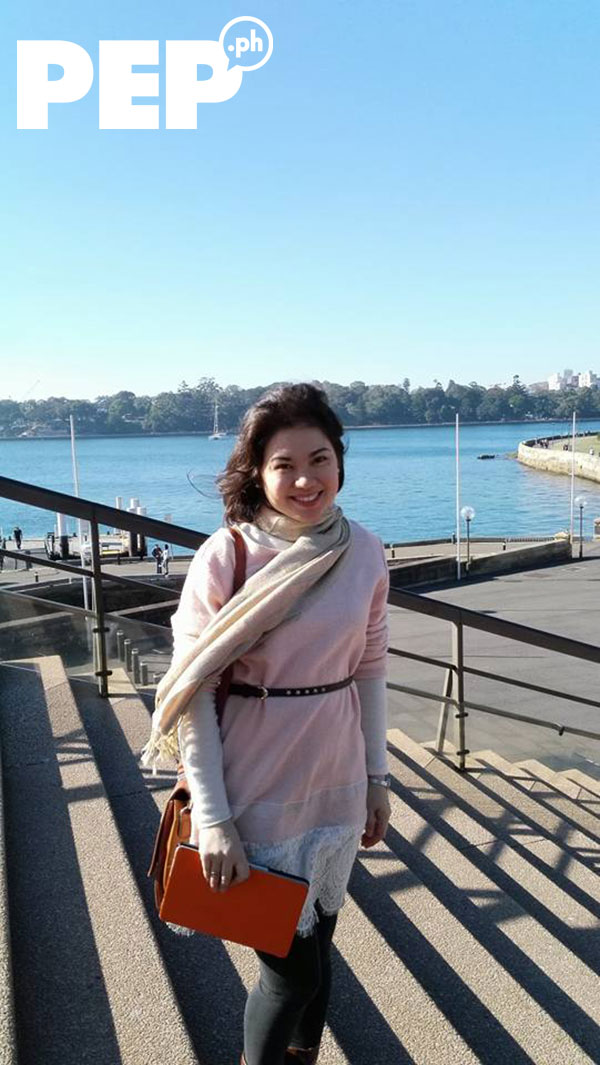 Ano ba ang latest sa showbiz? Find out kung anong level ang showbiz IQ mo by subscribing to PEP.ph Viber Chatbot here. Join our community para laging updated!