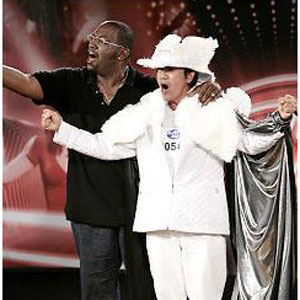 ---

QTV-11 recently aired the two-part premiere of AmericanIdol's seventh season. One of the highlights is the entertaining audition of a Filipino who is tagged as the William Hung of this batch.
As soon as Renaldo Lapuz entered the American Idol auditionroom in Dallas, Texas, the three AI judges knew that they were in for anentertaining time. Wearing a flamboyant silver cape, fuzzy white adornments andfluffy white hat that had Simon written on it, the 44-year old Filipino fromReno, Nevada, was given his moment in the spotlight—and is now immortalized inthe video-sharing site YouTube.
Renaldo performed his original composition titled "We'reBrothers Forever," showing that he is not only a talented composer but can alsocarry a tune, unlike William Hung. Simon Cowell was unimpressed at first butlater on, he waved his hands as if conducting the Filipino singer.
Fellow AI judge Randy Jackson was so amused that he called in AI host Ryan Seacrest to listen to Renaldo'sperformance. Meanwhile, fellow judge Paula Abdul stood up from her seat andmotioned as if translating the song in sign language. She danced like ago-go dancer as Ryan and Randy sang merrily along with the enthusiastic singer.
Randy even went up to Renaldo and held his hand as he beltedout the lyrics: "I am your brother / your best friend forever / singing thesesongs / the music that you love / We're brothers till the end of time /together or not, you're always in my mind."
After Renaldo's song number, Simon gave his assessment aboutthe Pinoy's performance: "I'm going to make a prediction here. I have a horrible feeling that it's going to be a hit record. You're very entertaining. Iactually like you but it's going to be 'No.'"
ADVERTISEMENT - CONTINUE READING BELOW
In the end, Renaldo did not get the chance to make it toHollywood but he did have a blast getting his proverbial fifteen minutes offame. He had this message for the strict AI judge: "Simon, you are a greatperson. You give chance for people to sing for the whole world. Thank you. Youare Heaven's chosen to give chance to any talent free of charge. Even if thereare many people who throw you negative words, there are many people who likeand admire you. You are a great person, Simon."
AI host Ryan revealed that 24 people are on their way toHollywood after passing the auditions in Dallas, Texas.
Here is the scheduleof American Idol on QTV-11:


The Satellite Feedairs on Wednesday and Thursday (6 pm) with one-hour replays at 8:30 pm on thesame days.


Replays are scheduledon:
Saturday (January 19) at 4:00 pm QTV-11 will replay the Wednesday telecast.
Sunday (January 20) also at 4:00 pm QTV-11 will replay the Thursday telecast.