Without a doubt, the "kabit" series has become a popular genre on Philippine television.
Also called "kabetseryes," it was coined by viewers to refer to teleseryes that have themes of infidelity and adultery.
And despite showing more of the same formulaic plot of a legal wife exacting revenge on her rival, the kabetseryes don't seem to grow old.
In fact, they've maintained a massive following through the years.
PEP.ph (Philippine Entertainment Portal) lists down the five infidelity-themed teleseryes produced by ABS-CBN over the past ten years, and how each series performed in the ratings game.
The ratings in this article are based on the data from Kantar Media national ratings, the preferred audience measurement of ABS-CBN.
This does not include Love Thy Woman, which still airs on ABS-CBN's Kapamilya Channel.
KUNG AKO'Y IIWAN MO
Starring: Shaina Magdayao, Jake Cuenca, Bangs Garcia
Airing Date: April 16 to November 16, 2012
Director: Manny Q. Palo, Lino S. Cayetano
Timeslot: Second slot of Kapamilya Gold
Kung Ako'y Iiwan Mo tells the story of married couple Sarah (Shaina Magdayao) and Paul (Jake Cuenca). Paul later decides to work in Doha, Qatar, where he crosses paths with his ex-girlfriend, Mia (Bangs Garcia).
Out of loneliness, Paul gets involved in an extra-marital affair with Mia.
Sarah follows Paul in Doha and finds him living together with Mia.
The pilot episode of Kung Ako'y Iiwan Mo, according to Kantar Media ratings, scored a rating of 11.5%. The series was not able to beat GMA-7's The Good Daughter.
The Good Daughter, which top-billed Kylie Padilla, was the flag bearer of GMA-7's afternoon block, got a rating of 14.9%.
Kung Ako'y Iiwan Mo later gained momentum in the ratings game.
Its final episode on November 16, 2012, registered a Kantar rating of 17.8%, and beat Sana Ay Ikaw Na Nga's 15.2%.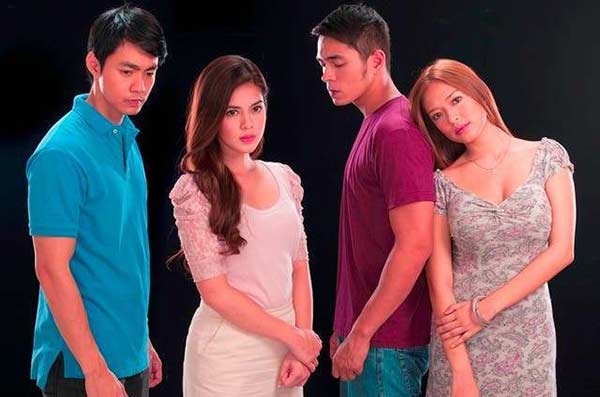 THE LEGAL WIFE
Starring: Angel Locsin, Maja Salvador, Jericho Rosales
Airing Date: January 27, 2014 to June 13, 2014
Director: Rory B. Quintos, Dado C. Lumibao
Timeslot: Third slot of Primetime Bida
The Legal Wife is the story of Monica (Angel Locsin), a career-driven family woman who discovers that her husband Adrian (Jericho Rosales) and bestfriend Nicole (Maja Salvador) are having an affair.
The series, which served as Angel's prime-time comeback after 2011's Imortal, got a TV rating of 21.0% for its pilot episode on January 27, 2014, according to Kantar Media.
Airing on the same day, the pilot episode of its rival show, Rhodora X, scored 11% in the ratings. The Legal Wife ranked fifth as the most-watched prime-time program, while Rhodora X placed ninth.
Its final episode got a rating of 36.2% against Ang Dalawang Mrs. Real, which got 8.8%.
The Legal Wife's finale aired on June 13, 2014, and was ranked the number one most-watched prime-time program on that day—a rare feat for a program showing on the third prime-time slot.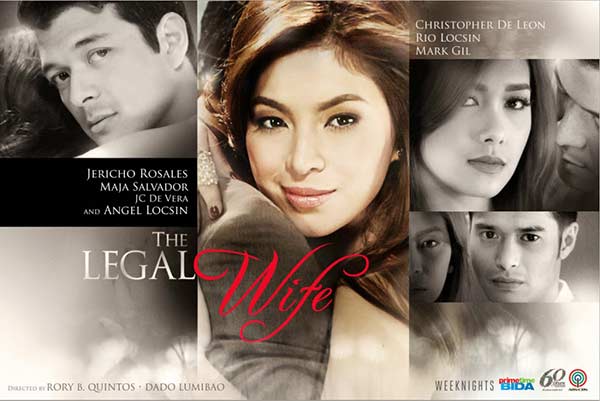 TWO WIVES
Starring: Kaye Abad, Erich Gonzales, Jason Abalos
Airing Date: October 13, 2014 to March 13, 2015
Director: FM Reyes, Raymund Ocampo
Timeslot: Third slot of Primetime Bida
The story of Two Wives, a remake of a K-Drama shown in ABS-CBN in 2012, revolves around Yvonne (Kaye Abad), who discovers her husband Victor (Jason Abalos) is having an affair with a rich woman named Janine (Erich Gonzales).
Their marriage is annulled, but an accident leads Victor back to Yvonne. Suffering from temporary amnesia, he has no memory of his life with Janine.
The pilot episode of Two Wives on October 13, 2014 got a Kantar rating of 19.8%, higher than the 12.1% rating of its rival program, Hiram na Alaala.
The final episode of Two Wives on March 13, 2015 got a rating of 25.8%, beating its GMA-7 rival program, Second Chances, which received a rating of 14.1%.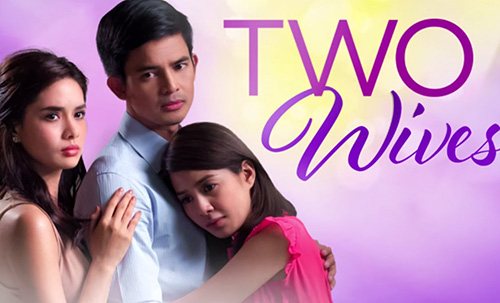 TUBIG AT LANGIS
Starring: Cristine Reyes, Zanjoe Marudo, Isabelle Daza
Airing Date: February 1, 2016 to September 2, 2016
Director: FM Reyes, Raymund Ocampo, Lyan Suiza
Timeslot: Second slot of Kapamilya Gold
Tubig at Langis tells the story of Irene (Cristine Reyes) and Natoy (Zanjoe Marudo), high-school sweethearts whose romance is rekindled and leads to their marriage.
Irene's struggles are wiith Natoy's mother, Conching (Vivian Velez), who dislikes her.
Natoy gets the barrio lass Clara (Isabelle Daza) pregnant after a one-night stand, and here is where Conching's plot to separate him from Irene thickens.
The pilot episode of Tubig at Langis on February 1, 2016 got a rating of 13.7% against its rival program, Buena Familia, which garnered 11%.
The Kapamilya series scored more viewers and higher ratings when the campy fight scenes involving Irene, Clara, and Natoy's sister Lucy (Dionne Monsanto) became viral on social media.
Its final episode on September 2, 2016 was tagged as "ang pagtatapos na hindi mo dededmahin."
It was the most-watched daytime show on that day garnering a rating of 21.6%, which was unusually high given that the afternoon block hardly ever reaches the 20% mark.
The finale of Tubig at Langis routed the 12.3% rating of GMA-7's Sa Piling Ni Nanay.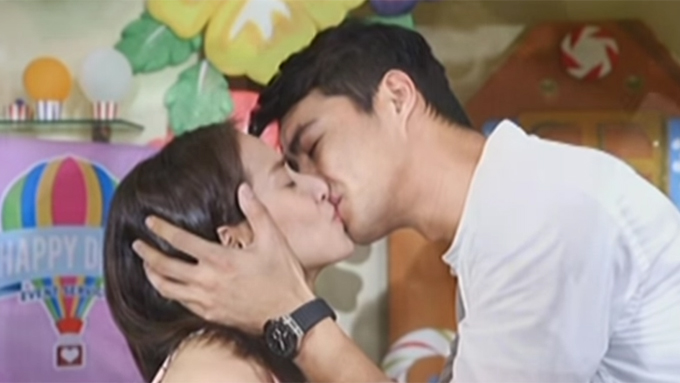 HALIK
Starring: Jericho Rosales, Yam Concepcion, Yen Santos, Sam Milby
Airing Date: August 13, 2018
Director: Carlo Po Artillaga, Cathy Camarillo
Timeslot: Third slot of Primetime Bida
Halik is about the intertwined love stories of two couples. Lino (Jericho Rosales) and Jade (Yam Concepcion) struggle to make ends meet at the same time that Lino continues to provide for his mother and sister.
On the other hand, Jacky (Yen Santos) and Ace (Sam Milby) are a couple with means. But Ace is a serial womanizer and Jacky, the last person to know, is very much in love with him.
Later, Jade meets Ace. Enticed by his wealth, Jade falls for Ace.
They both find out Jacky and Lino are formers sweethearts, and are now in business together as partners. It all gets more complicated from there.
Halik's pilot episode on August 13, 2018 got a rating of 18.2% according to Kantar Media. It raced past its GMA-7 rival, Inday Will Always Love You, which got 10.6%.
Although Halik's pilot episode was a winner, it struggled to reach the 20% mark in the ratings game.
When finally Halik regained its momentum, the show earned several extensions.
Halik aired its finale on April 26, 2019 and got a rating of 30.3%, beating its rival program Love You Two', which got 11.4%.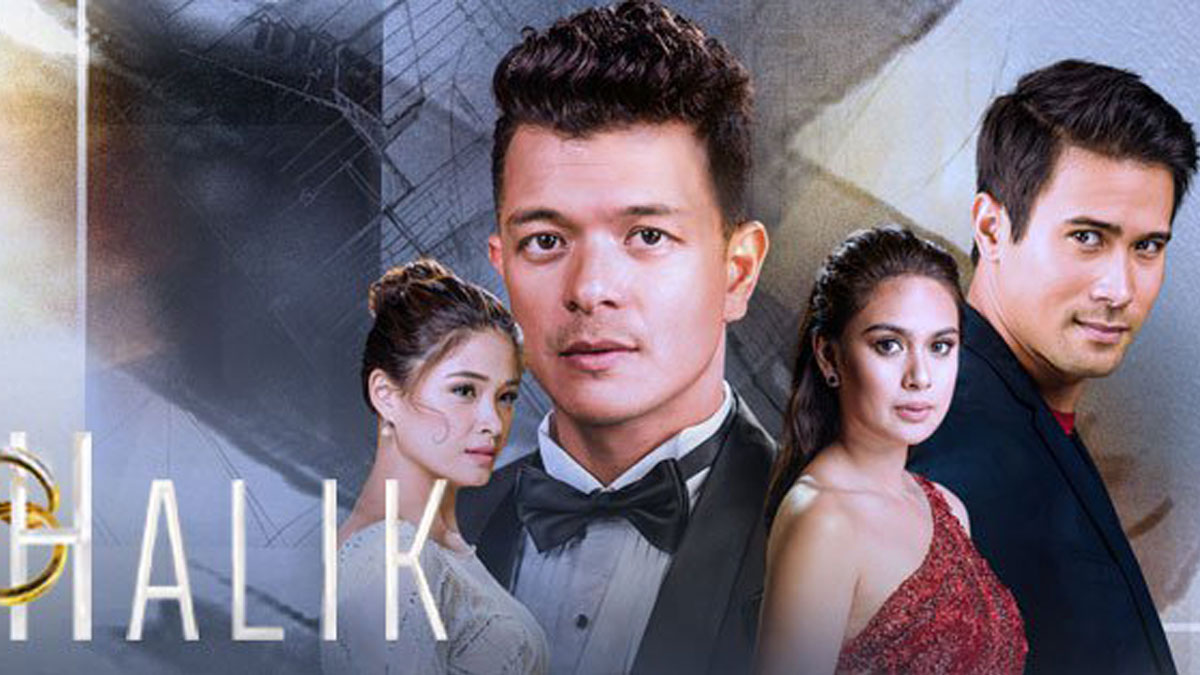 Ano ba ang latest sa showbiz? Find out kung anong level ang showbiz IQ mo by subscribing to PEP.ph Viber Chatbot here. Join our community para laging updated!