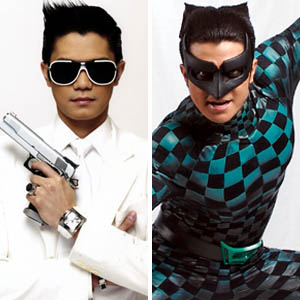 ---
A new year signifies change, especially for a man who has portrayed several characters in his career. As his first teleserye concludes on his birthday month, Vhong Navarro is very excited for his next role and the new challenges coming his way in 2008.

2007 was a good year for Vhong Navarro. A truckload of blessings came his way as he was able to immortalize two legendary characters in Philippine pop culture in one year. The first was the comedy film Agent X44, which reaped success in theaters. During the last quarter of the year, he starred in his own fantaserye: the TV adaptation of Mars Ravelo's Lastikman on ABS-CBN.

Vhong is one of the homegrown talents of the network. His patience and perseverance got him from being a dancer and sidekick comedian to his rightful throne as Philippine showbiz's Prince of New Age Comedy. Over the years, he has played a multitude of roles, each one with a different and unforgettable personality. Yet, the one that will probably be etched in the mind of his fans is his most recent role as an elastic Pinoy superhero,Lastikman.

Vhong could not be any more grateful for the support that his show has received for the past months. SinceLastikman began in October of 2007 and even until now when the fantaserye is just a few days away from its final episode, viewers continue to patronize the show despite the arrival of new programs, and its loyal following holds on for the exhilarating happenings that will take place on the show's last week.

After battling and winning against several aliens and disturbed creatures for the past weeks,Miguel (Vhong) has to end evil by coming face-to-face with the one responsible for his loved ones' demise and his family's separation: Jared Evilone who became the villain Elemento. The most powerful of Lastikman's opponent, Elemento has the power to control different elements—water, wind, fire and ice—all of which are Lastikman's weaknesses. Will this be the downfall of Lastikman? Or will he be able to defeat his biggest nemesis of all to save his country and his beloved mother?

Surely, immortalizing the Pinoy comic book superhero can be added to Vhong's long line of achievements. But as he turns a year older, his supporters can only conclude that there will be another character for him to portray, and another exciting adventure to look forward to.
ADVERTISEMENT - CONTINUE READING BELOW


Don't miss the action-packed and heartwarming ending of the fantaserye that stretched the imagination of the whole country. Watch the finale ofMars Ravelo's Lastikman, weeknights after TV Patrol World on ABS-CBN.