The noontime shows are back to regular programming, albeit with changes.
As GMA-7's Eat Bulaga! and ABS-CBN's It's Showtime resume production in the midst of the COVID-19 pandemic, both shows have implemented changes to follow safety protocols.
In spite of the challenges these live shows face today, another network has officially joined the battle for noontime TV: NET 25, with the launch of its noontime variety show, Happy Time.
Now that it's a three-way battle, PEP.ph (Philippine Entertainment Portal) takes a look at how Eat Bulaga!, It's Showtime, and Happy Time hold their current shows in the new normal.
GMA-7 AND TAPE's EAT BULAGA!
From March 16 to June 6, 2020, Eat Bulaga! aired replays after Luzon was placed under enhanced community quarantine (ECQ) because of the COVID-19 pandemic.

On June 8, 2020, the longest-running noontime show in the Philippines was the first to resume production.
Today, select hosts report in rotation to follow guidelines on physical distancing.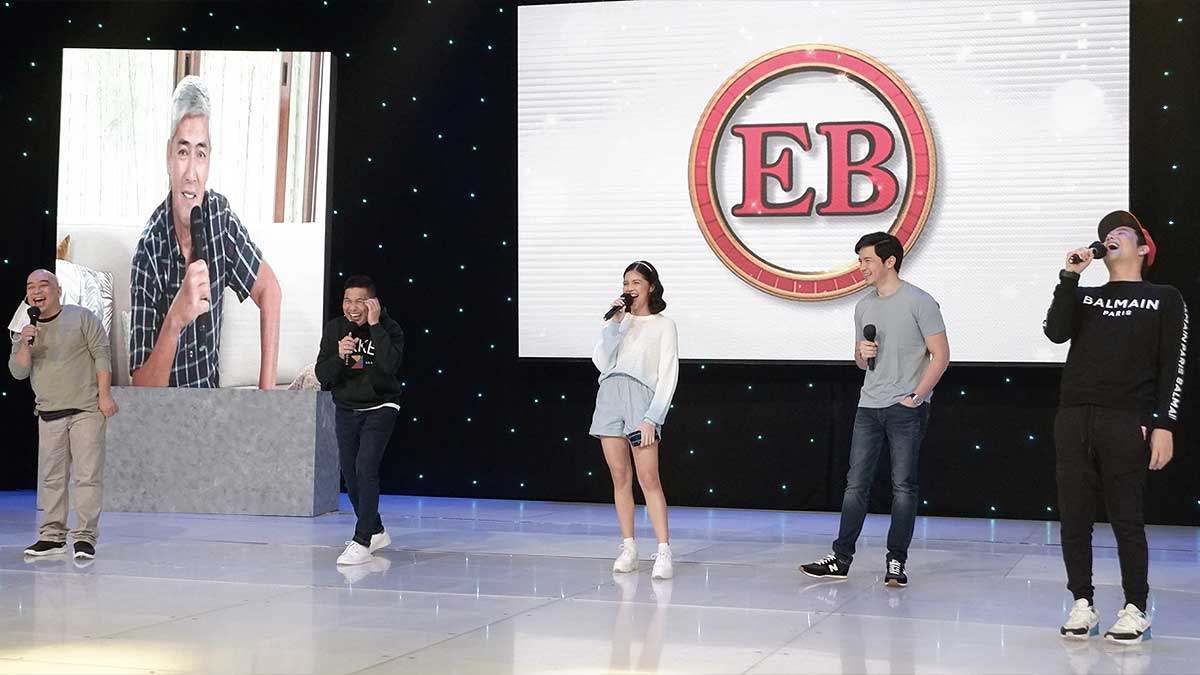 While they sometimes hold live shows, most episodes are taped as live.
Maine Mendoza, Pia Guanio, Wally Bayola, Jose Manalo, Paolo Ballesteros, Ryan Agoncillo, and Alden Richards are the hosts who have been tapped to report in the studio.
However, only five hosts can be featured in each episode.
Vic Sotto and Joey de Leon, the main hosts of Eat Bulaga! for 41 years, report from home.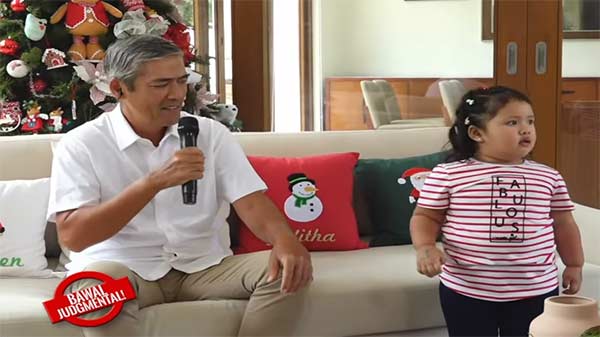 Eat Bulaga!, which runs for two hours and thirty minutes, currently has three segments.
First is "Pamilya Nunal," its opening segment where the hosts perform comedy sketches sent by home viewers.
Maine, Pia, Jose, Paolo, Wally, and Alden play characters who are part of Pamilya Nunal, and wear fake big moles.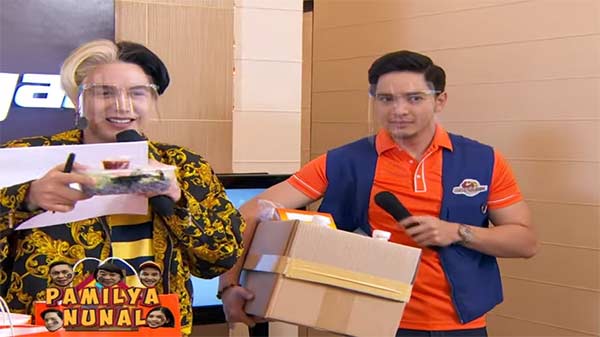 "Juan For All, All For Juan" now has a different format under the new normal.
Before the pandemic, hosts would go to barangays.
In the segment's new format, Eat Bulaga! asks its home viewers to post pictures on Facebook showing themselves watching the show while holding a product of one of the show's sponsors.
By the end of the episode, Eat Bulaga! chooses a winner who may be interviewed via Zoom, or live in the studio, if the winner is near APT Studios.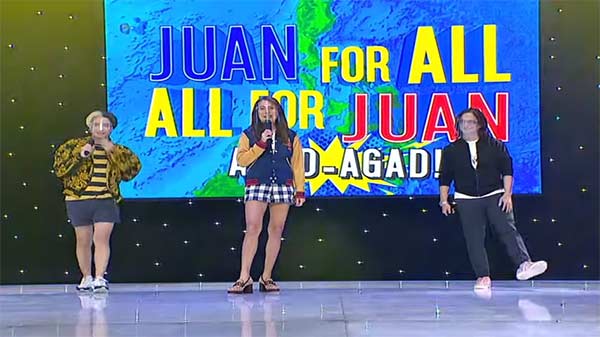 The popular segment "Bawal Judgmental" takes up a big chunk of Eat Bulaga!'s airtime.
A celebrity player, called the judge, is tasked to answer a question by identifying the correct choices among seven people each having a distinct description or characteristic.
"Bawal Judgmental" has trended several times on social media because it unwittingly touches on current societal issues and events.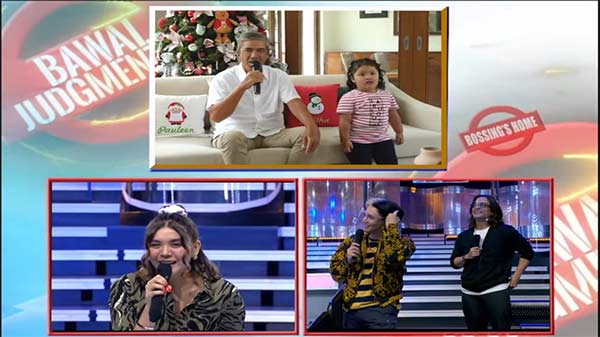 The segment has also become a celebrated segment for cast reunions of now-defunct TV shows.
For the new normal, Eat Bulaga! has transformed its audience area to house custom-made plexiglass body shields where the celebrity choices stay during the segment.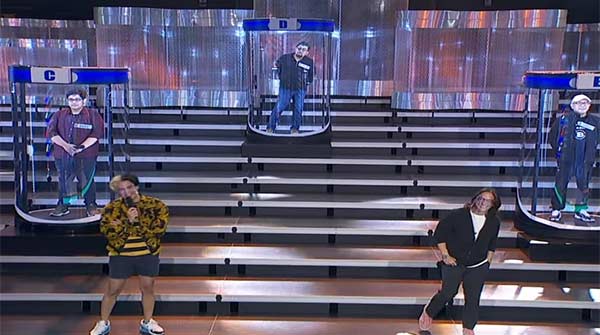 Alden and Maine, who usually host the segment, perform TikTok dance steps onstage.
Sometimes, Vic's daughter, Tali, also dances from home.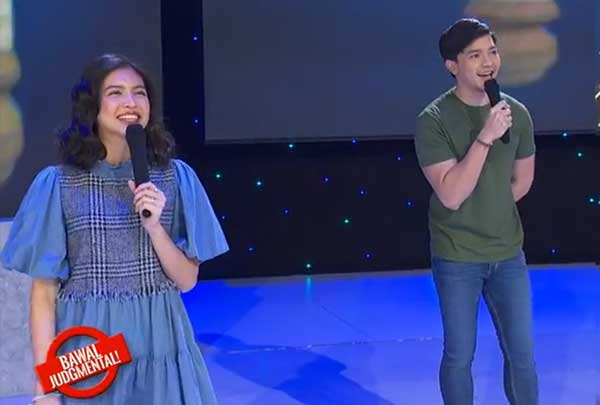 Before the pandemic, celebrity guest judges brought along friends or family members to help them with their answers.
In the new normal, their friends can still help them via video call.
"Bawal Judgmental" also became a hot topic when it started featuring ABS-CBN artists—namely, Pokwang, Richard Yap, Louise delos Reyes, and Cristine Reyes—as guests after the Kapamilya network went off the air.
ABS-CBN'S IT'S SHOWTIME
It's Showtime started doing live shows again on June 13, 2020, with the launch of Kapamilya Channel, which now houses ABS-CBN's programs.
Vice Ganda, Vhong Navarro, Karylle, Jhong Hilario, Jackie Gonzaga, and Ion Perez are the constant hosts appearing on the show.
The pairs of Jugs Jugueta and Teddy Corpuz, and Amy Perez and Ryan Bang report in rotation.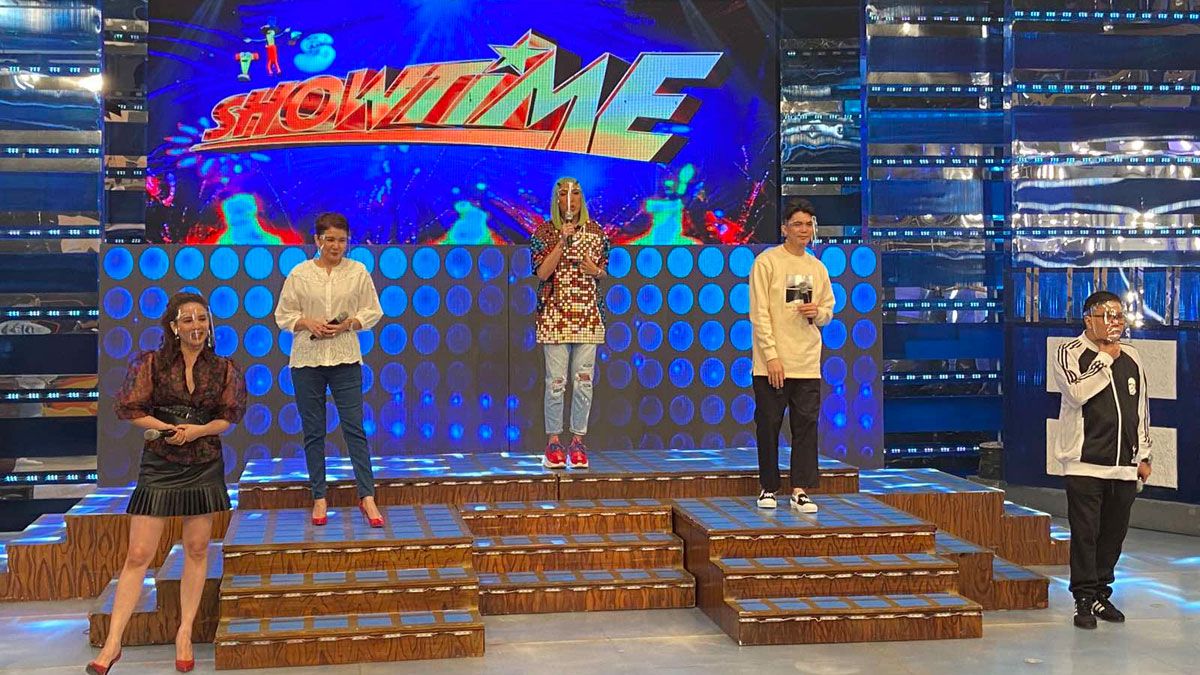 It's Showtime still opens the show with a musical number or dance production either by a guest or the hosts, who also sing the theme song.
Only one of its old segments, "Tawag ng Tanghalan," has been retained.
Now in its fourth year, the amateur singing contest has its contestants performing on a platform instead of the big stage with a staircase.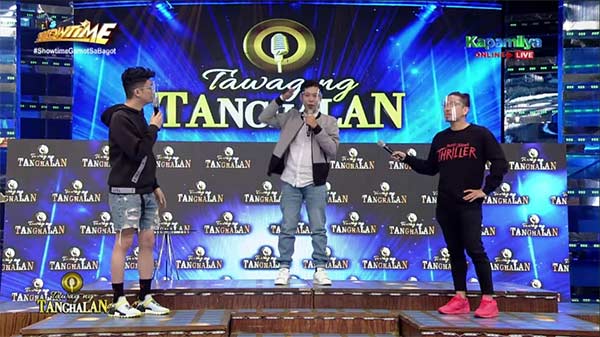 Because of the demands of physical distancing, the segment's usual five judges are now limited to three.
The judges who report in rotation are Karylle, Zsa Zsa Padilla, Randy Santiago, Nyoy Volante, and K Brosas.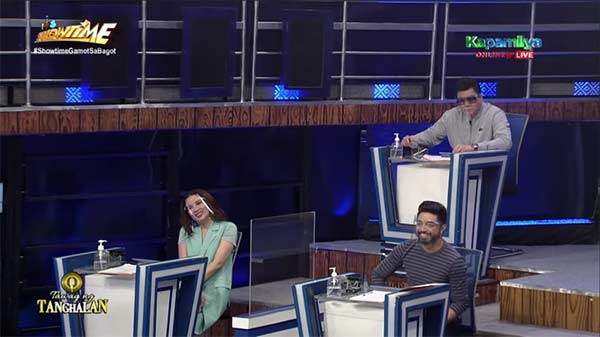 Once in the Kapamilya Channel, It's Showtime introduced "Pamilyonaryo," where a family participates in a guessing game to win a cash prize.
Another new segment is "1Ted Now Hiring," a televised job hunt where workers who lost their jobs because of the pandemic can apply to new employers who are hiring.
In August 2020, "Pamilyonaryo" and "1Ted Now Hiring" were discontinued and replaced by a segment called "Mas Testing."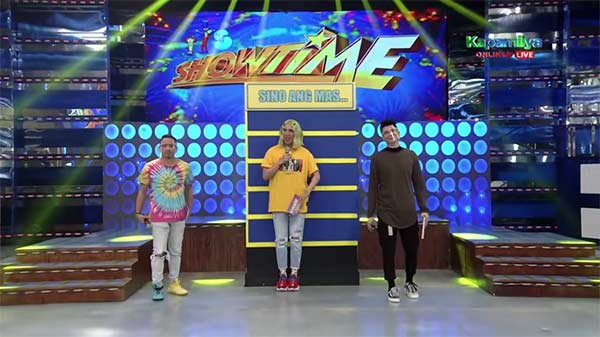 A celebrity player called the Tumpak Tracer is given five questions about two other guests called PUIs or Persons Under Investigation.
If the Tumpak Tracer makes the correct guess, and chooses the right PUI, he or she can give a cash prize to a lucky netizen who tweeted about It's Showtime.
If the Tumpak Tracer is wrong, he or she must undergo a FUNishment, which is a funny challenge, such as doing push-ups with drinks on his/her back.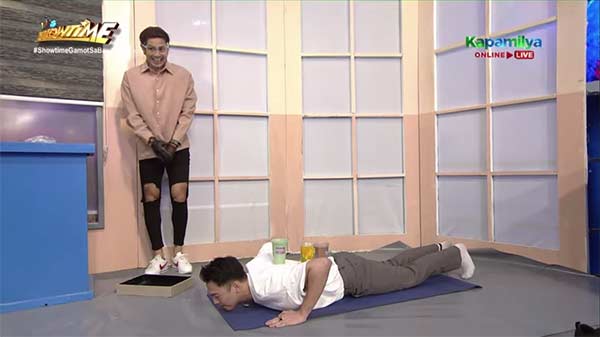 It was in this segment where Hashtags member Zeus Collins took a butt selfie, Karylle greeted ex-boyfriend Dingdong Dantes, and Ion Perez accidentally showed his ripped briefs on national TV.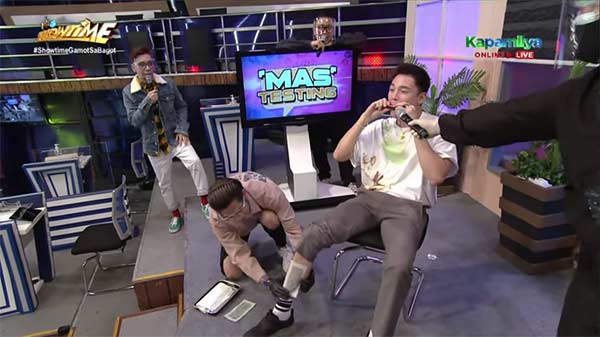 Just like Eat Bulaga!, It's Showtime does not accommodate a live audience.
The show's hosts and celebrity guests are also required to wear face shields throughout the show, except when a "Mas Testing" FUNishment entails removing it.
NET 25'S HAPPY TIME
Happy Time is the newest show on the noontime block of Net25.
It aired its pilot episode on September 14, 2020.
Janno Gibbs, Kitkat, and Anjo Yllana are the main hosts of the program.
They open the show by singing the theme song of Happy Time, and engaging in a little banter about what to expect from the episode.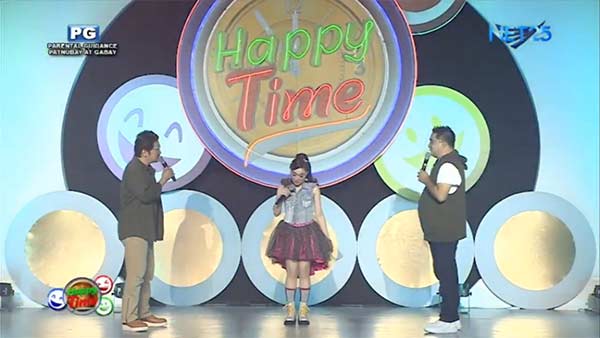 Currently, Happy Time has six segments.
Three of these segments are parlor games intended for ordinary people who can participate as players.
The first is called "Bawal Peyk News," where four players have to pass the correct message to each other to deliver the right headline. The twist: each player has a headset with loud music!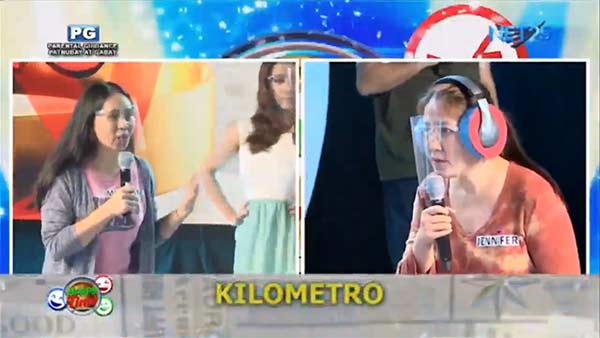 The second segment is "Hanger Games," where two teams with three players each go through three stages to hang clothes on a clothesline.
The third segment is called "PM is the Key," where a celebrity player acts as a delivery boy, and has to guess who among the three potential buyers is the recipient.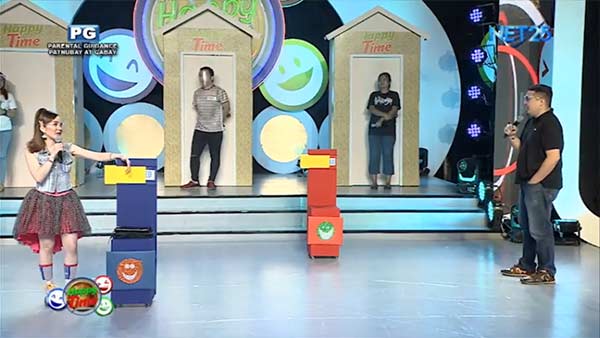 Janno and Anjo also have their own segments.
Janno's segment is called "Janno Gives…" where he performs songs to pay tribute to singers or gives advice to netizens and viewers.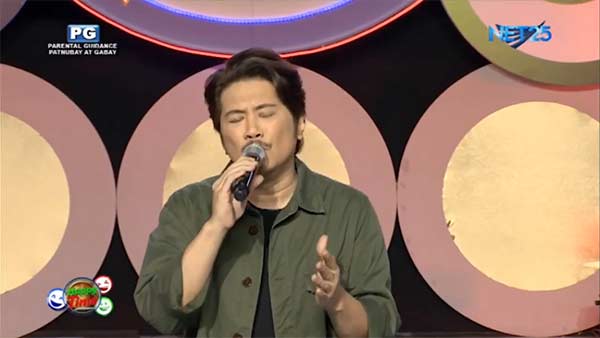 Anjo hosts the segment "Ayuda Juan," where he interviews ordinary workers who have lost their jobs because of the pandemic.
At the end of the segment, Happy Time gives the guest a special showcase.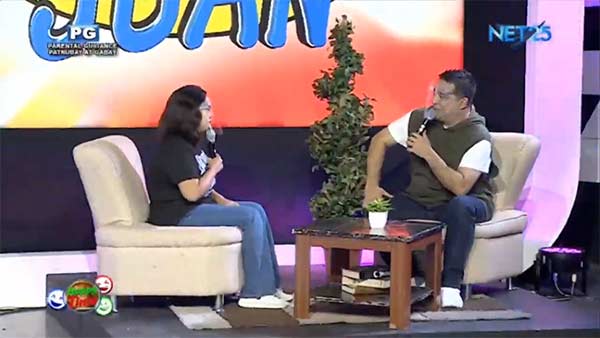 DJ and music composer Aikee Poblador hosts the segment "Mask-unurin of the Day," a man-on-the-street segment where he looks for citizens wearing face masks and face shields.
Janno, Kitkat, and Anjo close their show with the segment titled "Maalis Taya," where they play the classic children's game using big mascot hands.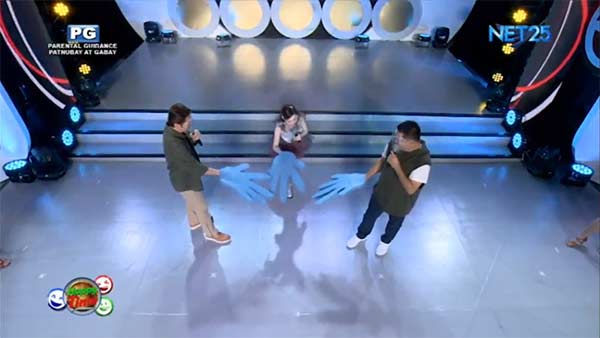 Even though Happy Time allows the presence of ordinary players, studio audiences are not allowed.
They also observe physical distancing and wear face shields.
PEPsters, which noontime show do you think has better segments under the new normal: Eat Bulaga!, It's Showtime or Happy Time?
Answer our poll below and share your thoughts in the comments section!
Ano ba ang latest sa showbiz? Find out kung anong level ang showbiz IQ mo by subscribing to PEP.ph Viber Chatbot here. Join our community para laging updated!