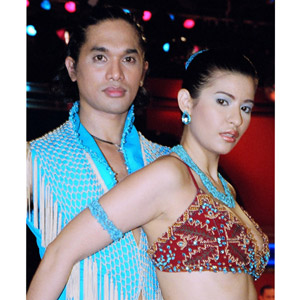 ---

The seventh season of ABC-5's Shall We Dance: TheCelebrity Dance Challenge kicks off this Sunday, January 27, at 9 p.m. Thefirst batch features not only three but five celebrities who will be vying fora slot in the finals.

Shall We Dance(SWD) gives a second chance to former challengers who weren't able to make it to thefinals during their first stint in the show. These are funnyman Long Mejia,actress Assunta de Rossi, boxer-turned-comedian Onyok Velasco and sexy starAngelica Jones. SWD's very own Dominic Ochoa, Lucy Torres-Gomez's co-host eversince the show started, completes the line up for the first batch as he finallyagreed to be a contestant in the dance challenge.

Dominic was asked time and again to dance in the show but hewould agree only during TV specials. But this time, Dominic is up for a biggerchallenge. "Nung nalaman kong si Long ang makakalaban, sabi ko sige okay lang.Mukha naman si Long ang unang matatanggal," he quips.

Dom, together with partner Michelle Valdez, has been doingrigorous rehearsals because according to him the last thing he wants the judgesand the audience to see is a half-baked performance. "Gusto kong ma-surpriseang mga judges sa sayaw namin kaya nag-practice talaga kami nang husto," headded.

Long, who first competed in the show's season 2, said he ismore than ready to compete this time. When asked who he thinks is his toughestcompetitor, the comedian answered in jest, "Kung nandito lang si John Travolta,siya talaga ang toughest competitor ko." Long admitted later on that he isactually nervous but will definitely try his best because he doesn't like to disappoint hispartner Raine Trinidad.
ADVERTISEMENT - CONTINUE READING BELOW

Onyok is also back in SWD, and with a vengeance. This time,he says, he is more determined to win. He and dance partner Olivia Cui willincorporate more liftings in their routines to showcase Onyok's strong arms,and more intricate footwork in the arrangements.
Angelica Jones says that she has moved on from hercontroversy with the reality dance program. She once accused Shall We Dance of being unfair because shedidn't get the song she wanted for her Jive number. All she wants now, shesays, is to redeem herself and prove that she can really dance well.

Assunta was just happy to be able to dance again in SWD. Sheand her partner Rodel Espinosa will try to impress the judges and the audiencewith their salsa routine.

Unlike last season, SWD has added a new twist in the dance competition.Whenever there will be a non-elimination episode, the pair who gets the lowestscore will have to prepare two dance routines for the next competition. Also,the three resident judges Ednah Ledesma, Audie Gemora and Regine Tolentino willbe stricter and harder to please this season.
And so the dance battle begins this Sunday night at 9p.m. as Philippine TV's original dance competition of the stars,
Shall WeDance: The Celebrity Dance Challenge,
premieres its newest season onABC-5.