James Reid's reaction to Billy Crawford's prank call trended on social media on November 5, 2020.
In the episode of TV5's noontime show, Lunch Out Loud (LOL), Billy phoned James to ask if he can borrow a huge amount of money.
Billy said in his intro, "Iiwan niya ba ako sa ere o mahal ako ng kapatid kong si James Reid?"
Co-host Ariel Rivera quipped, "Kapag pumayag siya, uutang din ako."
With everybody quieting down inside the studio, Billy dialed James's number.
THE PRANK CALL
When James answered his call, Billy first asked him about his day and congratulated him for his ex-girlfriend Nadine Lustre's album, which James produced.
Billy then proceeded with his prank.
The setup: Billy requesting James for a huge loan as he is about to lose his home.
The LOL host said, "Listen, James, I hate to do this to you, bro.
"I'm in a major major bind right now. I have a big problem. I'm really embarrassed, sorry bro.
"I'm a bit stressed out and I'm in need of help. Since the whole pandemic thing started, we're all trying to move on and do our thing.
"But the problem is, for the longest time, six, seven months, I haven't made any money whatsoever, right?
"So, obviously, you know where this is going, bro. I'm about to lose my house.
James's only reaction was: "No way."
Billy continued, "Yeah, bro, I'm about to lose my house.
"Like, I'm given a few months to actually pay for it.
"So, I need you, bro. Are you good if I can like, borrow, let's say, in advance of five million?"
James replied, "Okay, right now, my situation is most of my money is in Australia so I have about *** here with me."
The amount of money James mentioned was in bleep. The hosts of LOL were surprised upon hearing this.
Billy told James, "Oh, dang, you know, I don't want to really do this to you, bro, because I don't want to feel embarrassed.
"But any amount actually right now will do, whatever you can."
James responded, "I'm willing to help. No problem. I'll get back to you. I just can't leave where I'm at right now."
Billy said he could cry anytime with everything that's happening to him, which James said he understands.
MONEY AND CAR AT STAKE
Following his script, Billy said his wife Coleen Garcia didn't know anything about their financial woes!
He told James, "I'm not telling my wife everything because she just gave birth. I have a new kid and it's just really messed up."
He then gave the amount he needed, "Will you be able to do like really quickly, maybe less than a week, like 2.5 or 3 million at least, or whatever you can?
"Or even five hundred thousand or one hundred fifty, I'm really desperate right now."
To add more drama to his story, Billy told James he had sold his car and could he borrow a car from him.
He said, "Please don't tell anybody this, but I sold my car two days ago because I really need funds.
"You mind, like I got work tomorrow, you mind if you can lend me a car?"
James did not think twice and told Billy, "Actually, no problem, man."
Billy, playing it to the hilt, laid it on thick, "You think I can like put that on... I can take your car and then I can probably sell it?
"Bro, promise, I can sell it, but I can give you back more than what I actually borrow from you."
James did not react to the suggestion, but said he would arrange a money transfer the soonest possible.
James told Billy, "Okay, let me transfer you how much I have in my bank right now.
"Most of my money is in Australia, but I'm planning on bringing a lot of it back anyway, because of the way things are going here.
"So I'll let you know, I'll get back to you within the day."
Billy then asked his friend, "But are you pissed off though? Are you mad at me?"
James answered, "No, not at all. I completely understand you. You have a kid.
"Yeah, I understand, man. I know that's not easy. But I'm here for you, bro. I completely understand."
Billy, sounding insistent as part of the prank, squeezed James some more.
He continued, "But, bro, I hate to pressure you, I need an answer like now like if I can.
"How much at least so I can tell my wife. At least it's safe to say like, 'Listen, James was there, he helped me out,' this and that."
James told Billy to give him until around lunch time to work out something.
Billy then asked if James could at least lend him a few thousand pesos, "You think you can send over at least PHP10,000?
"Bro, I just need it to send it to my wife's account so that we can pay for a few bills, the diapers… I mean, she's breastfeeding so it's cool.
"But the diapers, bro, it's kind of expensive. I'm not gonna lie. PHP1,500, you can send it right now like I'm in a studio, taping."
James answered, "Okay, yeah, sure. How am I gonna send that to you."
Billy then proceeded to the big reveal.
He told James, "Wait, let me try to figure this out. I can actually just text to you the bank account so you can just either wire transfer it or you can actually just sit down or relax because this is a prank call, my bro!
"Na-LOL ka, James Reid!"
James's only reaction was: "Billy… oh my God. That's how much I love you, bro!"
Billy said that he thought of pranking James because he knows James wouldn't leave him hanging.
James told Billy, "Bro, I'm gonna ***** kill you when I see you! I love you, bro!"
BILLY'S INSTAGRAM STORY
After the prank, Billy had an appreciation post for James on his Instagram stories.
Billy wrote, "It's not about you willing to lend money. It was about the real concern of a true friend.
"That, I respect and I admire! You're blessed for a reason, my brother!
"Love you my dawgs!"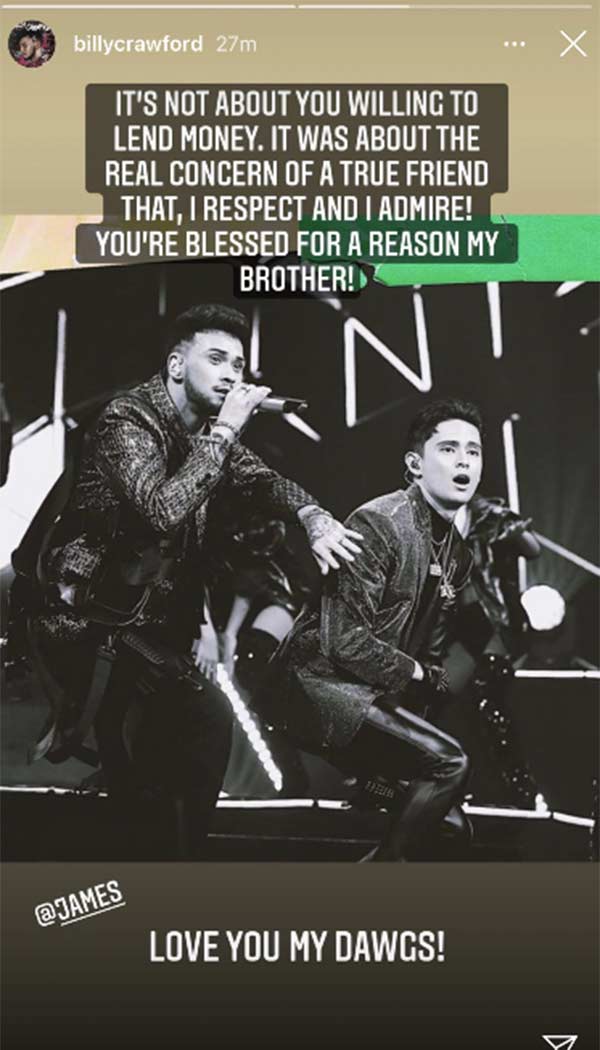 The Twitter account of LOL also posted a videotaped message of Billy for James about the prank.
He told James, "I'm sorry for doing this! I'm sorry na-prank kita but, you know what, iyong totoong kulay mo, you're true colors came out.
"And that is just a real true friend who will do anything, who will sacrifice a lot of things just for the people you care for and you love and I salute you for that.
"You're just a loyal, good, good friend. And I love you, bro, you know that. And when you need something, don't call me because I don't have five million!"
NETIZENS' REACTIONS
Netizens were floored by James's response to Billy's hard-luck story.
One Facebook user named Maureen Lizette Salise posted a transcript of James and Billy's conversation on LOL.
Praising James, she wrote in her public post (published as is), "Imagine a friend who could just let you borrow not for thousands but millions. I was really amazed how James Reid answered Billy without so much reactions. We always have that friend we can really rely on and count to. Choose people who we know we can run on whenever life gets upside down and never leaves no matter how hard the situation may be and no matter how small his or her help could be."
At press time, the post has 82K reactions, with 62K of them are heart reactions. The post has also gained 74K shares.
Fans of James were also amazed at how he reacted to Billy, his "friend in need," with most of them saying, "sana friend ko rin si James."
Here are some of the tweets:
Ano ba ang latest sa showbiz? Find out kung anong level ang showbiz IQ mo by subscribing to PEP.ph Viber Chatbot here. Join our community para laging updated!
Also, you can use these foodpanda promo codes or vouchers when you shop or order online. Marami pang ibang coupons dito.