Live TV is truly unpredictable.
Even with the best of preparations for production numbers, every detail rehearsed, all precautions in place for the performances—mishaps can still happen, including stars falling off the stage.
But the best part is how most stars bounced back easily, and switch to performance-level mode again.
PEP.ph (Philippine Entertainment Portal) lists 10 of the most talked-about stage falls that happened live on Philippine television.
1. Claudine Barretto curses on live TV after tripping on ASAP stage
Claudine Barretto's blunder in ASAP Mania is probably the first blooper on Philippine TV that made it to YouTube.
On April 13, 2003, Claudine, then dubbed by ASAP as the "newest box-office queen," was tapped to do the opening spiels.
She delivered the spiel as she was going down a steep flight of steps.
On her last step, Claudine tripped. Caught off guard, she blurted, "Ay, p*tang*na!"
Quickly regaining her composure, she said, "Sorry po."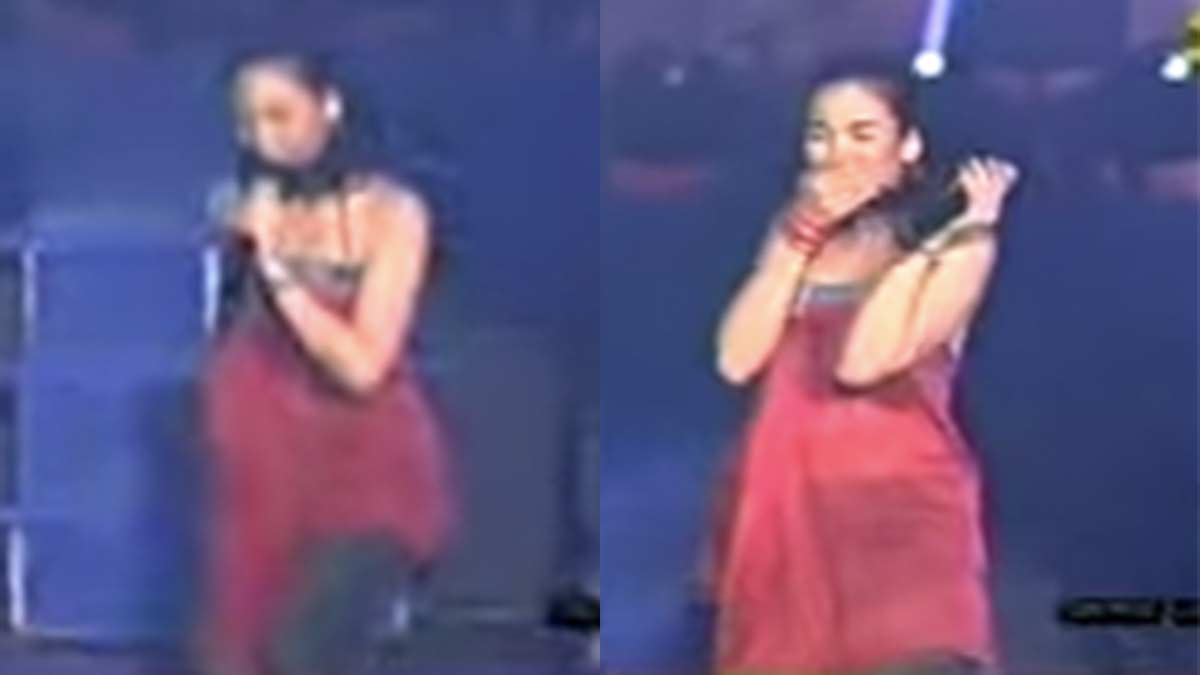 In Claudine's interview on Jeepney TV's Showbiz Pa More in 2019, host Jai Ho showed the YouTube video of her ASAP gaffe.
Claudine's reaction: "At least nauna ako sa YouTube! Tao lang po, nagmumura rin, di ba?"
2. Sarah Geronimo stumbles on stage during her ASAP birthday production number.
On July 23, 2017, Sarah Geronimo did her yearly birthday production on ASAP.
She performed a mash-up of Bebe Rexha's "The Way I Are," DJ Khaled and Rihanna's "Wild Thoughts," and Little Mix's "Power."
Clad in high heels and a huge pink fur jacket as she danced, she suddenly lost her balance and fell flat on the floor.
Sarah simply smiled and shouted "Ha!" as her back-up dancers quickly ran to her side.
But the singer-actress picked herself up on her own and just continued dancing.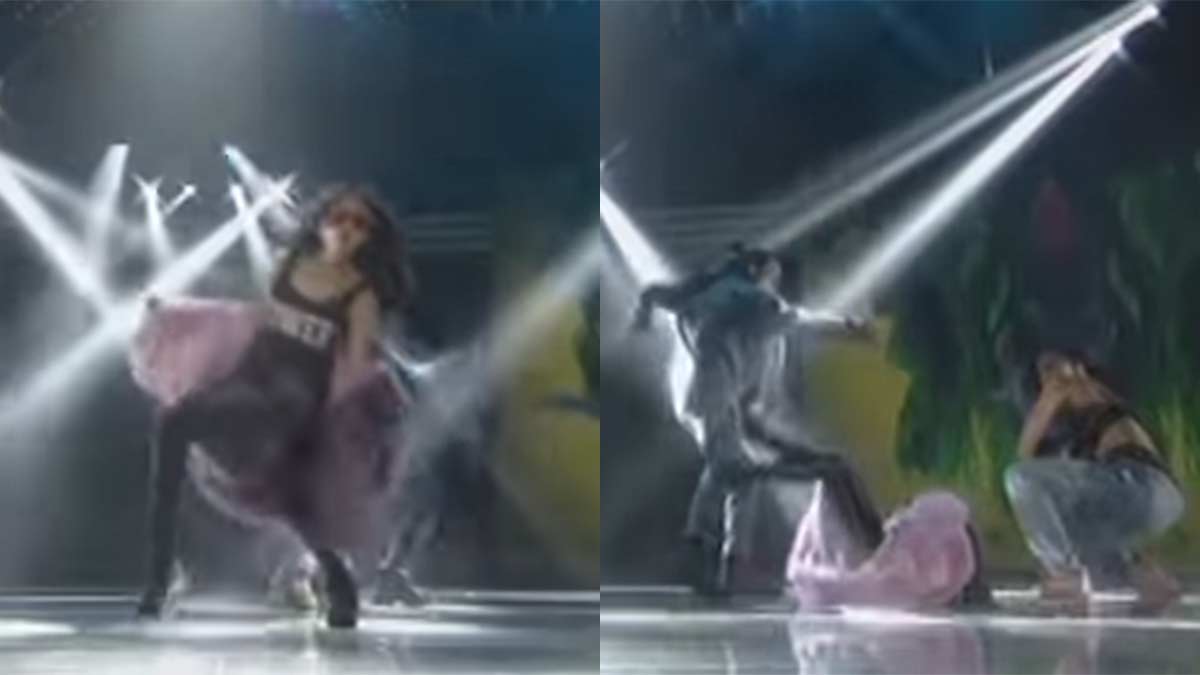 In an interview with PEP.ph, Sarah admitted that she was not able to rehearse thoroughly for her number.
"Ayun, medyo nagkulang sa balance at mabigat din yung fur coat kasi hindi rin na rehearse at kulang ng tulog."
3. Angeline Quinto falls on her knees on ASAP stage while singing.
In the ASAP January 2012 episode, Angeline Quinto performed Aegis' "Mahal na Mahal Kita."
In her long floral dress, Angeline had to walk the length of the stage's runway to get to the front area.
As she stepped on the elevated steps, she tripped and fell on her knees!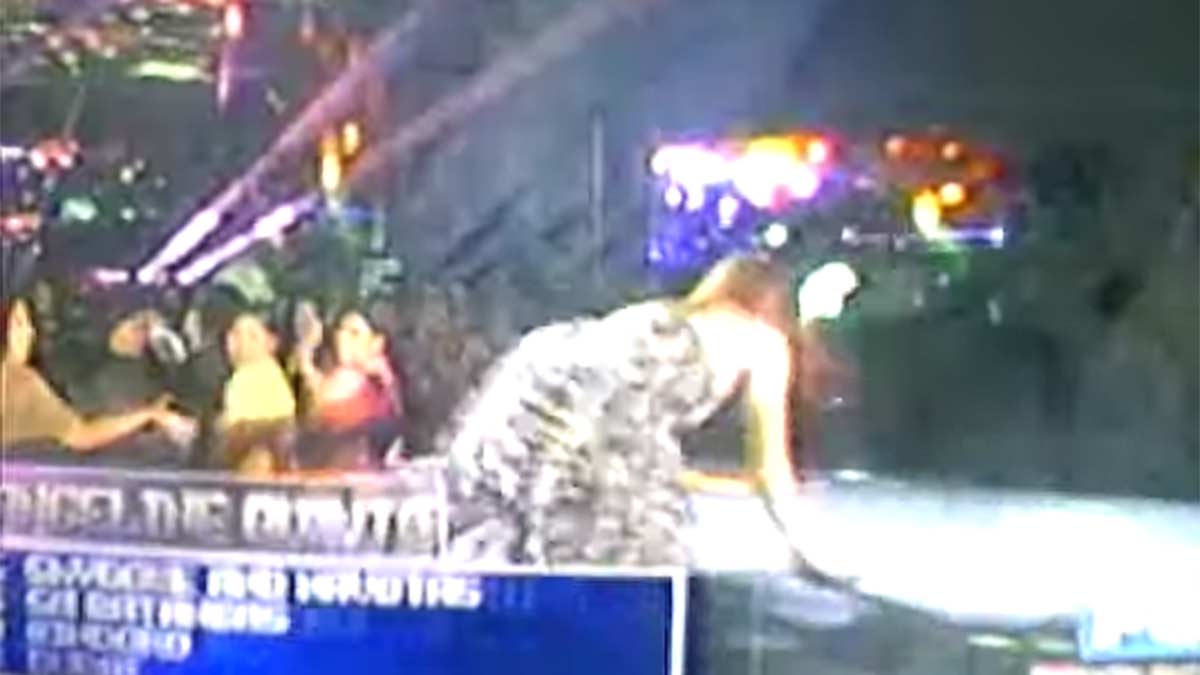 In a later press conference for ASAP in 2015, Angeline said it was one of her most memorable bloopers in the show.
Angeline also revealed why she tripped on stage.
"Ang problema ko talaga noon ay iyong damit na hindi ko pa napi-fit, ibinigay lang sa akin noong Sunday na nang umaga, 'tapos ginamit ko kaagad.
"E, hindi ko talaga alam ang gagawin ko noong nadapa ako, buti hindi ako napamura sa mic noong nadapa ako!
"Halos lahat ng mga tao that time ay nagulat, 'tapos nagsigawan iyong mga matatanda sa harap."
4. Shaina Magdayao loses balance while dancing in an ASAP opening number.
For the opening number of ASAP in one October 2013 episode, Shaina Magdayao and Nikki Gil were assigned to do a belly dance to the tune of the Pussycat Dolls' "Jai Ho."
Shaina was giving her all in the dance number, but as she twirled, the actress lost her balance.
Nikki immediately stopped dancing, came to the rescue, and helped Shaina get up.
While struggling to get up, Shaina's skirt was being pulled down, but she managed to fix it before standing up.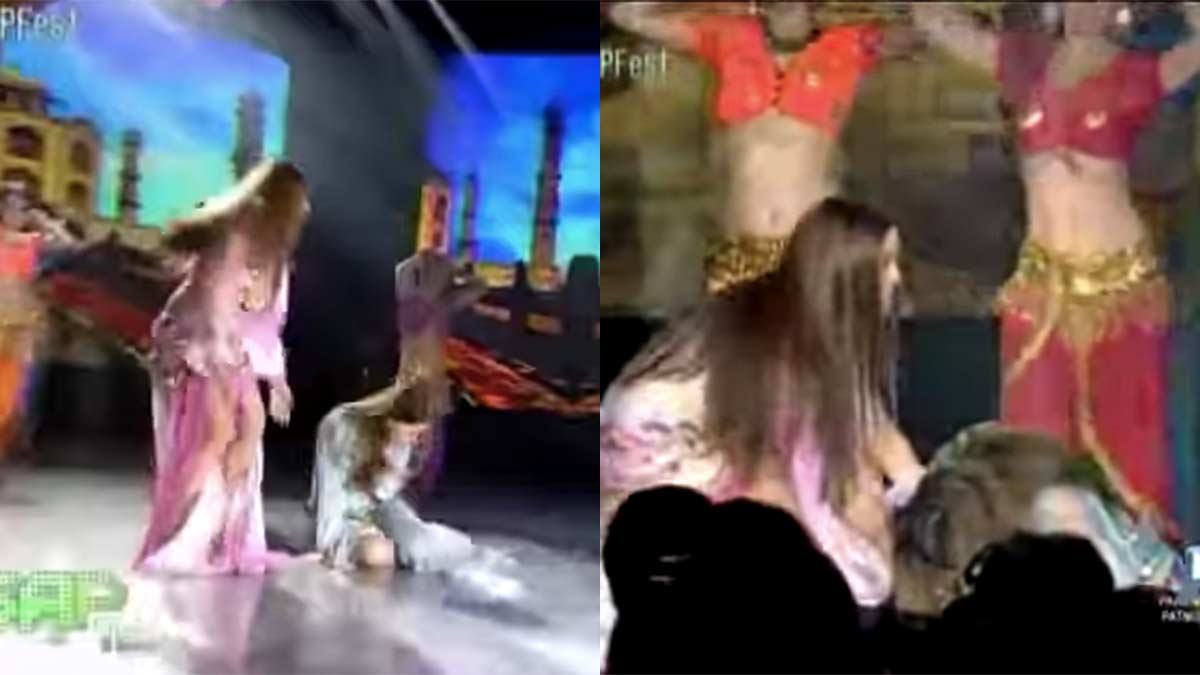 5. Kris Aquino falls through an open area of GMA Supershow's stage.
In one episode of GMA Supershow in the late '80s, Kris Aquino and Rene Requiestas did a guest appearance to promote their movie, Pido Dida.
GMA Supershow hosts Mariz Ricketts and Maricel Laxa introduced them as "the newest team to beat in the box office" before Kris and Rene emerged onstage.
The GMA Supershow stage had three stairs, each for the left, middle, and right parts of the stage.
Between the stairs was an open area covered only with white cloth.
Kris and Rene waved to the crowd as they approached the first stair step.
But even before they could reach the steps, Kris stepped on the cloth-covered open area and hit her head on the stair step as she fell.
Rene and the show's staff quickly jumped into the open area to help pull Kris out from the hole.
Because of the accident, their appearance in the show did not push through.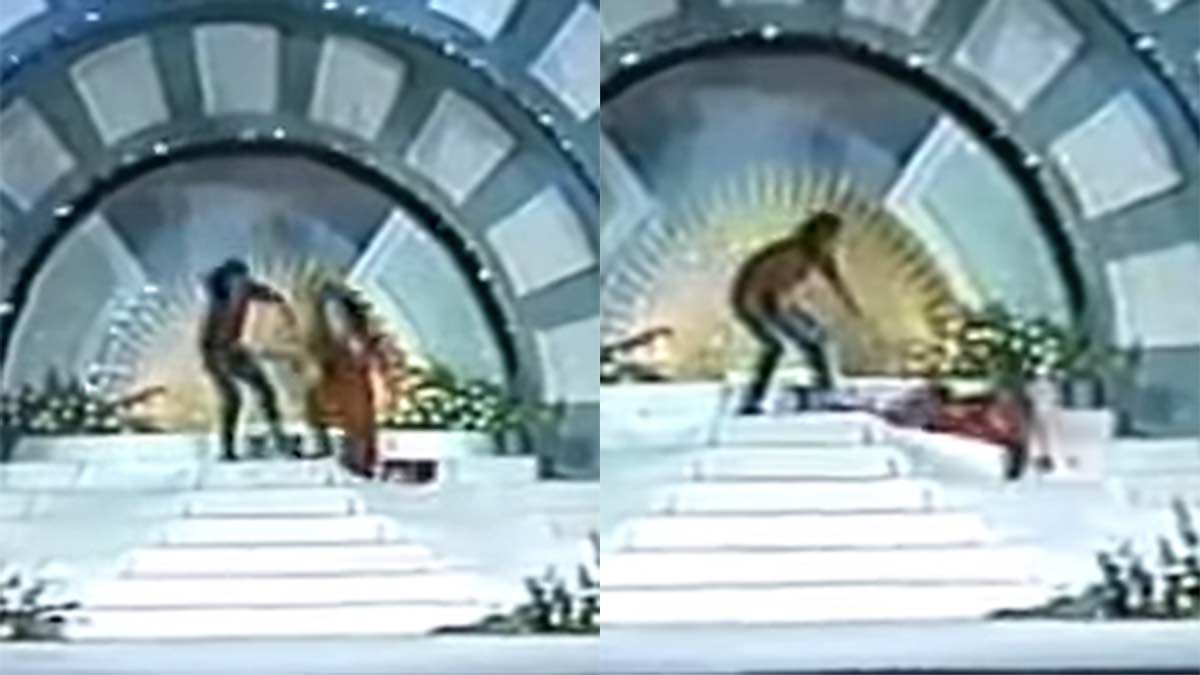 Later in the show, which was shown in a video clip uploaded on YouTube, GMA Supershow main host German Moreno apologized for the accident.
Apparently, Kris was brought to the hospital.
The late TV host said, "Hindi natin akalain na mangyayari pa sa kanya mismo kay Kris iyong hindi niya napansin iyong tutuntungan niya ay hindi stairs. So I would like to apologize sa pangyayari, pero I hope she'll be all right."
6. Herlene "Hipon" Budol stumbles onstage after doing head rolls in Wowowin.
On October 22, 2019, Willie Revillame's Wowowin co-hosts Donita Nose, Elaine Timbol, Almira Teng, Sugar Mercado, and Herlene "Hipon" Budol had a dance showcase while delivering their opening spiels.
Herlene was the last to show off her dance moves, and for this, she opted to do several head rolls, much to the delight of Willie and the audience.
To anyone watching, Herlene actually looked dizzy after the head rolls, but she continued to walk upright onstage.
But, after a few steps, she lost her balance and fell forward, landing on the cameraman who was positioned in the audience area.
Unfortunately, the cameraman was unable to catch her, so she fell face down on the floor!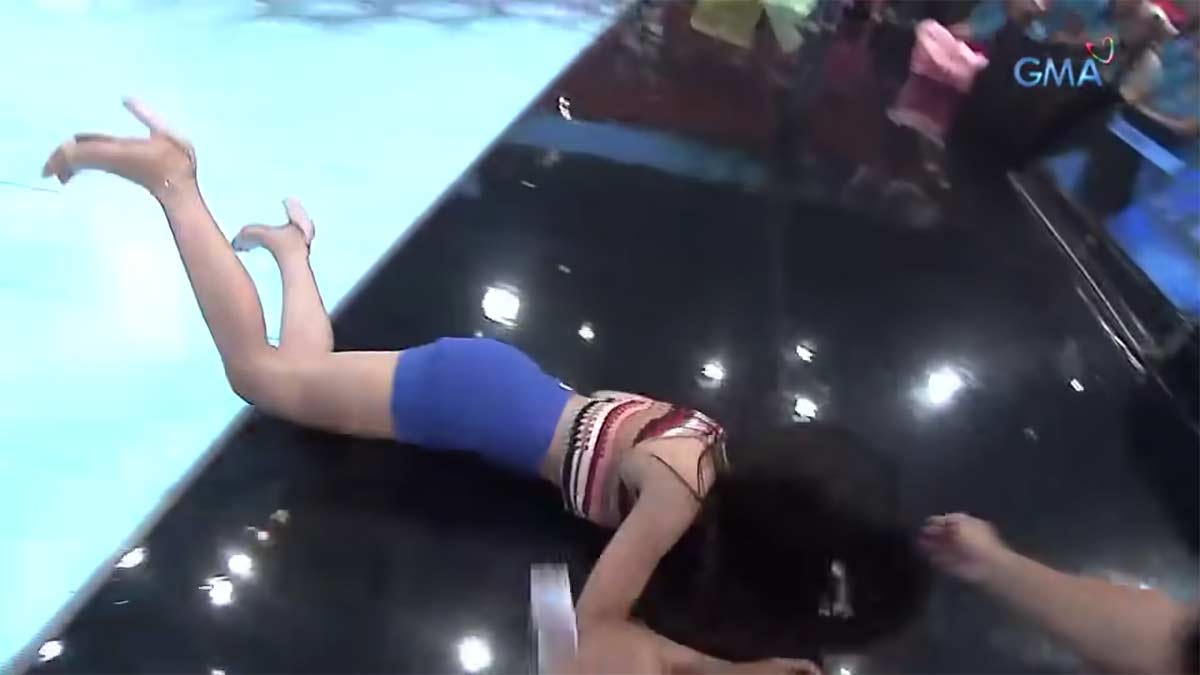 7. Kim Chiu's dance falls on ASAP
Before becoming ASAP's Queen of the Dance Floor, Kim Chiu had a number of falls during her dance numbers.
The first happened in ASAP 2012, when Kim and Enchong Dee performed a ballroom dance number that involved spinning and lifting.
While Enchong was doing cartwheels, the actor accidentally kicked Kim's head.
Then, after completing his cartwheels, Enchong lifted Kim on his shoulders.
Unfortunately, Enchong dropped Kim, causing her to bump her head on the floor.
The second happened in ASAP 20 in 2015, in a bullfight-inspired dance number with Kim and Enchong, John Prats, and James Reid.
In the beginning of the dance, Kim performed stunts that involved being lifted.
The back-up dancer assigned to lift Kim placed her on his back, but then he wobbled, causing the 27-year-old actress to fall.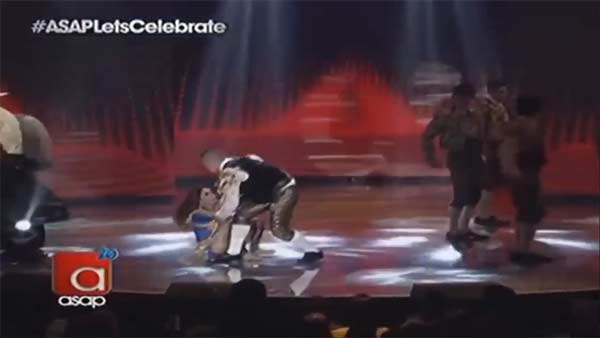 And a third happened in ASAP's February 18, 2018 episode, where Kim performed a mirror dance with Yassi Pressman, Arron Villaflor, and Enzo Pineda.
In the middle of the dance, Kim had to lie flat on a fiberglass panel that was carried by Enzo, Arron, and other back-up dancers.
Unfortunately, Kim's body slipped off the fiberglass, causing her to fall on the floor.
Of course, the show went on for Kim, who stood up as if nothing happened.
8. Julie Anne San Jose sprained, gets help from Elmo Magalona on Party Pilipinas.
On January 6, 2013, Julie Anne San Jose, along with Yassi Pressman and other Party Pilipinas dancers, performed a dance for the opening number.
In the middle of the dance, Julie slipped and hit her ankle.
She wasn't able to get up immediately, but Yassi and the other dancers did not notice and continued to finish their number until they exited the stage.
Seeing that Julie was still onstage, Yassi and the other dancers returned to help her.
Part of the entire segment was a performance by Julie and her then love-team partner Elmo Magalona, who also came rushing to the stage. He was heard asking Julie if she was okay, "Kaya mo?"
Julie insisted on pushing through with their song number.
The two performed a mash-up duet of Jason Mraz's "I Won't Give Up" and One Direction's "One Thing."
When the camera zoomed out for a wide shot, it was obvious Julie was in pain and struggling to keep her balance.
After their song number, Elmo helped Julie leave the stage.
Some comments on YouTube said Julie's slip was scripted and was a publicity stunt for the JuliElmo love team.
But there were comments defending them, pointing out that Julie was visibly hurt after she slipped onstage.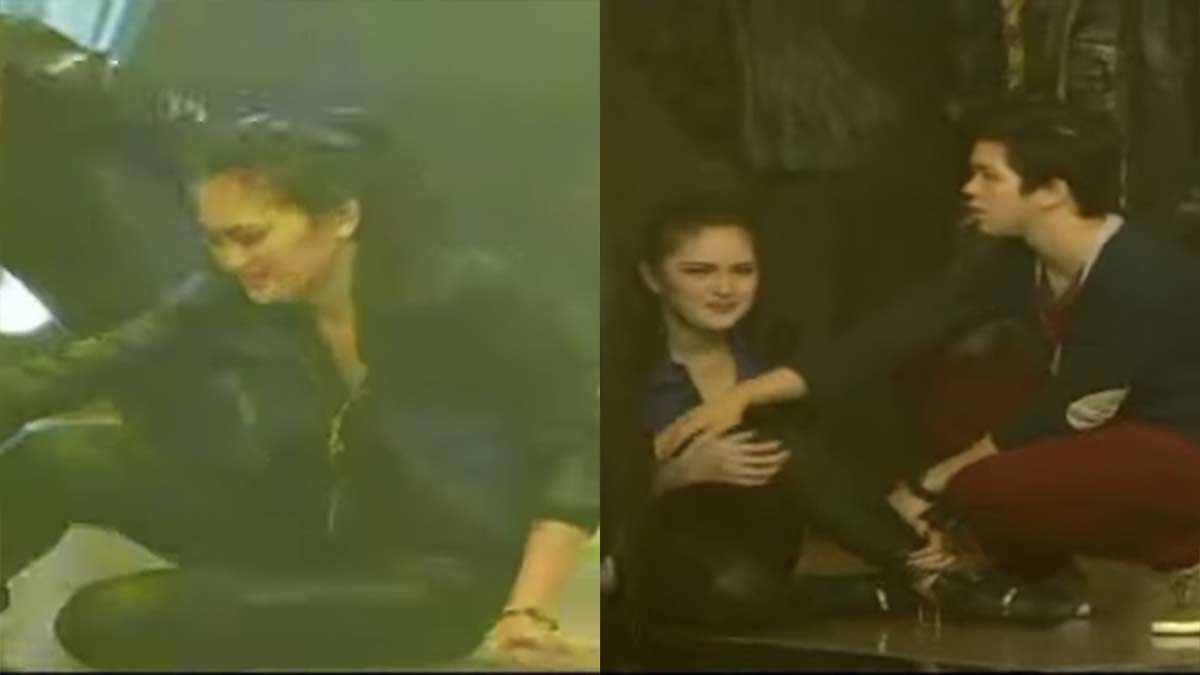 9. Anne Curtis trips on It's Showtime's stairs.
In a September 2014 episode of It's Showtime, Anne Curtis, Billy Crawford, Karylle, and Vhong Navarro were doing the spiels for the "PINASikat" segment.
As the performances were starting, the hosts had to go to the audience area.
But Anne tripped and fell while going down the stairs.
An audience member was able to catch Anne, who stayed on the stair step, smiling shyly.
Vhong then helped Anne stand up and told the audience, "Wala pong nakakita mga kaibigan!"
Karylle asked, "Kaya niyo 'yon?!"
Anne was laughing until she saw Kim Atienza bringing a medic to check her condition.
Anne remarked, "Ang OA ninyo! Wala nga nangyari! Walang nangyari! Mga Kapamilya, wala po kayong nakita!"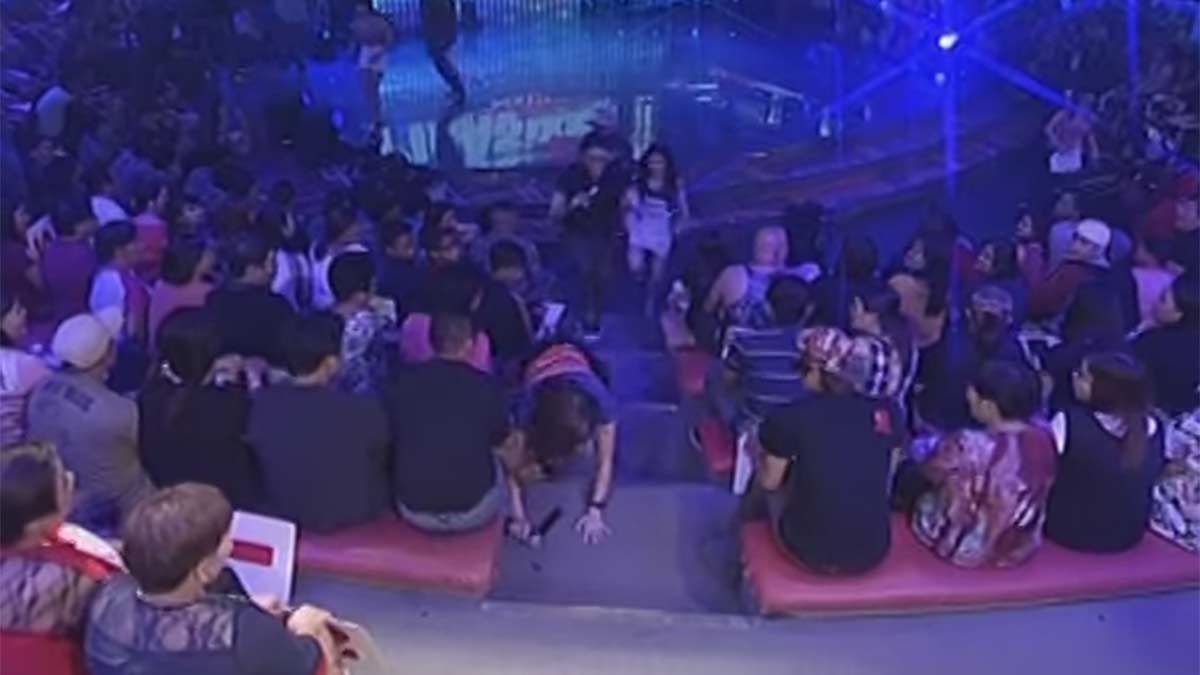 10. Vice Ganda falls off mini chair during "Tawag ng Tanghalan" segment.
In March 2017, an episode of It's Showtime had Anne Curtis and Vice Ganda hosting the "Tawag ng Tanghalan: Kids" segment.
To be on the same height level as the kids, Anne and Vice had to sit on mini chairs while doing the interviews.
In the middle of one interview, Vice suddenly lost his balance and fell off the mini chair!
Anne tried to catch Vice, but it happened too fast.
Vice stayed on the floor, remarking, "The chair is not ergonomically correct. You should have checked if the chair is ergonomically correct."
Anne answered, "Ako, kanina pa ako nakaupo dito, hindi naman ako natumba! Alam na this!"
Ano ba ang latest sa showbiz? Find out kung anong level ang showbiz IQ mo by subscribing to PEP.ph Viber Chatbot here. Join our community para laging updated!