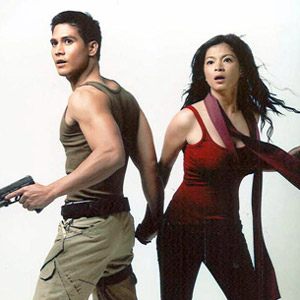 ---

This ambitious project was originally pitched to ABS-CBNthree years ago during a scriptwriting workshop for future shows of thenetwork. Newcomer Mark Anthony Bunda gave the concept for Lobo and itwas further developed by Star Television's creative team led by Creative Manager Ricky Lee.
During the grand press conference of Lobo, Ricky Leeexplained to PEP (Philippine Entertainment Portal) the background of thisromance-action series. "Nagworkshop ako para sa ABS-CBN. Isa sa mga concepts nana-pitch at natanggap ay ang Lobo. Three years ago pa ito. From then on,dinevelop ng dinevelop. Ang dami nang pinagdaanan nito...from John Lloyd[Cruz]-Bea [Alonzo]..."
He clarified: "Hindi siya fantasy, may element lang yungpagiging lobo. Mas love story siya. Sinisingitan lang ng fantasy elements perohindi siya fantaserye. Para siyang Beauty and the Beast. Paano kung inlove ka sa isang taong lobo then ikaw pala ang assigned na patayin ito?"
Produced by Star Television, the TV arm of Star Cinema, Lobois directed by Cathy Garcia-Molina and FM Reyes. In this TV series, PioloPascual and Angel Locsin come together for their first team-up on television.
ADVERTISEMENT - CONTINUE READING BELOW


Can true love defy destiny? That is the dilemma facing the young lovers LykaRaymundo (Angel) and Noah Ortega (Piolo). Lyka is a young woman aspiring to bea fashion designer and is currently working as a fashion assistant in the Houseof Elle. Her decision to pursue the arts is not supported by her Tita ClaraRivero (played by Irma Adlawan) because it is not a practical choice.


Lobo creates a mythology of its own. There are two opposing groups inthe story—the Luna and the Waya. The members of the Luna organization have agrudge against the werewolves. The Waya are protectors of the werewolves and they want the lobo to co-existharmoniously with human beings.
Lyka and Noah are childhood friends but they becomeseparated from each other. Years later, their paths cross when Noah isalready a second lieutenant of the Philippine Army. During a crucial mission,he saves Don Manolo Sebastian (Robert Arevalo) and becomes involved in thebattle between the Luna and the Waya.
ADVERTISEMENT - CONTINUE READING BELOW
The blossoming romance between the two is hindered by Gabrielle Dizon (played by Shaina Magdayao) and Anton Rivero(played by Ryan Eigenmann). Gabrielle is a deep penetration agent who attemptsto distract Noah while Anton is in love with Lyka and will do anything to provehis love.
When asked how he prepared for his role as a militarysoldier, Piolo narrated, "Maraming training including target shooting and pekiti,a Pinoy martial art. It's what they used in Bourne Ultimatum. It'shand-to-hand combat."
As for Angel, she studied modeling lessons and tried her handat paragliding. How else did she prepare for her role? "Nag new look ako paramapakita ang ibang Angel. In character talaga, iniisip ko po kung paano siLyka. Siyempre, humingi ng tulong sa director ko.
"Noong una, nailang ako kasi hindi ako sanay magbihis,mag-ayos. Para akong lalaki dati 'di ba?" In her last TV series in GMA-7 titledAsian Treasures, Angel was cast as Gabriella, a woman tasked to seek 10magical amulets hidden in various Asian countries.
ADVERTISEMENT - CONTINUE READING BELOW
When asked if it's possible for her and Piolo to become areal-life couple in the future, Angel said, "Kami naman ni Piolo, noong umpisapa lang, workshop pa lang, trabaho ito talaga. Unahin namin ang Lobo.Hindi namin alam kung anong mangyayari sa susunod na buwan. Unahin namin angtrabaho."
According to executive producer Myleen Ongkiko, thisromance-action series will run for six months. For the firstpart of the TV series, she said, they have already shot sequences in Subic for thehelicopter and forest scene; Caliraya, Laguna and Aurora, Quezon for thefashion shoot of Angel; and Bataan for Agot's dramatic scene in the pilotepisode.
Lobo airs weeknights on ABS-CBN Primetime Bida.