Viewers of The Voice PH Season 2 were surprised to learn that a drastic change has happened in ABS-CBN's reality show.

On January 18, Bamboo announced that Joniver Robles will not longer be part of The Voice of the Philippines and that Rita Martinez will take his place in his team, Camp Kawayan.

In a prepared video, Bamboo explained: "Dahil sa mga hindi inaasahang pagkakataon, I'm sad to announce that Joniver Robles will not be going forward in the competition.

"His journey ends for the show here.

"After much deliberation, napag-usapan ni Joniver at ng programa na it's best for him not to continue with the show due to personal reasons of Joni.

"Ayon sa Talpa na may-ari ng franchise ng The Voice, technically the person he last battled with in the knockouts will be the one replacing Joni.

"That last person was Rita [Martinez]."

Bamboo was then seen going to the house of eliminated contestant Rita Martinez to tell her that she was taking Joniver's place in the live shows.

He explained to the 30-year-old lesbian singer, "Due to circumstances on the show, you've been given another chance.

"You are taking the slot of Joniver Robles...Joniver could not continue due to personal reasons."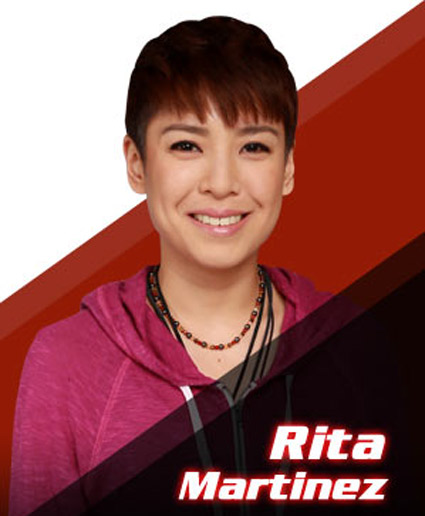 A Facebook post from Joniver Robles decried this decision of ABS-CBN.

Contrary to Bamboo's announcement on the show, Joniver claimed that he did not hear anything from his coach regarding his status on the reality show.

Here is Joniver's statement (published as is):

"I NEED HELP. To all my supporters...specially friends and love ones...to my Mom. I didn't know what to do and not hearing anything from my coach and teammates or anyone from the show made me wait until tonight. IT WAS TAKEN AWAY FROM ME. Myself...being in that show was "personal" itself...I've been struggling and doing this all my life and always wanted to perform in a worldwide stage. I will never exchange this opportunity for anything. I am saying this because these people can always make up lies to be used against me."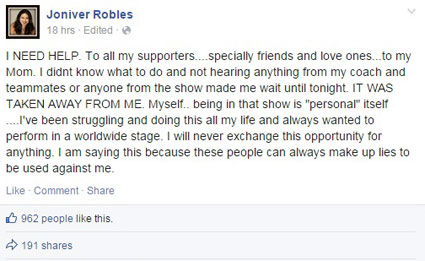 Netizens have been speculating about the reason behind Joniver's removal from the show.

In Joniver's Facebook account, he shared a video of himself performing "Himig Natin," which he performed during the Knockout round. It was accompanied by the caption: "Thanks Coach! Thank You Supporters!"

One Facebook user (Chatty Dajac) commented: "Looks like he got over excited and overwhelmed with he being in TVOP he posted "Thank you Coach and supporters" too early and he didnt know that he was kicked out of TVOP. That could be the reason behind it. He was so overwhelmed of whats going on and might have posted something in advance. Kaya pala galit na galit si ms. Lea. (Just a conclusion since he would not speak of the real reason) #explainb4ucomplain his has great voice but if he did break the #RULE its over #movingforward"

Joniver was a four-chair turner when he joined the blind auditions by playing his guitar for the song "I Don't Need No Doctor."


PEPsters, what's your reaction to the removal of Joniver Robles from The Voice PH Season 2? Share your thoughts in the comments section below.