Clearly, every big star today started from somewhere.
So what does it take for a star to get from over here to up there?
Is there a secret formula?
Is there an IT factor?

What skills and gifts must a newbie have?
Among tens of hopefuls, who will become the next big star?

Even more fascinating, who can tell when a hopeful is headed for stardom?
These are the questions put before Johnny Manahan—the man known in local showbiz as Mr. M, the same man credited for steering Star Magic into becoming the single biggest talent-management group in the country, after he launched it in May 1992 up to the time he said his goodbyes in September 2020.
That is all of 28 years.

Now a free agent, Mr. M agrees to an exclusive interview with PEP.ph (Philippine Entertainment Portal) and Summit Media's 13 other websites: Esquire, Spot, Cosmo, Preview, Female Network, Reportr, Spin, Top Gear, Top Bikes, Candy, Yummy, Smart Parenting, and Real Living.

Calendared for January 19, 2021, it comes four months after he leaves ABS-CBN, his home of the last "35 to 40 years."

As the answers roll, we get a peek into the riveting, if many times secretive, world of starmaking, from no less than the premier starbuilder of ABS-CBN, the network with the biggest number of the country's biggest stars.

If a photograph were to capture what Mr. M is about, it may well be this one from Star Magic's 2019 catalogue. It shows the Kapamilya network's prime talents—a tableau of today's most bankable stars and many of the industry's finest performers—whose careers Mr. M gets the lion's share of the credit for charting.

First row (L-R): Joshua Garcia, Enrique Gil, Gerald Anderson. Second row (L-R): Jolina Magdangal, Jake Cuenca, Julia Barretto, Kim Chu, Jericho Rosales, Angelica Panganiban, Daniel Padilla, Liza Soberano, Shaina Magdayao, Zanjoe Marudo. Third row (L-R): Piolo Pascual, Bea Alonzo, Kathryn Bernardo, Erich Gonzales, Maja Salvador.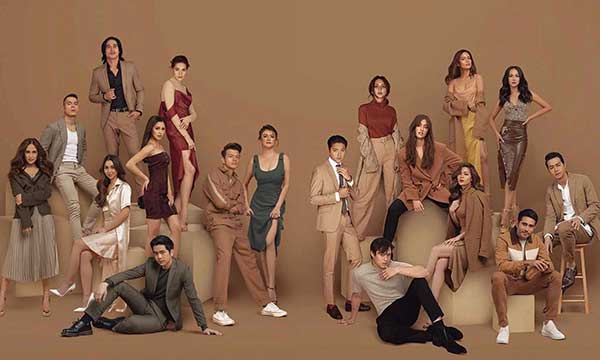 who is mr. m?
Star Magic, in its big black book marking its 25th anniversary, introduces Johnny Manahan in this fashion: "Painter, sculptor, designer, Mr. M has been it all. In the early 1970s, he pioneered video art in the Philippines, as well as in the rest of Asia-Pacific before turning to its commercial cousin, broadcast television."

Indeed, the starbuilder was not always involved with mass entertainment and the stars.

The eldest son of high-profile couple Dr. Constantino Manahan and Elvira Ledesma, Johnny studied Art History at the University of California Berkeley in the United States. At 25, he was included in the Cultural Center of the Philippines' 13 Artists Awards of 1972. At 35, at the 1982 Paris Biennale of Art, he got a special citation for his conceptual video work, and was, according to the Philippine Daily Inquirer, the only Filipino so cited. More recently, Mr. M's photography and video installation works were featured at the 2016 opening of the National Gallery Singapore.
In the meantime, a sea change was occurring in Mr. M's life. After returning from studies abroad, Johnny found himself slowly pulling away from the visual arts and pushing closer to stage, film, television.

Until, finally, his many fascinations alighted on television.
In 1992, six years into working for ABS-CBN, Mr. M ventured into talent management.

It all began with Freddie M. Garcia, aka FMG, the network's top man. FMG wanted Mr. M to build a pool of stars for the network. Mr. M, who had spent a lifetime of accepting challenges, said, "Okay, I'll try to do this. I don't know anything about this, but I think I can learn as we go along. As long as I can do whatever I want. It will work if there is only one talent center."

In the next 28 years, Mr. M would be a starbuilder.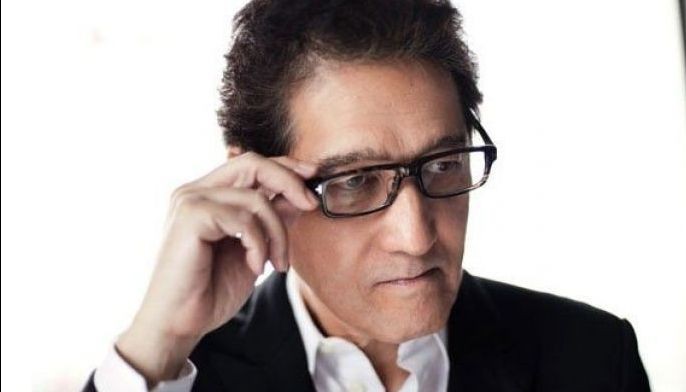 Johnny "Mr. M" Manahan Photo: ABS-CBN
GUT FEEL for who will make it
It's been a long road since May 12, 1992, the date ABS-CBN Talent Center was officially launched, to 2004, when it was rebranded as Star Magic.

To start things jumping in '92, Talent Center launched Ang TV, a gag show that went for the youth market and showcased the agency's first crop of artists, all of them young themselves: Jolina Magdangal, Rica Peralejo, Patrick Garcia, Angelu de Leon, Camille Prats, Paolo Contis, Cheska Garcia, and Claudine Barretto.

The gag show was known for punchlines like "4:30 na, Ang TV na!" which, of course, was a shoutout of its timeslot, and "Esmyuskee," a word play on "excuse me" liberally used in its skits.
In 2004, now as Star Magic, things started heating up following the success of ABS-CBN's first televised star search, Star Circle Quest.

With the tagline "The Magic Continues," SCQ gave birth to the careers of Hero Angeles, Sandara Park, Roxanne Guinoo, Joross Gamboa, Melissa Ricks for its teen edition, and Sharlene San Pedro and Nash Aguas.
To boost the search, Mr. M on occasion opened his office to star discoverers and talent scouts.
Of this process, Mr. M says, "All these people can come in and bring their talents. I look at them and tell them what I think. 'Ito, okay ito. Iyong isa, huwag ka na bumalik dito kasama iyon.'"
He admits, "Sometimes, it's really cruel—the way you talk behind the scenes. But, never in front of a talent, ha. Always, we're respectful.

"We never talk in front of these artists because they have stars in their eyes, and you can't let them down.
"You have to be nice and say we will try as hard as we can to make you an actor or a star."
In the age of social media, Mr. M and his people also began surfing YouTube and other social media sites to seek out new faces.
One of their finds, Mr. M says, is Anthony Jennings. The 19-year-old was launched in Star Magic Circle 2019 as a talent of Rise Artists Studio.
Rise Artists Studio, which grew out of an arrangement between Star Magic and ABS-CBN Films, functions as a holding area for talents exclusively slated for projects of Star Cinema and Black Sheep, two movie companies under ABS-CBN Films.
Of Anthony, Mr. M says, "Si Anthony, may istorya iyan, e. Ang trabaho niya, sa pier, kargador.
"Nakakaano, kasi mukha siyang mestizo, 'tapos ang istorya niya, nag-aaral siya sa sidewalk sa may [ilalim ng] ilaw, sa street lamp. 'Tapos may mga kapatid siya, siya lang nag-e-earn ng money."
Two of Anthony's projects with ABS-CBN Films were the 2019 hit movie Hello, Love, Goodbye as the brother of Alden Richards and the prime-time series Make It With You where he played a supporting role.
Anthony is now one of the leads in the upcoming TV5 series, Love On Da Move, where he is paired with Daniela Stranner, also a Star Magic—Rise Artist talent.
The show is produced by Albee Benitez's Brightlight Productions and line-produced by ABS-CBN Films for TV5.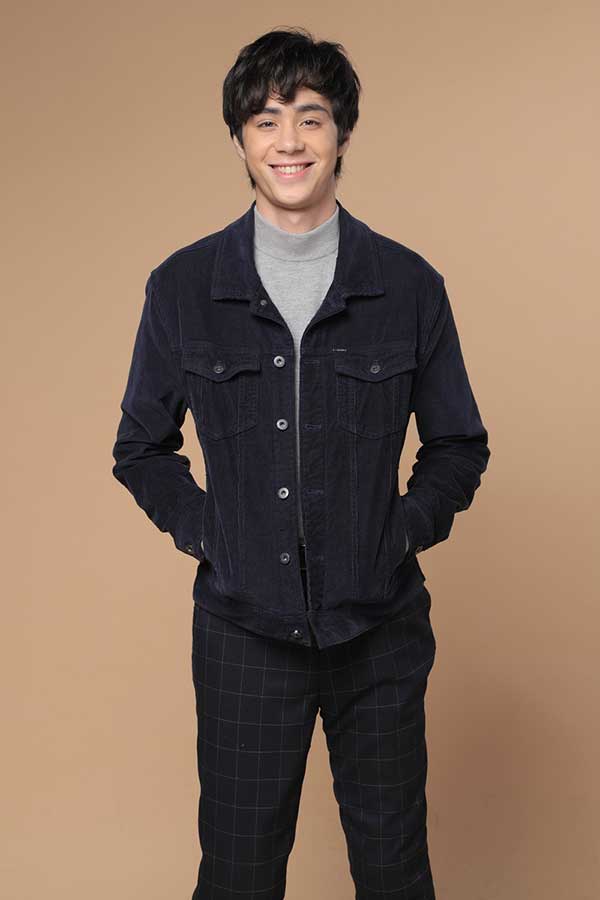 SEEKING OUT THE "IT" FACTOR
There are actually people who can spot talent!
Of one talent manager who is also a lawyer, Mr. M marvels, "I don't know where he gets his people but they are fantastic creatures—boys and girls."
These talent scouts, he adds, go everywhere to find the next big star.

"Somehow, they are able to discover these people in Pampanga, Tarlac, Mindanao, places like that, and they become stars.

"And they probably also have the feel for these people, they have the gut feel. Kapag wala kang gut feel, huwag mo na pasukan iyan, iyang talent management."
Mr. M himself has got it. Many times, he believes he can spot a potential star. "The first time I see them, I know they have the IT factor, like Jane."
That would be actress Jane de Leon, the beautiful girl chosen to portray the coveted title role in ABS-CBN's Darna.
It was Mr. M who sought out Jane to audition for Star Cinema's Darna movie after seeing her in the 2018 ABS-CBN prime-time series Halik, starring Jericho Rosales.
He says, "When I saw Jane, I said she's special. And then when they were looking around who would play the Darna part, I told the handler, 'Isama mo iyan sa audition, ha.'"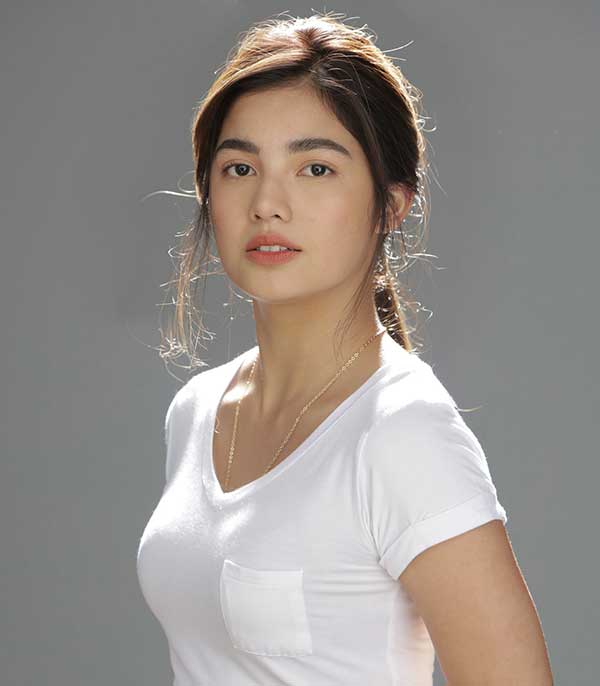 He recalls his conversation with Jane, who almost missed the audition because her handler forgot to tell her about it.
"It was the last day for auditions and she just came to the office and I said, 'Nag-audition ka? How was it?'
"Sabi niya, 'Anong audition? Naku. Why didn't you tell me?'
"'What? Go right now, go up there!'
"And true enough, she had the IT factor. I don't know, I just can tell. You can tell, e."
Jane did pass the audition, but with the pandemic the Darna movie was postponed indefinitely.
Now the project will be shown as a TV series, and once Darna airs, Mr. M predicts that "Jane will be big."
He recalls, "Sayang, naudlot lang ng COVID and she was in training already for a year. Just training her body, training in the techniques for the flying, but the COVID thing came so they decided just to make it a TV thing because there are no theaters now.
"But she will be big. They're already taping, and it should be coming out in three or four months' time but Jane is going to be one of those stellar people."
DISCOVERING liza soberano, kira balinger, JIMUEL PACQUIAO
PATIENCE, patience, patience
Mr. M himself says it takes "fifty percent luck" to become a star.
But, of all the challenges the industry will pose, it is patience that will try the limits of an aspiring artista.
Mr. M expounds, "I tell them, if you want to become an artist, you have to learn how to wait, that's the game.
"Artists wait all the time, you wait for an audition, you wait while you're doing the audition, you wait while you're not doing the audition.
"You wait for your tape. It's waiting—until bumagsak iyong ginto."
Liza Soberano, for instance, did two years of supporting roles before she was repackaged and given her now-famous name.
She started as Hope Soberano in an episode of Wansapanataym in 2011, then played support in the afternoon series Kung Ako'y Iiwan Mo in 2012.
In 2013, Hope was repackaged as Liza Soberano and cast as the third wheel to Daniel Padilla and Kathryn Bernardo in the movie Must Be… Love.
A year later, Liza was given the lead role in the prime-time series, Forevermore, where she was paired with Enrique Gil, who is today her perennial onscreen partner.
Remarks Mr. M, "You get lucky a producer eyes or a producer discovers you. Ganyan mga producer, e. [Sasabihin] 'We discovered Liza we put her in a movie blah blah blah…'
"Sa loob loob ko, kami ang unang nakakita diyan, at alam na naming sisikat iyon. It took you guys two years."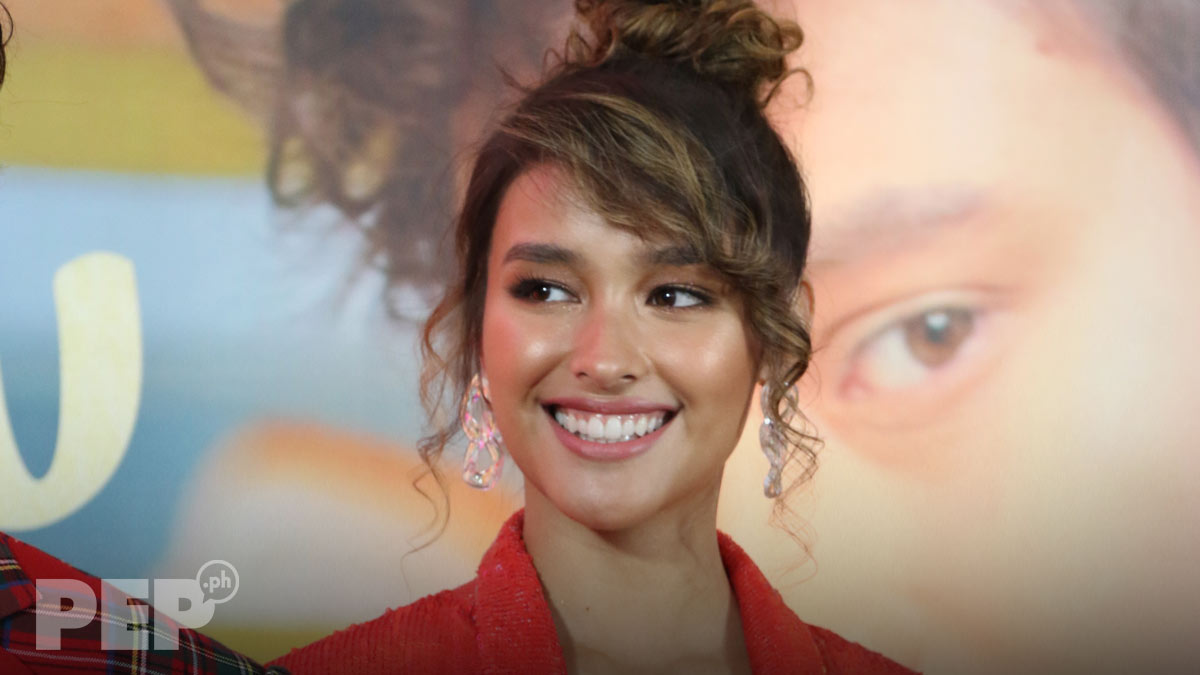 Forevermore would be the big break Liza had been waiting for and the movie that would launch her to stardom.

Before the big break came, Liza had been undergoing rigorous training under Star Magic. She was working hard.

Mr M says, "I tell all the artists when they come to us, 'If you think you're gonna have an easy time now, I'm sorry, you should disabuse yourself of that idea that it's gonna be easy, because it's not.'
"'It's gonna be hard, you have to start with what you have, with the skills that you have.'
"But we put them through a program like acting workshops, voice workshops, dance workshops—the whole gamut of workshops—just to hone their skills for at least a year or two. Some people, three years."
He names Kira Balinger as an example.
Kira started her TV career in 2016 via the prime-time series The Story of Us as the younger sister of Kim Chiu. After that, she did several supporting roles in movies and television shows.
In 2020, Kira landed a major role in the currently running prime-time series, Ang Sa Iyo Ay Akin, as the daughter of Iza Calzado and Sam Milby.
According to Mr. M, when Kira first approached his office, she did not know how to speak the local language.
Mr. M recalls, "She came to me and didn't know Tagalog. She spoke, I think, German and English. I said, 'You know, Kira, if you want to be an artist, a movie star, you have to learn Tagalog.
"She did. After eight months, she had workable Tagalog, and she kept talking and now you can't detect any accent. So, basic skills."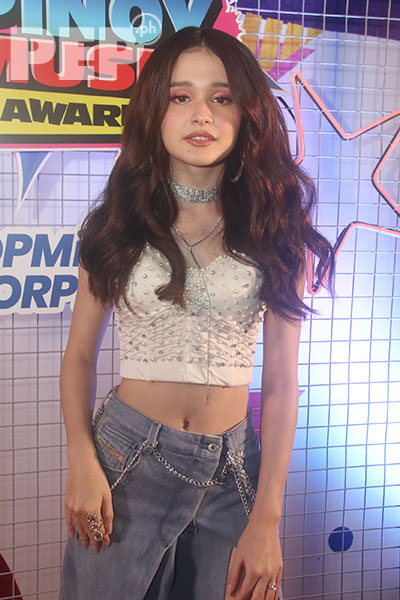 Star Magic talents also undergo sessions with acting coach and director Rahyan Carlos, who brought in the methods of American acting coach Ivana Chubbuck.
Mr M says, "Acting skills, the workshop should take care of that. If you attend the workshop, you go through the basic workshop up to the advanced, up to the master's levels.
"Most of our artists passed through him—sila Liza, almost all of them. After that, they can go on to other coaches. Like, Inang [Olivia Lamasan] of Star Cinema has her own, another technique.
"But we are very confident about our artists after they go through their acting workshops."
A recent talent who took the workshops under Rahyan is Jimuel Pacquiao, son of senator and boxing champ Manny Pacquiao.
Jimuel joined Star Magic before Mr. M left ABS-CBN in September 2020.
Mr. M tells PEP.ph, "He came to us, and wala muna pumapansin sa kanya, except me.
"'Let's cultivate him. Anyway, he's serious.' He wants to be an actor, unless he wants to pick up girls in Star Magic!
"Now, they pay attention, and he's part of that Gold Squad ni Deo Endrinal."
The Gold Squad is the group of Andrea Brillantes, Francine Diaz, Seth Fedelin, and Kyle Echarri who got that name when they starred in the TV series Kadenang Ginto.
Today the Gold Squad has its own online show on YouTube, with the addition of new members, including Jimuel.
Mr. M adds, "I hope he's getting good parts and I hope he's doing them well. When I asked about him with Rahyan, sabi naman ni Rahyan, okay siya.
"Siyempre, inexperienced, but he puts his heart into it. He takes the time to do all the classes, so he's serious. Let's see if he's talented."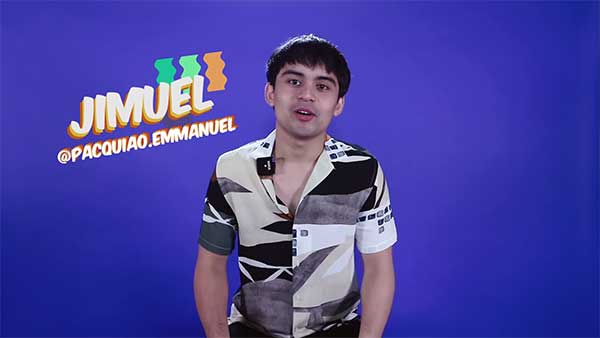 janella salvador ,"a triple threat"
There are artists who already have clear talent even before they take the various workshops set up by Star Magic.
Take Janella Salvador, the one who falls under what Mr. M calls "a triple threat" because she can sing, dance, act.
In fact, Mr. M says, "Janella is the kind you can turn into na parang si Sarah [Geronimo]. We have her future planned out kasi triple threat siya."
Janella, the daughter of West-End actress Jenine Desiderio and musician Juan Miguel Salvador, began her career in the 2012 daytime series Be Careful With My Heart.
After that, Janella performed in ASAP, harnessing her skills in singing and dancing. In 2015, she launched her self-titled album while headlining her own drama series, Oh My G!
In other words, Janella had a clear career path as actress and singer in television and movies.
But in September 2020, PEP.ph broke the news that Janella was pregnant, with boyfriend Markus Paterson as the father. In January 2021, Janella and Markus revealed that they were now parents to a baby boy they named Jude.
At present, there is no news about Janella's TV or movie comeback, although she is back in the Philippines with Jude and Markus.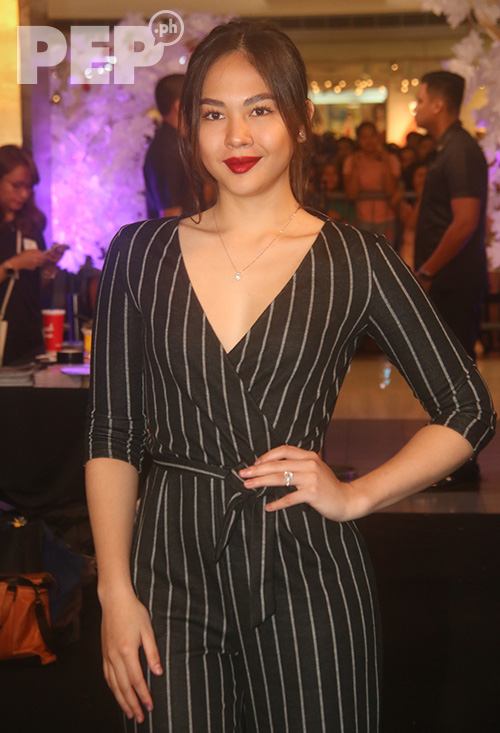 WINNING LOVE TEAMS
Love teams play a big part in the Pinoy entertainment industry.
They draw a huge crowd of romantics, which forms their fan base and results in more TV shows, movie projects, and endorsements for the love team.
Star Magic has produced many bankable love teams.
Some of these: John Lloyd Cruz and Bea Alonzo, Liza Soberano and Enrique Gil, Kim Chiu and Gerald Anderson, Julia Barretto and Joshua Garcia, and Kathryn Bernardo and Daniel Padilla.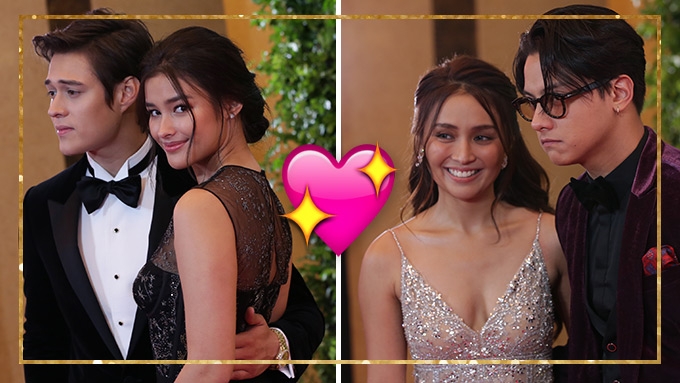 Does Mr. M know if a love team will make it big?
He says, "I think most of it is just a feeling. We have a feeling that person X will be good with person Y.
"And then, we try to put them like in a test shoot or [give them] a part in a small show and see how well the chemistry is between the two, but mostly we can sense that this person belongs to the other person."
Was there a time Star Magic got a pairing all wrong?
"Parang wala pa, hahaha!" Mr. M answers. "Not terribly wrong. I can't think of a love team that went kaput."
All things considered though, he concedes there have been mismatches. "Sometimes, chemistry is there, but they don't get the right breaks, the right shows where they can shine.

"Not yet their time. Sometimes, they never get their time.
"But, on the whole, I would say eight out of ten break into the limelight, and they go on from there. That's when I think you're happy, when you see that this person shines.
"Because they come to us, they're very insecure. They think they have no talent and they rely on your expertise and your care because, after a while, even their personal problems become your problems."
THE JOHN LLOYD-BEA MAGIC
One of the most successful love teams of Star Magic is that of John Lloyd Cruz and Bea Alonzo.
Their tandem began in 2002, when they were launched in the drama series Kay Tagal Kang Hinintay, produced by Star Cinema's TV unit, Star Creatives.
The key people of Star Creatives at the time were Charo Santos-Concio, who was then also vice president for entertainment; Malou Santos, managing director of Star Cinema; and Olivia Lamasan, creative head also of Star Cinema.
Back then, John Lloyd was already being groomed as a lead star, while Bea was just starting to get noticed in the industry.
Mr. M recounts, "When John Lloyd came to us, I know he was going to be something. And, same thing with Bea.
"But in that case, I couldn't know exactly who to pair with John Lloyd and who to pair with Bea.
"I think the idea came from Star Cinema. They saw something in the two. It's like that, the feeling.
"Inang has a feeling. And two out of three, the other one is Malou or Charo. If three out of four have the same feeling, then more or less, they'll go with that combination. So I don't remember who... I think it was Charo who put them together.
"Charo has a good feel for artists. She has a good feel for shows, gut feel."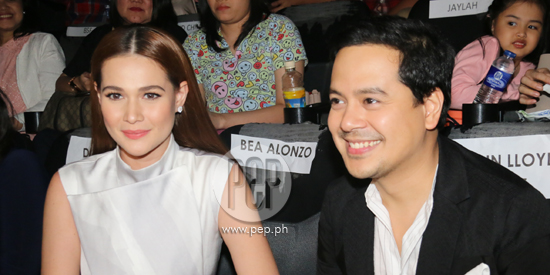 Mr. M remembers the network's then president, Freddie M. Garcia, seeking his final nod to the John Lloyd-Bea pairing being pushed by Star Cinema.
"Si FMG naman, ano yan e, 'Johnny, halika rito. Okay ba iyong dalawa na iyan?' Ganun lang siya."
Apparently, yes! John Lloyd and Bea's tandem worked in Kay Tagal Kang Hinintay, followed by a succession of eight hit movies and six high-rating teleseryes.
THE SMASHING KATHNIEL
Among the new generation of stars, one of the prime love teams that emerged from Star Magic is KathNiel: the team-up of Kathryn Bernardo and Daniel Padilla.
Kathryn was a child actress who bloomed into a teen princess, and then shone in the 2010 remake of Mara Clara, a hit drama series.
Daniel was brought to Star Magic by his discoverer, the late talent manager Douglas Quijano. (Douglas is best known as the manager of Richard Gomez.)
Mr. M says he knew from the start that Daniel would make it big. "When I saw Daniel, instantly I knew he was it... Douglas brought Daniel maybe three or four weeks before he passed.
"So, when I saw Daniel, I said, 'Oh, you have a good thing there. He's gonna be a star.' And he did. But they had to see which actress would combine with Daniel. So that was Kathryn."
That was in 2011 and Kathryn, fresh from the success of Mara Clara, was slated to do another project with the teleserye's producer, Dreamscape Entertainment, which was headed by Deo Endrinal.
The project was Growing Up, and following the success of their love team in Mara Clara, Kathryn was to be paired again with then-budding actor Albie Casiño.
However, Albie figured in a controversy with ex-girlfriend Andi Eigenmann, which put his promising career on hold.
Daniel was chosen to replace Albie in Growing Up, which turned out to be an epic move.

As Mr M tells it: "Deo Endrinal, one of the geniuses of ABS-CBN, was the one responsible for putting them in his shows.
"And then, when these guys were launched, it was really crazy. Parang Beatles, yeah, the adulation.
"And then Deo comes in and says, 'Did you think they would be that big?'
"I said, 'Yeah.' Sabi niya, 'I know, I didn't think they would be that big.' But they became big."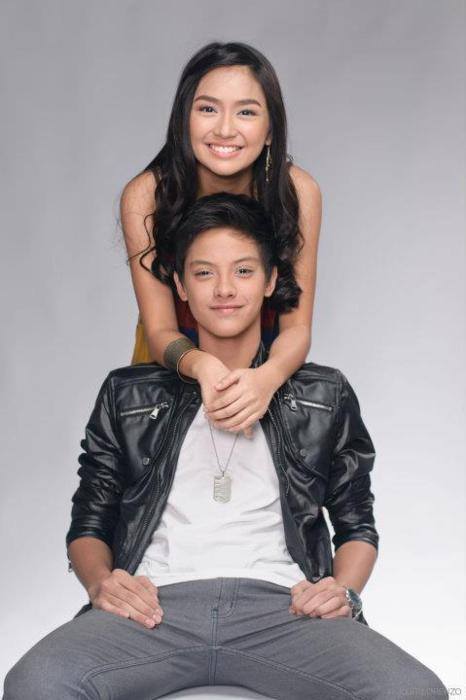 DISCOVERING AND MAKING A STAR
How is a star discovered?

Mr. M says, "It's not enough that you have the gut feel."
He credits the production units of ABS-CBN for giving these artists the breaks.
"After a while, kailangan may tulong ka galing sa production, the people who will bet with you na 'Gagaling ito.' Tulad sila Deo. Sometimes, si Inang, si Malou.
"For a while, hindi kami jive ni Malou, but after a while, we became good friends. Nakatulong siya talaga.
"Lalo na itong sa Darna? Enthusiastic siya about Jane and si Inang din."
Does a starbuilder have favorites?

Mr. M says he tries not to. "I tell them, usually wala akong favorites, e. I favor talent and intentionality. Somebody who really tries. That's usually what I favor."
But he also admits, "Of course, I favor some people. How can you help it? You have to build these people."
But there were artists who asked, "Bakit sila lang?"
Mr. M would answer, "Your time will come. if it doesn't come, then maybe you should do something else.
"Some of them see it. Some of them go on, and they are content with the supporting roles and character roles."
FROM STARS TO CHARACTER ACTORS
It is an inevitability in showbiz that a star's luster wanes with the years. When that happens, they go on to take on character roles.
Mr. M explains, "That's the trajectory when they get to be 45 or 50. Some of them start at 40.
"If they were big in the past, when they reach 35, 40... they have to go on as character actors and not disillusion themselves by insisting that they are still stars. Kasi may edad naman sila."

He says there is a demand for character actors, and they can be "making good money."
But there are whose stature as stars remains despite age. One is Piolo Pascual, Mr. M points out.
"Piolo is 42. But Piolo still looks good. I always think of them. Hunks pa rin sila. He still looks good."
Piolo was part of Star Magic's all-male group "The Hunks," with Jericho Rosales, Carlos Agassi, Bernard Palanca, and Diether Ocampo. Launched in 2001 in ASAP, the group became popular for having five of the hottest men in showbiz in their prime.
Mr. M recalls, "I traveled with them, doing the shows on the road, they were like The Beatles at the height [of their fame]. This is crazy, girls chasing their cars, chasing their van all over the U.S.!"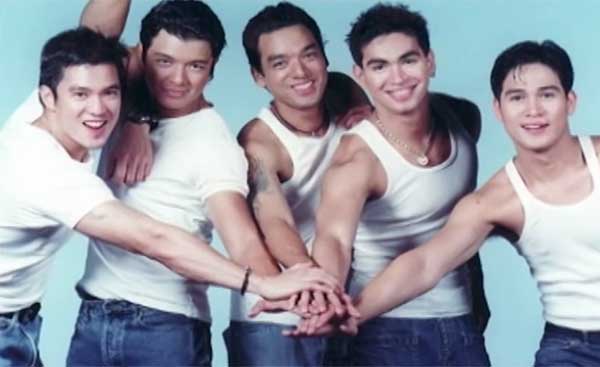 HANDLING THE STARS' REAL-LIFE CONCERNS
Ultimately, talent management is not an easy job.
As Mr. M puts it, managing talents must be done "with great care. You have to be really careful."
He explains, "Because, you keep talking to real people who have real concerns.
"And especially, they're young, and you really want to help them, and you don't wanna make mistakes setting them up for some sort of career."
The glitz and glamour of showbiz does not mean celebrities have easier lives. They deal with real-life concerns like everyone else, and the issues aren't the same for all artists.
1. FIGHTS AND LOVE TRIANGLES
One of these real-life issues is of stars getting into fights with each other, especially in real-life love triangles.
How does Mr. M handle this?
The veteran starbuilder says candidly, "I usually stay in the middle. I usually tell other people, 'You guys handle it. Okay?' Ang hirap.
"When you're out on a tour, and then Girl A likes Boy. Girl B also likes Boy. You're out on a tour, and you're supposedly having fun, then you see this Girl A and Girl B, may sort of mga dagger looks!"
But the stars do not usually go to Mr. M to complain about each other.
"No, other people make sumbong. And then you have to call them in one by one. Papaano ba ito? Aayusin ba natin to?' Usually, kasalanan ng lalaki yan. Paano, nira-round robin ng lalaki."
Sometimes Mr. M will find that friendships have already been ruined.
He recalls, "They are really close. After a while, they don't talk to each other. They don't even want to be in the same dance number.
"Nag-iiwasan... Ako naman si stupid, I don't know what's going on most of the time, iyon pala, mayroong problema."
When this happens, the bosses of Star Magic talk to the persons involved, separately.
"Then we say, 'Sige na, magbati na kayo. You don't have to be good friends. Just be civil with each other.'"
Mr. M makes sure he doesn't take sides.
"You don't know which side to take. We don't take any sides. We're just available for them if they wanna talk."
And if they don't want to share the same stage, Mr. M says, "Of course, we give in to whatever they want. Hahaha!
"Ganun ako, ayaw nila, ayaw nila. Sige, gawa tayo ibang number para sa kanila. Or stay at home kapag ayaw. Ganun lang yun, e. Round robin.
"But, they're actually all really nice, kapag sa amin ha, sa Star Magic. They wouldn't have survived if they're not nice. I would have kicked them out or something."
2. celebrity wars reaching the press
Some celebrity wars reach the press—and social media. The latter, in fact, has become the chosen venue for celebrities wanting to unload their issues.
Most of the time, however, Star Magic stars go to Mr. M to consult if an issue is worth addressing.
Mr. M expounds, "At a certain point, sige na, may press release... ikukuwento niya iyan. Do you really want to?
"Siyempre, that's the hard thing, because when you manage both parties, you have to think of the welfare of both parties.
"You can't let this one have a press release, kawawa naman iyong isa. The guy will have a counter press release.
"Usually, we tell them to work things out among themselves."
At times, even handlers get into the picture; or worse, they start taking sides.
"Oo, nagkakampihan! Kami naman, when we have twice a month meetings, naglalabas lahat. 'Hindi, galit lang iyan kasi kinakampihan.'"
3. ARTISTS EXPLORING THE BIRDS AND THE BEES
It's a given that stars—especially those who belong to love teams—can end up falling for each other hard.
When this happens, Star Magic steps in.
Mr. M says, "Once magsumbong iyong mga road managers, 'Direk, serious na sila.' Okay, sermon, sermon. Pasok sa principal's office."
Mr. M would remind them, like a "second father," about getting too cozy with each other.
"Birds and the bees, ganito dapat gawin. [Isasagot nila], 'Mr. M, di kami ganyan.' Lahat sila. Ganyan sila."
But there are celebrities who do get pregnant, changing their career track drastically.
As Mr. M says, "Kapag ganyan wala, 'tapos na sila. Character actor ka na."
4. STARS GETTING INTO LEGAL TROUBLE
Another thing that Star Magic makes its business to mind is when artists get into physical fights and other battles that need settling legally.
Even harder is when an artist is detained.
The solution? Mr. M says, "Tatawag ako kay Atty. Joji. 'Attorney, somebody's in the can. Since kilala mo lahat ng pulis…' So, okay naman si Atty. Joji."
Joji Alonso is the go-to legal counsel of Mr. M for his artists in Star Magic. She is also a multiawarded producer.
5. BAD WORK HABITS AND USING ILLEGAL DRUGS
A good work ethic is very important to Mr. M and his team.
These include stars showing up to their commitments on time, and it definitely means they are forbidden from doing illegal drugs.
Mr. M explains, "Pinagbabawalan naman dito ay drugs and if you're late or you don't show up for work. Kapag nahuli ka, patay ka. Anything else you can do."
Drugs can be grounds for "getting kicked out."
Certainly, there are talents who deserve a second chance. "Babalik na naman iyan, maaawa ka naman ng kaunti. You try to help," Mr. M says.
There are also artists who show up at work one day and are gone the next. This is bad form, and often hard to recover from.

"Ang hirap ibalik because people remember, pupunta sa set iyon, hindi alam linya. 'Tapos aalis na lang. Ang hirap i-cast. He'll show up. The next day, he doesn't show up. So how can they believe them again?"
Pressed, Mr. M says that the girls can be more "pasaway" than the boys.
He laughs, "It's harder with the girls, e. Mas maldita sila, e, kaysa sa mga lalaki. Sa mga lalaki, 'Ano ba, tayo na, let's go trabaho na!' Babae, ewan ko, maraming hard!"
6. PARENTS MEDDLING WITH CHILDREN'S CAREERS
Oftentimes, parents meddle with their children's budding careers.
"Yung father, tahimik lang most of the time," Mr. M says. "Yung mothers ang nakikipag-away. It's a black-and-white world para sa kanila. It's either they're wrong or they're right. Walang in between. Walang subtleties."
There were actually times when artists would go to Mr. M, their "second father," to consult about their parents.
"A lot of the time, it's about their mothers. If they don't get along, and they want to break away from their mothers.
"And then, they say, 'We look up to you as our second father,' and I say, 'Nooooo, I have my own daughters. I'm a father to my own daughters!'
"Actually, what I say is, 'You should always listen to your mothers.' Almost always."
But, he admits, he doesn't look forward to talking to mothers. "I'm not equipped for it," says Mr. M with a laugh.
7. ARTISTS' tragic DEATHS
Star Magic has dealt with at least two shocking deaths in showbiz: Rico Yan in 2002 and AJ Perez in 2011.
Rico, a member of Star Circle Batch One in 1995, was a matinee idol, having done hit teleseryes and movies with his love-team partner, Claudine Barretto.
Rico was also at some point paired with Judy Ann Santos, and their love team also had a following.
On the morning of March 29, 2002, Rico's lifeless body was found in his hotel room by his friend and co-artist at Star Magic, Dominic Ochoa, at the Dos Palmas Resort in Puerto Princesa, Palawan.
Rico died of cardiac arrest due to acute hemorrhagic pancreatitis.
AJ, a member of Star Circle Batch 13, was being groomed to become one of ABS-CBN's up-and-coming leading men when he was killed in a car accident in April 2011.
He had come from a show in Dagupan, Pangasinan, when the driver of the ABS-CBN service car he was in tried to overtake a trailer truck and ended up colliding with a provincial bus in Moncada, Tarlac.
AJ was declared dead on arrival at the Rayos-Valentin Hospital in Paniqui, Tarlac. Initial reports said that he died from multiple head injuries; the autopsy revealed that his ribs had pierced his heart and lungs.
Fans came in droves to mourn the two young stars.
As manager, Mr. M says, "Ikaw ang magpa-plano ng funeral."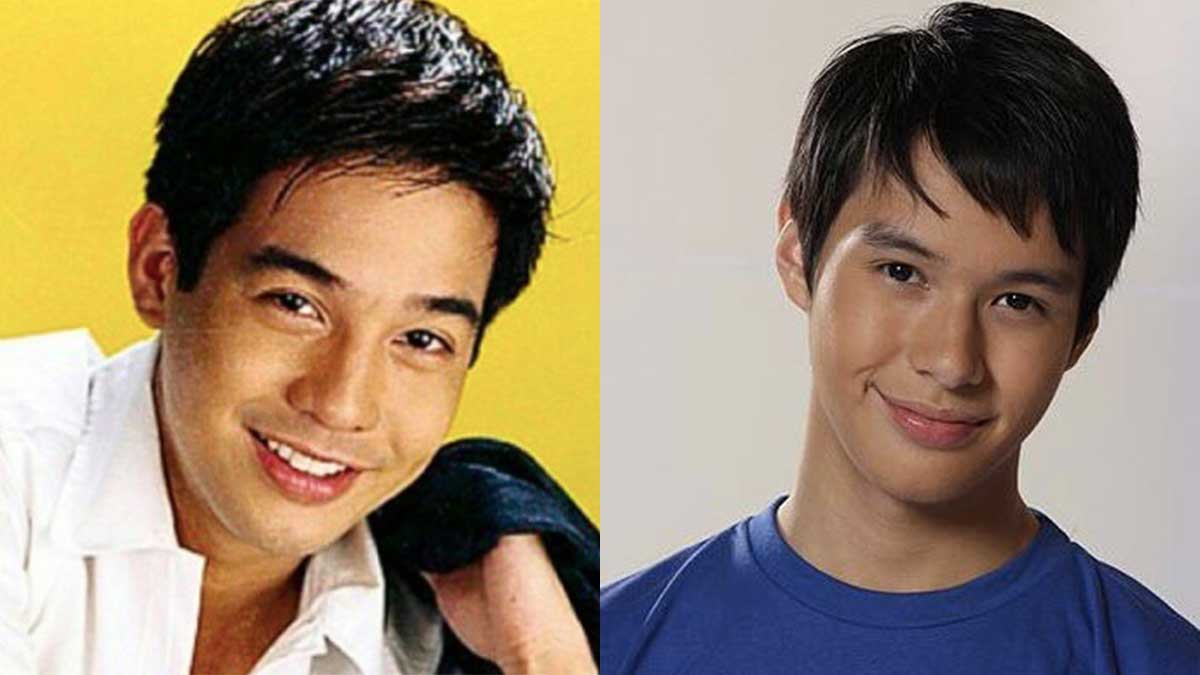 8. ARTISTS AND THEIR PROJECTS
According to Mr. M, when artists seek him out about a project, his regular advice to them is to "take it."
Explaining, Mr. M says, "They have been presented a role by the production people, and they are not sure whether to take it or leave it. That's when I give my advice.
"Take it, because the staff is very good and the stories are pretty good, and if they don't like something in the script or in the story, we talk to the writers—but, you should accept it.
"Kasi most of the time, tatawag na lang iyan. 'O, bukas na iyong taping, ito iyong part.' You should grab it because parts are had to come by.
"Grab it even if you're not sure because, at least, they're thinking of you. The production people are thinking of you."
But, he admits, there have been a few times when he advised a talent to turn down the role.
"Other times, I would say 'Don't do it because it's really out of your wheelhouse and you'd make a fool of yourself.' Very rarely though that I say that."
How about artists who audition for roles and are turned down?
Mr. M says, "That's hard, 'no? It's hard when they get turned down."
When that happens, Mr. M would give words of encouragement.
"Usually, what I say is, 'Alam mo, huwag mong pansinin iyan kasi hindi naman marunong sila, e. I know you can do it, I know you have it, let's just wait.'
"'It's gonna be a hard road sometimes, you get rejected and you get rejected but, sabi ko, that's part of the life of an artist.'
"'If you haven't been rejected, you're not a true artist yet, and most artists get rejected.'"
Then his wry side comes in: "'Don't take it too hard, but if it keeps happening to you, maybe after ten years, I think you should do something about it.'"
9. ARTISTS GETTING ALONG WITH EACH OTHER
Mr. M says that the big number of artists in Star Magic are good people.
"Most of them naman are mabait talaga. They do these things for their families, everyone.
"Later, they do it because they're really big stars and they want to get bigger and bigger. I would say most of them are really nice."
Mr. M gets along with these stars and builds friendships with them.
One example is the group of Piolo Pascual, Jericho Rosales, Carlos Agassi, Bernard Palanca, and Diether Ocampo, who became known as The Hunks.
At the height of their popularity, The Hunks would do several tours and shows abroad, with Mr. M joining them. It was where they became friends.
"I think I got really close to them by doing that, traveling on the road. I got to know them, they got to know us.
"Si Piolo, I think he's such a nice guy. He's a real, genuine nice guy."
Mr. M describes most of the girls under his wing as "really sweet."
One is Maja Salvador, who joined Mr. M in Sunday Noontime Live, and who once described her relationship with him as "magkatali kami sa bituka."
He muses, "Iyong mga lalaki kasi madali, e. Si Maja is really easy. Kim Chiu is also really easy. With Liza, we never really got to know each other, but Liza's a nice kid."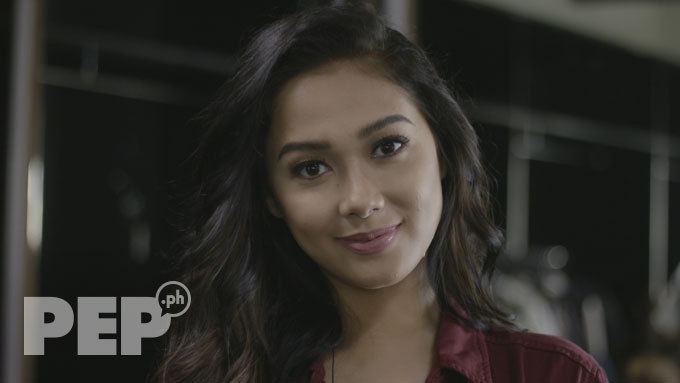 FUTURE STARS TO WATCH FOR
Aside from Jane de Leon and Kira Balinger, there are other talents that showbiz should be on the lookout for, says Mr. M.
Two of these newbies are Daniela Stranner and Anthony Jennings.
Daniela was first launched as part of the Star Magic Circle 2018. It took two years before she was given her first project, a supporting role in the 2020 prime-time series Make It With You.
Anthony, who was discovered by Mr. M and his people on YouTube, was part of Star Magic Circle 2019. He was also in the cast of Hello, Love, Goodbye and Make It With You.
Daniela and Anthony, who were paired with each other in Make It With You, will now headline their own episode in TV5's romantic-comedy series, Love On Da Move, a project of Star Cinema and Brightlight Productions.
Both are also part of ABS-CBN Films' talent pool, Rise Artists Studio.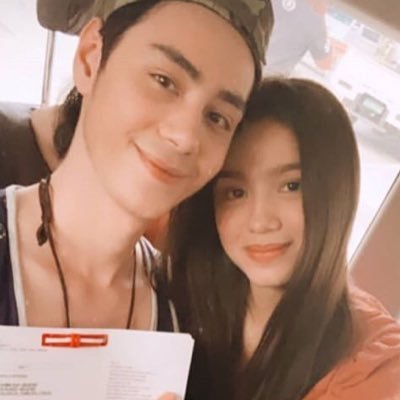 Mr. M, recognizing the potential of their love team, says, "Daniela Stranner, that's a name to watch for. Naipasok iyan sa last romcom nila Liza and Enrique. Parang may second layer sila ng love team.
"Si Anthony, parang Lloydie iyon, e. Hindi naman siya talagang gwapo—compare John Lloyd and Piolo, di ba? Hindi naman talaga siya gwapo pero ang galing na artista. So ganun si Anthony Jennings.
"Iyong combination nila, maganda. So, I hope something will happen for them.
"Iyong Daniela, iba siya, e. Para siyang si Liza, she's a natural. Dati, kiming-kimi iyon, e. Suspicious. She'll be very guarded.
"Bata kasi iyan, trese lang yata noong dumating. So, I said, 'Gusto mo ba talagang maging artista? You have to do this, this, this.'
"Sumunod naman iyong bata. Sabi ko, 'Pwera boyfriend muna!'"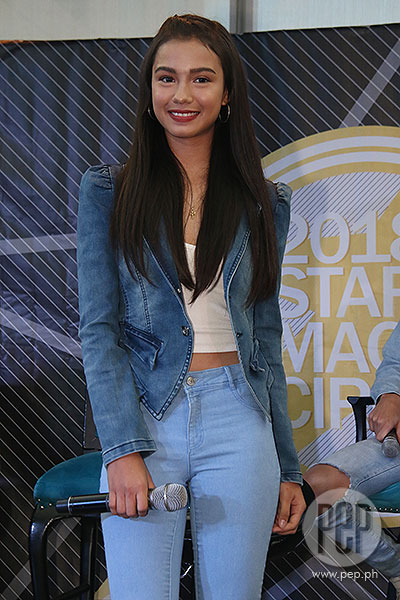 Mr. M also feels right about basketball-player-turned-TV personality Ricci Rivero.
He compares Ricci to a young Joey Marquez, someone who successfully crossed over to showbiz from the hardcourt.
Mr. M worked with Ricci in TV5's defunct noontime show, Sunday Noontime Live.
The veteran star builder says, "After two shows, I said, parang si Joey ito, ha. Walanghiya siya, e. He's so confident.
"If we had kept it up, he'll be something in showbiz. Ricci Rivero, he has it."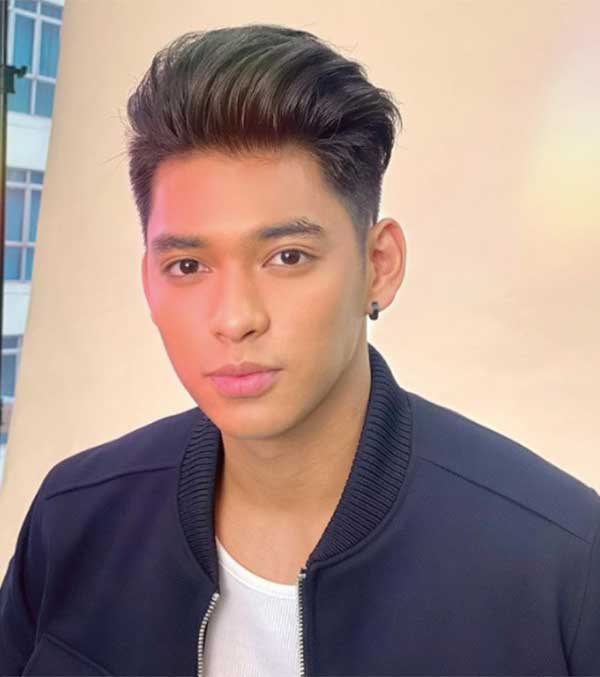 POSTSCRIPT TO STAR MAGIC AND MR. M
In the end, an aspirant's journey to stardom does not lie only in Mr. M's hands.

The starbuilder himself says so.

Stardom relies, Mr M says, on network producers giving the aspirant a role. It relies on movie producers, within and outside the network, taking a risk on the aspirant. It relies on coaches working with the aspirant to hone acting, voice, dance, and hosting skills. It relies on handlers, aka managers, who stick to the artist while they navigate showbiz every day. It relies on road managers, who are literally "on the road" with the artist from one engagement to the next. It relies on a promotions staff. And with social media added to television and movie platforms today, it relies on nothing less than a digital department.
In 2007, Mr. M retired from his post as head of Star Magic. Mariole Alberto took over the job. Mr. M remained Star Magic's chairman emeritus.
In September 2020, Mr. M left ABS-CBN, thus leaving Star Magic as well. In December of the same year, Mariole retired. Star Magic remains the talent-management arm of the Kapamilya network, and is now headed by Laurenti Dyogi.