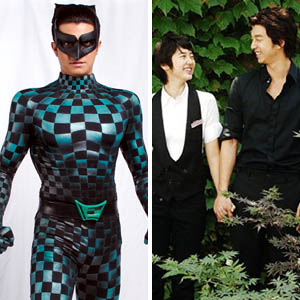 ---
There have been no shocking movements in the ratings game for the last three days, from January 22 to 24. Eat Bulaga! and Daisy Siete are still battling it out for the No. 1 daytime position while Marimar is still untouchable in the primetime race.
The only movement worth mentioning is the continuing rise of GMA-7's Koreanovela Coffee Prince and ABS-CBN's fantaserye Lastikman.
Coffee Prince, which is about a girl who disguises herself as a boy to work in a coffeeshop, placed seventh last Tuesday with 29 percent. But it zoomed to No. 3 the following day, January 23, with 31.7 percent and moved further to No. 2 last night, January 24, with 34.4 percent.
Lastikman, which will have its final episode tonight, January 25, overtook Patayin sa Sindak si Barbara as the top ABS-CBN primetime show. Although the Vhong Navarro-starrer only placed sixth last Tuesday with 29.5 percent behind Barbara's 29.9 percent, it moved to No. 5 Wednesday, January 23, with 28.8 percent. Last night, Lastikman grabbed the fourth spot with 30.4 percent.
Here are the Top 10 daytime and primetime programs from January 22 to 24 based on the overnight ratings conducted by AGB Nielsen Philippines among Mega Manila households:
January 22 (Tuesday)
Daytime:
Eat Bulaga! (GMA-7) - 20.9%
My Only Love (GMA-7) - 20.3%
Wheel Of Fortune (ABS-CBN) - 20.2%
Daisy Siete (GMA-7) - 19.9%
Come Back Soon-Ae (GMA-7) - 18.8%
Maging Akin Ka Lamang (GMA-7) - 18.5%
Takeshi's Castle (GMA-7) - 17.7%
Whammy! Push Your Luck (GMA-7) - 16.7%
Pilipinas, Game KNB? (ABS-CBN) - 15.6%
Wowowee (ABS-CBN) - 14.7%
Primetime:
Marimar (GMA-7) - 37.5%
Kamandag (GMA-7) - 34.7%
24 Oras (GMA-7) - 33.3%
Zaido (GMA-7) - 32.3%
Patayin Sa Sindak Si Barbara (ABS-CBN) - 29.9%
Lastikman (ABS-CBN) - 29.5%
Coffee Prince (GMA-7) - 29%
TV Patrol World (ABS-CBN) - 25.2%
Maging Sino Ka Man (ABS-CBN) - 19.9%
Kung Ako Ikaw (GMA-7) - 16.8%
January 23 (Wednesday)
Daytime:
Daisy Siete (GMA-7) - 20.9%
Eat Bulaga! (GMA-7) - 19.9%
Wheel Of Fortune (ABS-CBN) - 17.3%
Whammy! Push Your Luck (GMA-7) - 16.5%
Maging Akin Ka Lamang (GMA-7) - 16.4%
My Only Love (GMA-7) - 15.7%
Pilipinas, Game KNB? (ABS-CBN) / Wowowee (ABS-CBN) - 15.4%
Takeshi's Castle (GMA-7) - 15.3%
Come Back Soon-Ae (GMA-7) - 15%
Prinsesa Ng Banyera (ABS-CBN) - 11.7%
Primetime:
Marimar (GMA-7) - 36.6%
Kamandag (GMA-7) - 32.8%
Coffee Prince (GMA-7) - 31.7%
24 Oras (GMA-7) - 31.1%
Lastikman (ABS-CBN) - 28.8%
Patayin Sa Sindak Si Barbara (ABS-CBN) - 27%
Zaido (GMA-7) - 26.8%
TV Patrol World (ABS-CBN) - 23.8%
Maging Sino Ka Man (ABS-CBN) - 18.5%
Kung Ako Ikaw (GMA-7) - 16.9%
January 24 (Thursday)
Daytime:
Eat Bulaga! (GMA-7) - 23.1%
Daisy Siete (GMA-7) - 22.9%
Come Back Soon-Ae (GMA-7) - 19.5%
Wheel Of Fortune (ABS-CBN) - 18.9%
Maging Akin Ka Lamang (GMA-7) - 17.8%
My Only Love (GMA-7) - 17.7%
Whammy! Push Your Luck (GMA-7) - 17.5%
Pilipinas, Game KNB? (ABS-CBN) - 15.6%
Wowowee (ABS-CBN) - 15.2%
Takeshi's Castle (GMA-7) - 14.8%
Primetime:
Marimar (GMA-7) - 37%
Coffee Prince (GMA-7) - 34.4%
Kamandag (GMA-7) - 32.2%
Lastikman (ABS-CBN) - 30.4%
24 Oras (GMA-7) - 29.8%
Zaido (GMA-7) / Patayin Sa Sindak Si Barbara (ABS-CBN) - 27.8%
TV Patrol World (ABS-CBN) - 25.9%
Maging Sino Ka Man (ABS-CBN) - 18.8%
Magpakailanman (GMA-7) - 16.9%
Spring Waltz (ABS-CBN) - 10.5%
Source: AGB Nielsen Philippines