Confrontation scenes are already in the DNA of Pinoy teleseryes.
These "sabunutan-sampalan" scenes recently became a hot topic on social media, as netizens feared the writers of GMA-7's upcoming live-action adaptation of Voltes V would make the show "too soap opera" by featuring such scenes and other soap opera cliches.
Veteran cartoonist Pol Medina, Jr. also shared the same sentiment on January 19, 2021, in a comic strip featuring his iconic Pugad Baboy characters, discussing the possibility of having "sabunutan-sampalan" in the much-anticipated Kapuso series.
GMA-7 creative writer Suzette Doctolero, who helms the creative team of Voltes V: Legacy, took offense and said the comic strip looks down on teleseryes, which is one of the biggest money-making genres on Philippine TV.
Netizens are also expecting "sabunutan-sampalan" scenes to appear in all sorts of genres. On February 19, Twitter user and medical practitioner Jai Cabajar tweeted that if a medical drama would be made in the Philippines, its formula will probably be "5% medical, 95% sampalan ng residents."
Cabajar's tweet currently has 20.4K likes and 2k retweets, with reactions mostly agreeing on his opinion.
Even if the Pinoy teleserye format has evolved and creators have been venturing into genres that feature less of the usual tropes in Pinoy TV drama, it is still these "malulutong na sampalan" scenes that entertain the audience.
These face-slapping scenes do not only boost a show's ratings (especially in the afternoon slot), but they also go viral on social media, inciting reactions among viewers and even impersonations!
PEP.ph (Philippine Entertainment Portal) lists down five "malulutong na sampalan" scenes in Pinoy teleseryes that became talked-about on social media.
CRISTINE REYES AND DIONNE MONSANTO IN TUBIG AT LANGIS
Cristine Reyes and Dionne Monsanto played mortal enemies in the 2016 ABS-CBN drama series Tubig at Langis.
At the center of their conflict was Zanjoe Marudo, who played the role of Natoy.
Cristine played his wife Irene, while Dionne played his sister Lucy, who was not in favor of Irene for her brother. Tensions were high between the two as they lived under one roof.
Later, Irene found out that Natoy had a baby with another woman, Clara (Isabelle Daza). To make matters worse, the family of Natoy favored Clara, even if she was the mistress.
In one of the scenes in the show, Irene caught Natoy and Clara having a sweet moment where Natoy was talking to his unborn child inside Clara's tummy.
Lucy witnessed the commotion and poked fun at the situation, even asking for popcorn to watch this "blockbuster movie."
At first, Irene did not mind Lucy's presence and instead asked Natoy if they could talk about their set-up outside the house.
When Irene was about to go outside, Lucy stopped her and said, "Huwag mo akong dinededma, ha!"
Before Lucy could finish her words, Irene responded by whacking Lucy's face! She then shouted, "Ayan! Dinededma pa ba kita?"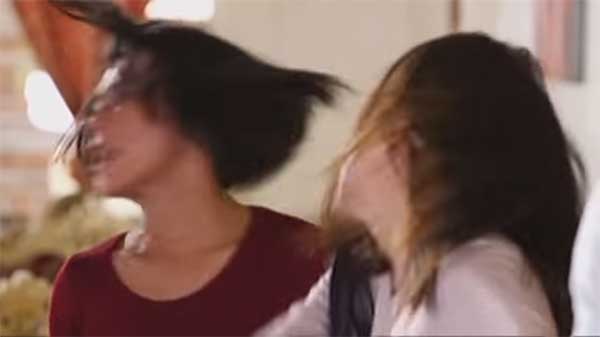 The scene went viral on social media and was reposted by several Facebook pages. It became so popular that even Tubig at Langis used "dedma" as its promotional tagline for its finale: "Ang pagtatapos na hindi mo dededmahin."
MAJA SALVADOR AND KIM CHIU IN INA, KAPATID, ANAK
In 2012, Maja Salvador and Kim Chiu top-billed the prime-time series Ina, Kapatid, Anak. It was a celebrated fare on television because Maja and Kim were known to be best friends at the time.
They portrayed long-lost twin sisters who ended up becoming rivals after discovering their real identities.
In a much-awaited confrontation scene, Margaux (Maja Salvador) expressed her frustration over the attention that Celyn (Kim Chiu) had been getting from their parents.
Margaux, who was already tipsy after their joint debut celebration, said that Celyn had stolen everything from her and gave her one big powerful slap.
Celyn immediately returned the slap and told the tipsy Margaux, "Para mahimasmasan ka!"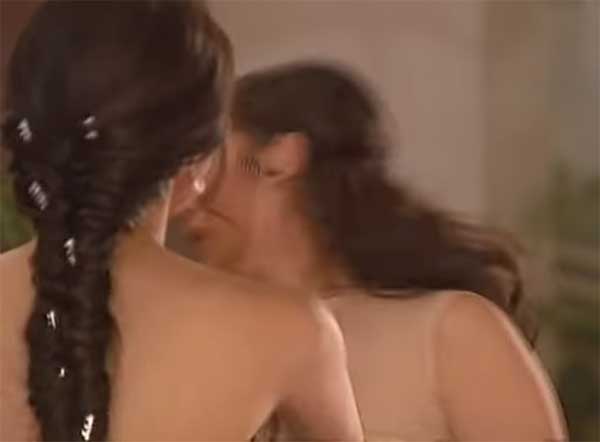 What made this sampalan scene more controversial then was Kim and Maja were not on good terms in real life.
Maja got into a relationship with Kim's ex-boyfriend Gerald Anderson. At one point, it was even reported that Kim walked out of the set after the scene, but she denied this.
But all's well that ends well: Kim and Maja have made amends, and remain friends.
BARBIE FORTEZA AND MIKA DELA CRUZ IN KARA MIA
What made the sampalan scene in GMA-7's 2019 fantasy-drama series Kara Mia interesting was that the two characters shared the same body.
In this drama series, lead actors Barbie Forteza and Mika dela Cruz played twins who were born with a medical condition called Disprosopus or craniofacial duplication, a congenital defect where they have two faces but share the same body.
Kara (Barbie), being the owner of the body, was able to control their actions while Mia (Mika) was only at her back, hidden behind her hair.
In the sampalan scene held in an overpass, Mia already learned how to also control their body, fighting against the mind of Kara.
Kara was surprised to see that her own hands were moving and later, slapping herself. She tried to stop Mia from hurting her, but Mia wouldn't stop, which then confused their body and they ended up almost falling from the overpass.
Since their characters share the same body, Barbie and Mika acted like they were slapping themselves to make the scene effective.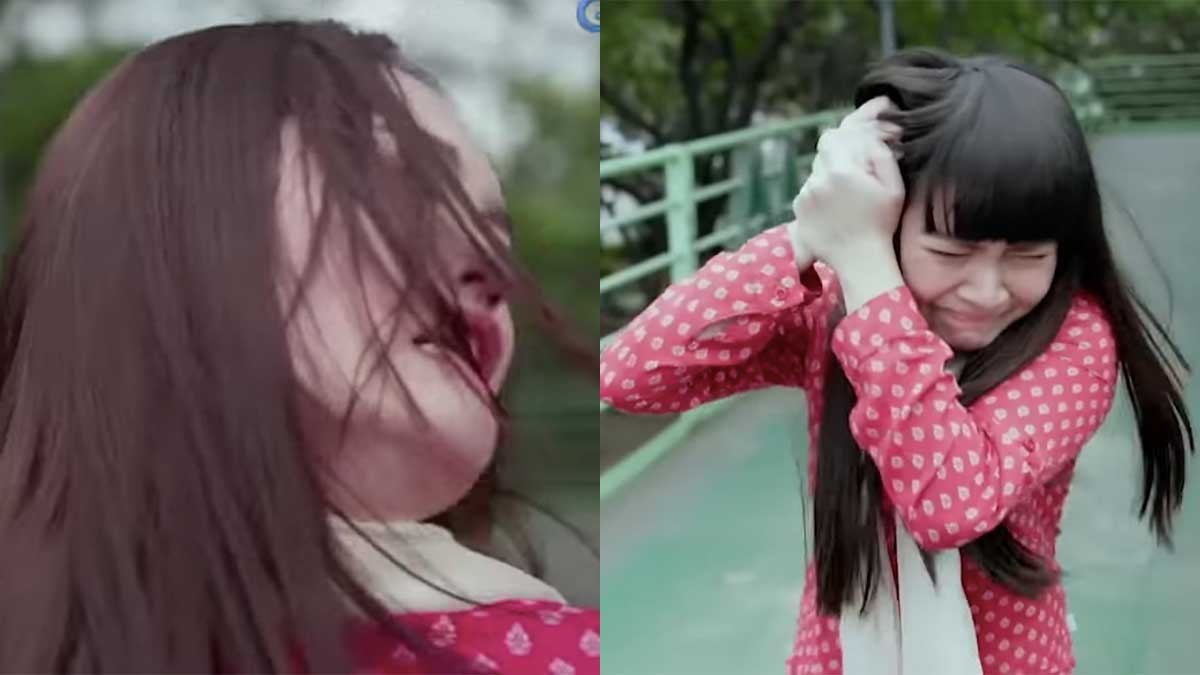 The uniqueness of the scene made the video clip go viral and was reposted on several social media pages.
SUNSHINE DIZON AND RYZA CENON IN IKA-6 NA UTOS
Sunshine Dizon and Ryza Cenon, who played rivals in the Kapuso afternoon series Ika-6 Na Utos, engaged in several fight scenes that went viral on social media.
Sunshine's Emma character was the legal wife of Rome (Gabby Concepcion), while Ryza's Georgia was the mistress.
One viral scene had Georgia pointing a nerf gun at Emma after a huge catfight in a play store.
But one of the first sampalan scenes in the show happened when Emma and Georgia had a confrontation scene at a parking lot.
The confrontation was Emma's chance to seek revenge for the time that Georgia tried to kill her.
Georgia then told Emma that her second chance at life was proof of her "malakas na powers."
Emma answered, "Powers pala ang hanap mo, ha!"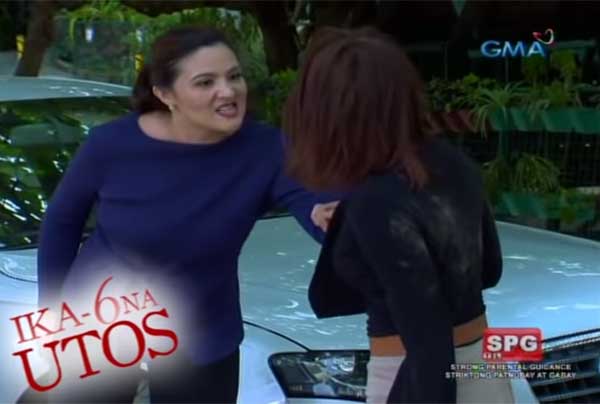 The scorned wife then whacked Georgia's face three times, almost causing Georgia to lose her balance!
Emma was about to give a fourth slap, but she told Georgia, "Ang pinakamalakas na sampal ko, ise-save ko muna."
This sampalan scene of Ika-6 Na Utos currently has more than two million views on YouTube.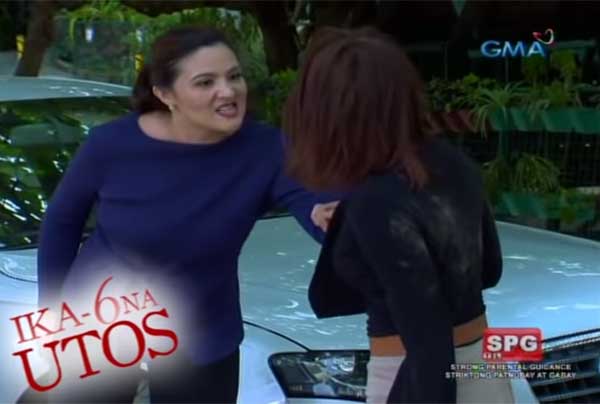 JODI STA. MARIA AND IZA CALZADO IN ANG SA IYO AY AKIN
Since the shutdown, ABS-CBN has been gauging the show's success through its streaming platform, iWant TFC.
Ang Sa Iyo Ay Akin, starring Jodi Sta. Maria and Iza Calzado, has consistently landed the number one spot in the Top 10 most-watched shows.
The audience fell in love with the intense rivalry of friends-turned-enemies Ellice (Iza) and Marissa (Jodi).
In one of the show's most intense scenes, Marissa was offended when Ellice did not invite her to the launch of a project that Marissa spearheaded.
It was Ellice's revenge after finding out that her husband, Gabriel (Sam Milby) and Marissa had a son.
Marissa then confronted Ellice outside the ballroom and pulled Ellice's pearl necklace.
Ellice slapped Marissa's face and Marissa returned it with a louder slap. Ellice then gave Marissa another slap.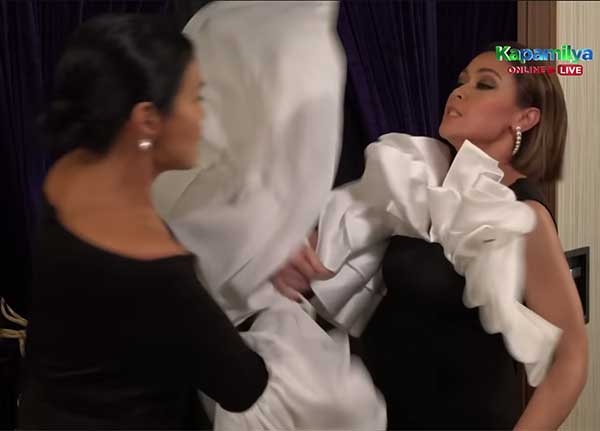 Marissa tried to return the slap, but Ellice stopped her hand.
The furious Ellice then told Marissa, "Ngayon sabihin mo sa akin, anong mas masakit? Iyong sampal ko o ang sinasabi mong pang-aagaw ko?"
The episode, which had the hashtag #ASIAApersonalan, became a trending topic on Twitter that day.
We are now on Quento!
Download the app
to enjoy more articles and videos from PEP.ph and other Summit Media websites.