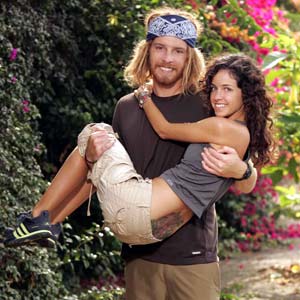 ---
TK Erwin and Rachel Rosales had known each for only four months when they decided to take a gamble and sign up for The Amazing Race 12 (U.S. edition). Couples are known to fight and bicker among themselves during the stressful race around the world but the laid-back and mellow pair of TK and Rachel found out that they developed a much stronger bond after traveling together in 10 cities and 4 continents in a span of 21 days.
This year's race features 5 countries where The Amazing Race had never been to before, including Ireland, Lithuania and Croatia. Other locales include Burkina Faso in West Africa and Taiwan.
ABS-CBN corporate communications manager Kane Errol Choa paved the way for PEP (Philippine Entertainment Portal) to interview the winners of the reality show The Amazing Race 12. Through a conference call, PEP was able to chat with TK and Rachel who are now living together in Huntington Beach, California.
ADVERTISEMENT - CONTINUE READING BELOW
Described as a "newly dating couple" during their stint in The Amazing Race 12, TK and Rachel were the first to cross the finish line in Anchorage, Alaska-making them the recipients of the $1 million cash prize.
When the winning team met with TAR 12 host Phil Keoghan at the finish line, TK blurted out: "I can't even believe it... I'm really speechless. None of this even seems real. It's kind of freaking me out."


He went on: "This whole things was such a crazy roller coaster with so many ups and downs. To do it with Rachel, I think our relationship has only grown through this whole thing. And for that, that's more important than any of this for me."


During our conversation, it became apparent that racing around the world together has solidified the relationship of the couple. Now that Valentine's Day is fast approaching, you just might want to consider joining an adventure reality show as one of your strategies for getting to know your partner.
ADVERTISEMENT - CONTINUE READING BELOW
Here is the transcript of the interview between PEP and the winning team of TK and Rachel:
PEP: How did you two meet?
TK: We met through our moms. Both of our moms were friends while growing up in California. We were friends for four months when we applied to Amazing Race and we had known each other for a year when the race started.
PEP: How were you cast into The Amazing Race 12?
Rachel: I saw a commercial on TV. We submitted an audition tape and we waited in line just like everyone else. We had a two-minute on-camera interview and we went from there.
PEP: How did you complement each other while competing in The Amazing Race?
TK: We complemented each other in such ways like...Rachel is good at logic...puzzles and riddles. Rachel enjoys them. When it comes to physical challenges, I'm bigger and stronger so I can do that.
ADVERTISEMENT - CONTINUE READING BELOW
PEP: What do you plan to do with the $1 million cash prize?
TK: Nothing huge...there are some small bills we would want to get rid of. Rachel is a workaholic so it would be nice to reward ourselves.
[Note: Rachel works as a florist in her own flower shop while TK is a substitute teacher.]
PEP: What did you like most about joining The Amazing Race?
Rachel: It's traveling to places that were unusual. These are places that most Americans are not able to see.
PEP: How did your relationship develop during The Amazing Race?
TK: When we started the race, I already had deep feelings for her. While on the race and seeing how well she could handle herself...how she could stand not sleeping or eating, in a weird way, it justifies how I felt about her.
PEP: Can you see yourself settling down with each other in the future?
ADVERTISEMENT - CONTINUE READING BELOW
Rachel: We're doing it now. TK and I have a completely committed relationship and if I would marry a person, it would be TK.
PEP: If you would want someone else to win The Amazing Race, who would it be?
TK: Nic and Donald because of our friendsship with them. If we were at home watching this, we would probably be rooting for them.
[Note: Donald Jerousek and Nicolas Fulks are a grandfather-grandson team who landed third place in TAR 12. Incidentally, the 68-year old Donald is the oldest participant to make into the final three teams of the reality show. Meanwhile, the father/daughter team Ronald and Christina Hsu finished second.]
PEP: What did you discover about each other while participating in The Amazing Race?
Rachel: The way he consistently supported me. He did a great job of lifting me back up when I'm down. I gained a lot of respect for him and he made me realize how deeply he cared for me.
ADVERTISEMENT - CONTINUE READING BELOW
PEP: What is the most unforgettable moment for you in The Amazing Race?
TK: All of it! Everything is so surreal! Just racing around the world and reliving it on television-it's so surreal!
The Amazing Race 12 was shown on Studio 23 live via satellite every Monday and on primetime every Tuesday.