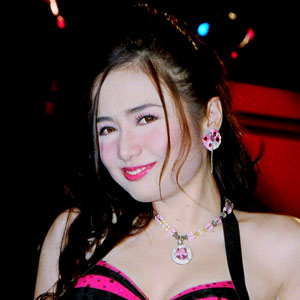 ---
Assunta de Rossi decided to drop out of ABC-5's competition Shall We Dance: The Celebrity Dance Challenge last week but the show goes on.
"I'm trying to get pregnant," explained Assunta, explaining why she withdrew from the competition. She has been married to Negros Occidental congressman Jules Ledesma since March 2004 but the couple have yet to be blessed with a child. "I quit smoking, actually three weeks na and the effect is nahihilo ako," she added.
It was Assunta's second chance to compete in the show this season, like her competitors Onyok Velasco, Long Mejia and Angelica Jones. Assunta got the lowest score after the first round, which meant she was supposed to dance two routines for round two.


Even without the svelte actress, the remaining pairs continued to battle it out on the dance floor last Sunday, February 3. All of them tried to impress the judges Regine Tolentino, Audie Gemora and guest judge Douglas Quijano but Angelica Jones remained undefeated at the top spot.
Angelica once again proved that she can become Philippine TV's new dancing queen as she and partner Efren Ibo ruled the dance floor for the second consecutive week. Angelica said she followed the judges' advice to connect with her partner by looking into his eyes while dancing. If in the first round they didn't have any chemistry, Angelica and her partner showed a marked improvement in their performance.
Onyok Velasco, who ranked second during the first week of competition, was apparently intimidated by the presence of the renowned choreographer in the judging panel, thus making him really nervous on the dance floor. His partner Olivia Cui was disappointed but Onyok promised to try harder the next time.
Dominic Ochoa revealed his sexy side and the judges loved it. Their rigorous rehearsals paid off as they got good praises from the three judges after they danced the cha-cha. Since the scores from day one were added to the scores of round two, Dominic and partner just placed second to Angelica and Efren while Onyok and Olivia dropped to third.
ADVERTISEMENT - CONTINUE READING BELOW
Long Mejia's performance last week was good but apparently not enough to avoid getting the lowest score. So, in the next round Long and partner Raine Trinidad would be performing two dance numbers which should be nothing short of spectacular if they want to stay in the competition.
The dance battle continues this Sunday, 9 p.m., in ABC-5's Shall We Dance: The Celebrity Dance Challenge hosted by dance goddess Lucy Torres-Gomez with co-host Arnell Ignacio.