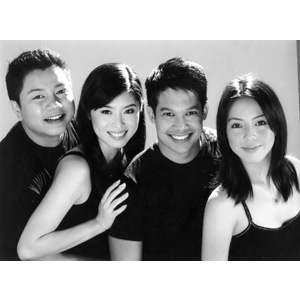 ---
Good Times just got even better as the unstoppable team takes its antics to the television screens. Magic 89.9 and Studio 23 are proud to announce the launch of Good Times with Mo, Mojo, Andi & Grace reinventing their radio humor for TV audiences. The one-of-a-kind lifestyle show is scheduled to air on Studio 23 every Tuesday at 11 p.m. starting February 26.
Imagine Mo Twister and Mojo Jojo attempting to make hotdogs in a sausage factory. Or Andi-9 getting attacked by one of those very hotdogs. How about Mo trying to pick up a game with PBA players. What about Grace Lee trying to teach her zany co-hosts how to speak Korean. Or Mojo Jojo getting possessed by evil spirits. These are just some of the freakishly hilarious stuff viewers can expect to see on their new show.
Good Times with Mo, Mojo, Andi & Grace promises a strange mix where "lifestyle" meets Jack Ass in a setting which is incontrovertibly funny and strangely educational at the same time.
Originally aired over radio station Magic 89.9, Good Times became known as an uncanny and powerhouse morning show with the presence of DJs Mo Twister, Andi-9 and Mojo Jojo. In just over a year, this talented trio has broken ratings records and made history as the reigning pop FM radio program in the country.
Good Times has amassed unprecedented listenership that other radio shows can only dream of. With their off-the-wall games, contests and conversations like "Ang Yabang Mo," "Gay or Straight?" "Cute Boy Alert," and "Forbidden Questions," Good Times has certainly developed a cult following.
Mo Twister serves as the captain of this widely followed motley crew. Though physically short in stature, DJ Mo has one of the biggest voices in the business. With his acerbic wit and skewed take on everyday things, Mo is an agitator that you just can't help listen to. He has the guts to ask the questions no else dares to even think of! Mo is aptly dubbed showbiz's "Mr. Controversial."
ADVERTISEMENT - CONTINUE READING BELOW
Andrea Manzano, better known as Andi-9 by the general public, is the sugar and spice of Good Times. This fresh-faced beauty has graced countless magazine covers, print ads and television commercials. An MTV VJ and courtside reporter to boot, Andi-9 is the baby of the bunch and boasts of innocent charm and a sweet image. It's no wonder why every guy wants to date her and why every girl wants to be her friend. Andrea Manzano is arguably the most beautiful thing to happen to radio in a long time.
Mojo Jojo humorously completes the Good Times threesome. Playful, geeky and lovingly gay, his flamboyant character adds a one-of-a-kind comic touch to the program. From flirting with the callers to screeching his trademark scream, Mojo is everyone's best friend. Whether he is arguing with mo or talking girl talk with Andi, his liberated perspective always gets a laugh out of listeners. Also a respected columnist for several publications, Mojo is considered a jack of all trades and a media veteran.
Grace Lee is television lifestyle's correspondent, commercial model, and radio DJ. Grace (born Lee Kyung Hee) is a refreshing mélange of beauty and brains. While 100% Korean, Grace says she is purely Pinoy as she grew up in the Philippines. Speaking four languages with a penchant for travel and painting the town red, this party animal with a serious streak rounds out the Good Times gang. Armed with her knack for conversation, sweet, sassy and undeniably sexy, Grace is ready to join Mo, Mojo and Andi on their weekly television adventures on Studio 23.
Don't miss the pilot episode of Good Times with Mo, Mojo, Andi & Grace on February 26 (Tuesday) at 11 p.m. on Studio 23.