Thirst traps have certainly made social media a sexier place with all those enticing selfies that say "look at me."
The word has entered mainstream language to mean exactly that, a way to quench a very human thirst for attention via social media.
It is also now part of journalistic lingo; an example is Rihanna being named by the magazine GQ as Queen of the Thirst Trap.
And thirst trap being a "largely visual phenomenon," according to theawl.com way back in 2014, local television and the movies have been quick to pick up the idea to attract higher viewership.
PEP.ph (Philippine Entertainment Portal) rounds up eight thirst-trap or sexy scenes on TV with talented—hot—male actors giving viewers some quality hydrating moments.
ON THE WINGS OF LOVE
ABS-CBN's On The Wings of Love (OTWOL) was a top-rating prime-time program top-billed by Nadine Lustre and James Reid, which ran for six months.
HOT SCENE: During its October 1, 2015 episode, OTWOL shows Clark (James) and Jigs (Albie Casiño) competing for the attention of Leah (Nadine) while the three are having breakfast together.
In the scene, Clark is topless, and Jigs, seeing that, takes off his shirt to show off his chiseled abs. Not to be outdone, Clark flexes his muscles in front of Leah to show her what he's got.
When Leah realizes what the two are up to, she tells them to stop their silly competition.
HOT TAKE: You are such a killjoy for stopping them, Leah. Nonetheless, the production team still gave the viewers a tasty visual treat.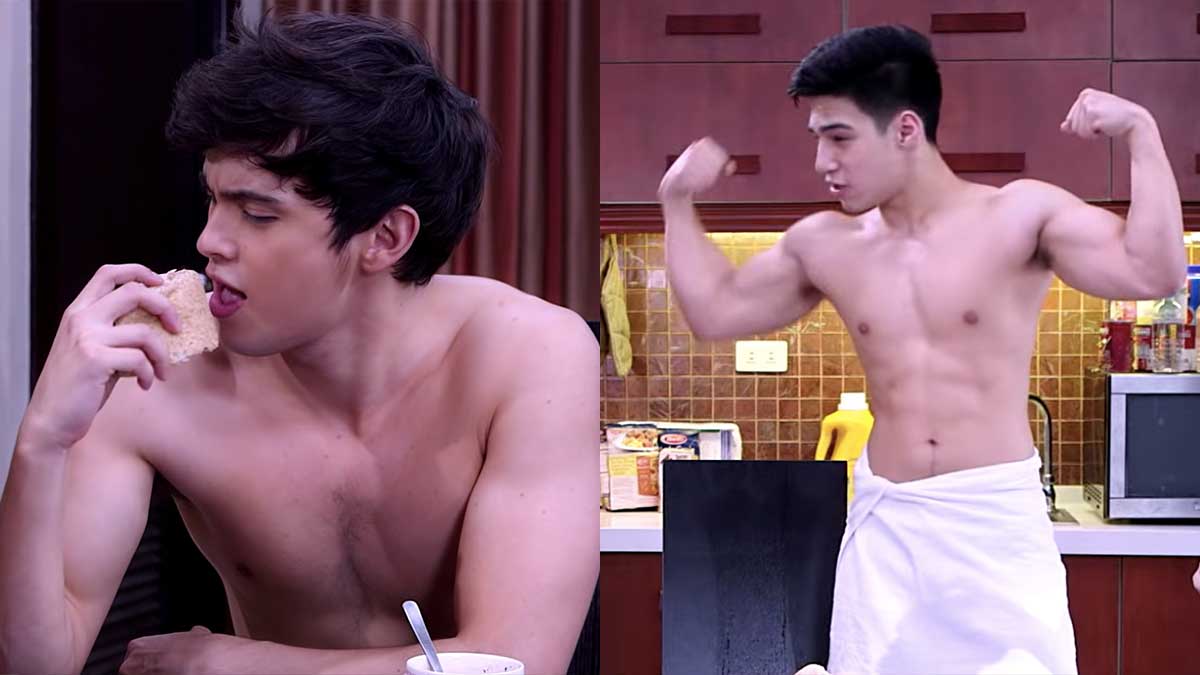 INIT SA MAGDAMAG
Prior to its airing, ABS-CBN's prime-time program Init sa Magdamag trended online with the release of its official trailer showing a daring scene of its main stars Gerald Anderson and Yam Concepcion.
HOT SCENE: In episode three, a drunk Tupe (Gerald Anderson) enters Rita's (Yam Concepcion) room by accident. Complaining about the blazing heat, he proceeds to take off his shirt and strip down to his boxer briefs. Upon seeing Rita's reaction, Tupe snorts, "Bakit? Mas gusto mo bang nakahubad?"
This particular scene became a hot topic on social media.
Init sa Magdamag currently airs on ABS-CBN Primetime Bida. It also stars JM de Guzman, who also had sizzling scenes with Yam.
HOT TAKE: If you were Rita, will you have the same reaction? Or will you scream: "YES! YES! YES!"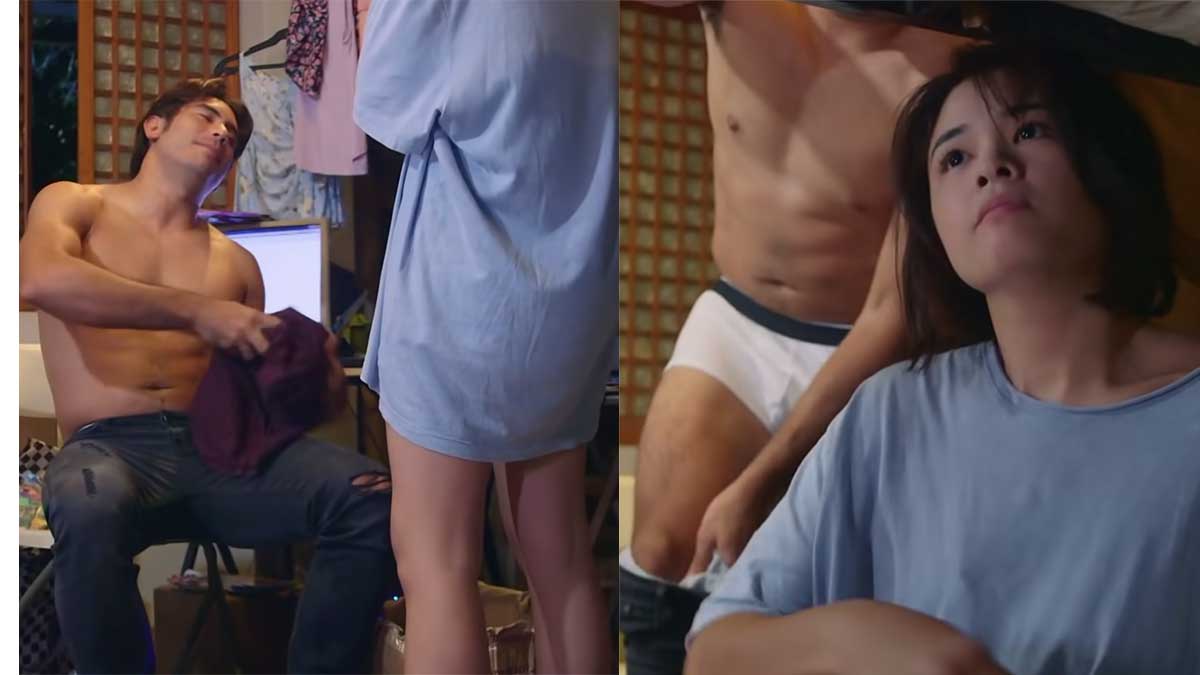 MOON OF DESIRE
Moon of Desire was a romantic fantasy series starring JC de Vera, Meg Imperial, Ellen Adarna, Dominic Roque, and Miko Raval. It aired on ABS-CBN in 2014.
The story revolved around Ayla and her much-talked about FM radio show.
HOT SCENE: In one of its episodes, Dominic Roque's character Vince Serrano breaks down when he learns his girlfriend has been cheating on him. Angry and devastated, he pours them all out in a scene showing him crying in the shower—completely naked.
HOT TAKE: Don't worry Vince. We choose you.
SINO ANG MAY SALA?
ABS-CBN's crime-drama series Sino Ang May Sala: Mea Culpa (2019) was about a group of friends who travelled to Baguio to celebrate passing the bar exam. The five figured in an accident that had compromised their future careers. It starred Bela Padilla, Sandino Martin, Kit Thompson, Ivana Alawi, Tony Labrusca and Jodi Sta. Maria.
HOT SCENE: During the program's pilot week, Kit Thompson's character Greco gets intimate with his friend Lolita, played by Ivana Alawi.
Both drunk, Greco followed Lolita to the wash room. Seeing Greco staring at her seductively, Lolita teases, "Parang nangangain naman iyang mata mo."
The steamy love-making scene that followed, with Kit baring his butt, was not shown on TV, but it was uploaded on iWant TFC.
HOT TAKE: Speechless.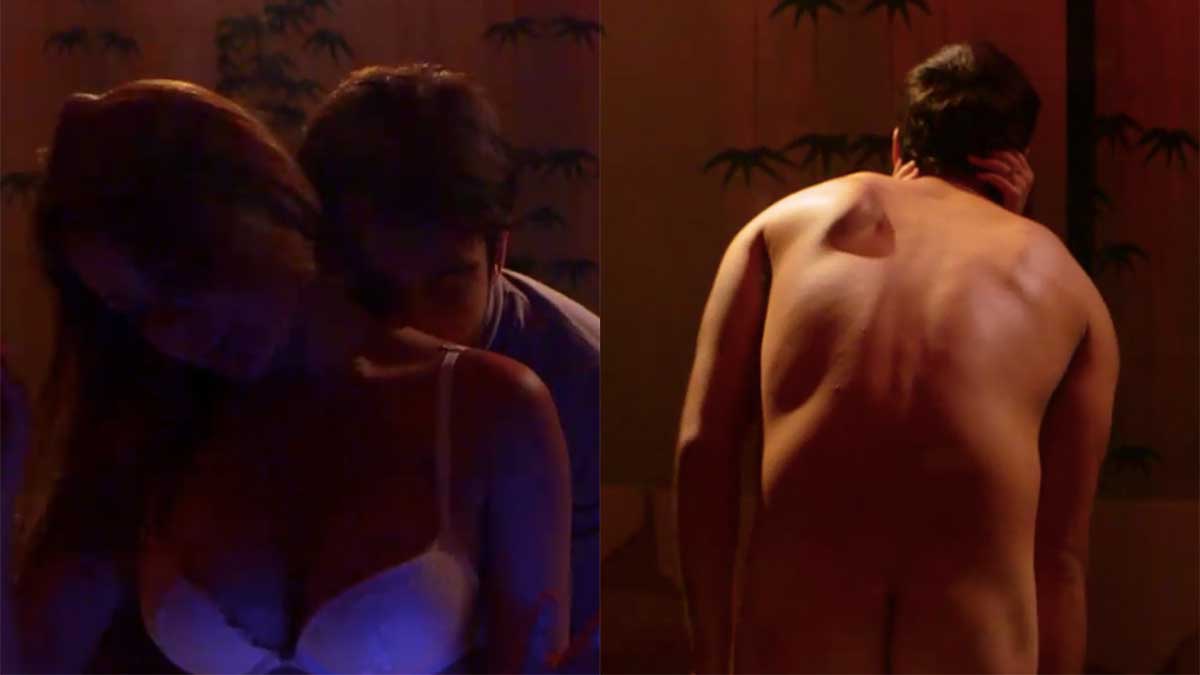 BEAUTIFUL JUSTICE
In September of 2019, GMA Network launched its drama-action series Beautiful Justice top-billed by Yasmien Kurdi, Gabbi Garcia, Bea Binene, Gil Cuerva, and Derrick Monasterio.
HOT SCENE: Agent Lance Decena (Derrick Monasterio), who was supposed to have died during a failed operation of Philippine Drug Enforcement Agency, resurfaces and is now part of the drug syndicate that PDEA is trying to tear down.
He later finds out that his co-agent Vin Ocampo (Gil Cuerva) is having an intimate relationship with her fiancée, Brie Cuevas (Gabbi Garcia). This leads to a combative shower-room confrontation between the two— topless and covered only in white bath towels.
HOT TAKE: Two topless gorgeous men fighting for a girl? She's indeed #lucky.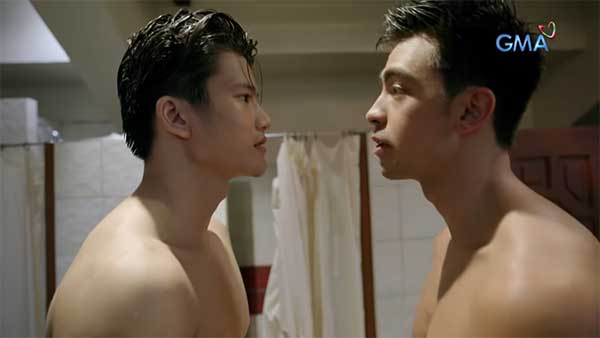 MY FANTASTIC PAG-IBIG: "MY FAIRY TALE ROMANCE"
In March 2020, Yasser Marta and Alex Diaz starred in a love story between a man and a merman that aired on Gtv. Yasser played Nep, a human, and Alex was Lantis, the merman.
In the story, Nep goes to his family-owned resort with his yaya to heal and move on from a recent breakup. Unknown to him, Lantis has been waiting for his return. He wants to see Nep with whom he has fallen in love from the first time he saw him.
Wanting to get closer to the man he loves, Lantis does everything he could to become a human—despite the possible consequences of his actions.
HOT SCENE: Now human, Lantis bumps into Nep in a souvenir shop and is offered to stay in his home for the meantime. As Nep and Lantis are about to sleep in one bedroom, Nep removes his sando and says, "Bro, pasensiya ha. Hindi kasi ako sanay matulog ng may shirt." Caught off guard, Lantis flashes an awkward smile while secretly adoring Nep's physique.
HOT TAKE: We feel you, Lantis. We really do.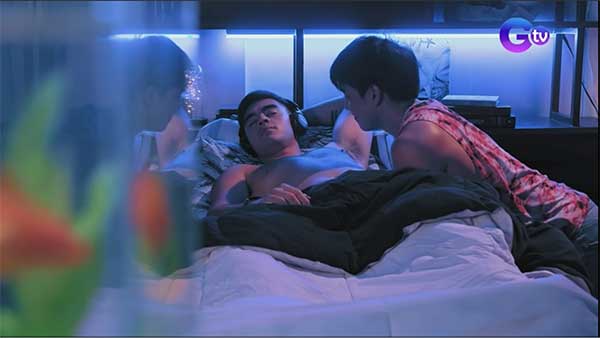 HEARTFUL CAFE
The 2020 series introduced GMA's newest love team, Julie Anne San Jose and David Licauco.
In the story, Julie Anne is Heart Fulgencio, a novelist and coffee enthusiast who owns The Heartful Cafe, and David Licauco is Ace Nobleza, a goal-driven businessman who is interested in Heart's business.
Visiting Heart's cafe, Ace does not only criticize the drink he has ordered but also gives an assessment why the cafe isn't a hit to customers. Little does Heart know that Ace is the one who's been wanting to help and invest in Heartful Cafe.
HOT SCENE: Although Heart has rejected his business proposal, Ace persists in proving to her that he really wanted to improve her cafe.
In episode three, Heart arrives at the cafe wondering where all the free supply of coffee beans comes from. Upon learning Ace has a hand in it, she purposely spills her drink to his shirt.
Slightly annoyed, Ace slowly removes his wet shirt, with Heart unable to rein in her awe as Ace reveals his toned body.
HOT TAKE: Hmmm. What should Heart do next? Pretend to faint and make sure Ace catches her.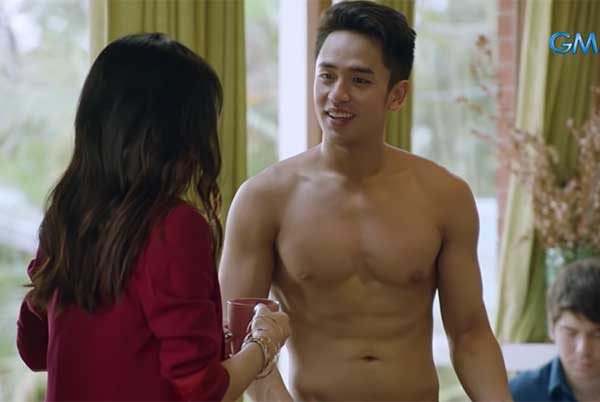 JUAN HAPPY LOVE STORY
This Kapuso primetime series released in 2016 teamed up Dennis Trillo and Heart Evangelista.
In the story, Dennis is Juan, a responsible and go-getter businessman who is also a girl magnet. He meets Happy, played by Heart, a feisty and family-oriented woman who waits for signs from God to find her one true love.
They get married, but Heart is unable to bear a child. Saddled by marital problems, they decide to separate.
HOT SCENE: In a later episode, Juan and Happy get together to settle their differences, both motivated to have a child. Professing his love for Happy and promising a night of "puro pleasure," Juan slowly disrobes Happy and remove his towel revealing his manhood to his wife.
HOT TAKE: Describe to us what you see. We know you love it!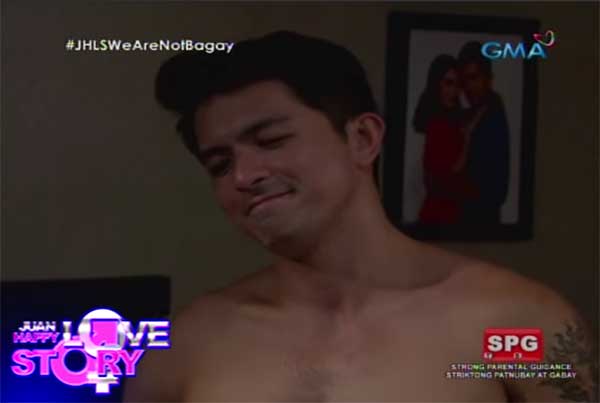 We are now on Quento!
Download the app
to enjoy more articles and videos from PEP.ph and other Summit Media websites.