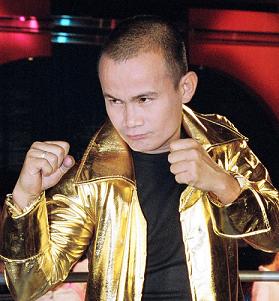 ---
Only three contestants remain in the running for the finals of Shall We Dance: The Celebrity Dance Challenge. Last Sunday, February 10, comedian Long Mejia got eliminated in the show when his two performances didn't quite leave a positive impression on the three resident judges.
In this kind of competition, three is definitely a crowd so contestants Dominic Ochoa, Angelica Jones and Onyok Velasco should not rest on their laurels if they want to secure a place in the finals. They must dance like there's no tomorrow or it will be bye-bye time for them as well.
Last week, Onyok and his partner Olivia Cui delivered a knock-out performance. The boxing champ was in his element as Olivia incorporated some shuffle moves a la heavyweight champ Muhammad Ali in their routine. It also helped that Onyok was wearing a boxing outfit while Olivia dressed as a "round girl" (the scantily clad lady tasked to announce each boxing round by carrying a placard). The judges were in awe after the performance which made them put Onyok and Olivia in the top spot.
Unlike the other competitors, it was the first time for Dominic Ochoa to compete in Shall We Dance. The staff asked him to compete this season and, because he loves the show so much, he did. Being the host of the show, Dom doesn't want to disappoint the judges and the viewers, so every week he prepares hard for the competition. Last week was no exception. Dom delivered another awesome performance and the judges loved it. Though he only placed third to Onyok and Angelica, Dom has a good chance of making it to the finals if he nails his performance this Sunday, February 16.
Angelica and her partner Efren didn't waste time in proving why they deserve to be in this competition. The sexy-comedian actress performed a powerful dance routine last Sunday. Although she only ranked second to Onyok, Angelica definitely made her presence felt. It would not be a surprise if she makes it all the way to the finals.
ADVERTISEMENT - CONTINUE READING BELOW
Today, the three challengers must put their best foot forward and really take it to the extreme. They will dance two routines each, one for the easy round which will feature salsa, jive and swing; and another for the difficult round of foxtrot, paso doble and tango. Judges Regine Tolentino, Audie Gemora and Ednah Ledesma will definitely have a hard time choosing the two pairs who will compete in the finals.
It's going to be an all-out dance battle royale in the reality dance competition of the stars, Shall We Dance: The Celebrity Dance Challenge on ABC-5 (Sunday, 9 pm). The show is hosted by dance goddess Lucy Torres-Gomez with co-host Arnell Ignacio.