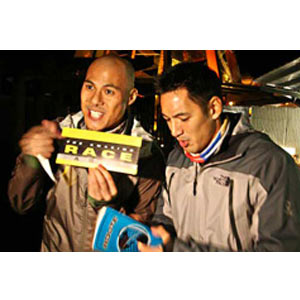 ---

After 12 legs of race around the world in 24 days, best buddies Marc Nelson and Rovilson Fernandez of the Philippines finished third in Amazing Race Asia 2.
Marc, a popular model and host of Sports Unlimited, and Rovilson, also a model and magazine editor, came behind winners Adrian Yap and Collin Low of Singapore and Pamela and Vanessa Chong of Malaysia in the race to the finish line. Adrian and Collin won 100,000 U.S. dollars.
Marc and Rovilson were undoubtedly the strongest team among the 10 teams, which also included another team from the Philippines, married couple Henri and Terri Reed. Out of the 12 legs of the competition, Marc and Rovilson finished first in eight legs, second in three legs, before dropping to third in the final leg.
Unlike most of the teams who allowed the pressure of the game to affect their strategies, Marc and Rovilson remained cool and funny throughout the competition. But the final roadblock proved to be the team's downfall.
ADVERTISEMENT - CONTINUE READING BELOW
Marc and Rovilson were the first to arrive at the final roadblock in Singapore, where one team member must arrange the flags of all the countries they have visited in order of their destinations.
Rovilson did the roadblock for him and Marc. But Rovilson had difficulty identifying and arranging the flags. This allowed the other two teams to catch up.
Marc, who is more familiar with the flags, can only watch in frustration as his teammate fumbled the final roadblock.
Although gym buddies Adrian and Collin were the last to arrive at the roadblock, Collin, who has hearing impairment, had no trouble arranging the flags correctly and finished the task first. This gave them the much needed break to arrive in the final pit stop first, where all the teams previously eliminated and host Allan Wu were waiting.
Sisters Vanessa and Pamela arrived second while Marc and Rovilson came in third.
ADVERTISEMENT - CONTINUE READING BELOW
The race started in Singapore and the teams went to the Philippines, China, New Zealand, Japan, South Korea, Germany, Czech Republic, Hungary, South Africa, then back to Singapore which served as the last pit stop.
Amazing Race Asia is based on the American series Amazing Race.
In the first Amazing Race Asia, the Philippines were represented by couple Ernesto and Jill Lopez and buddies Aubrey Miles and Jacqueline Yu. Unfortunately, the RP teams were the first two teams to be eliminated. Ernesto and Jill were the first to go while Aubrey and Jacqueline followed immediately.