Darna has found her Valentina.
Today, November 19, Janella Salvador is revealed to be portraying the iconic kontrabida role of Valentina in ABS-CBN's upcoming TV version of Darna.
Darna lead actress Jane de Leon welcomed Janella to the cast and introduced her as Valentina during the "The Valentina Reveal" event streamed on Facebook and YouTube.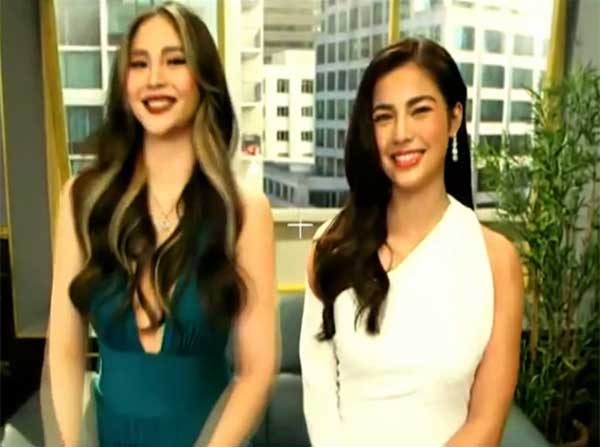 Janella Salvador and Jane de Leon
The reveal was held inside the office of Regina Vanguardia, the mortal alter-ego of Valentina. The office is located in the ABS-CBN Soundstage in Bulacan, where the whole cast has started taping their scenes last Monday, November 15.
Valentina is the archenemy of Darna, who is known to have venomous snakes on her head and is later referred to as the "goddess of snakes."
Her alter-ego, Regina Vanguardia, is a lawyer and vlogger.
Janella said that she is blessed to get the role, given that a lot of actresses auditioned for Valentina.
It is her first kontrabida role in a teleserye and her first major TV project after she has given birth to her baby with Markus Paterson in October 2020.
Janella's last teleserye was the prime-time series The Killer Bride, aired from August 2019 to January 2020.
Darna will also serve as Janella's reunion with Joshua Garcia, her love-team partner in The Killer Bride.
Joshua was introduced as the "male lead" during the first cast reveal of Darna in October 2021.
Darna: The TV Series is directed by Chito Roño and produced by ABS-CBN Entertainment's JRB Creative Production, helmed by business unit head Julie Anne Benitez.
ABS-CBN has yet to announce the airing date of Darna.