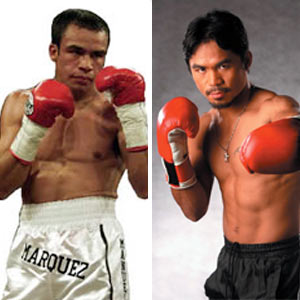 ---
Every Saturday, Manny "Pacman" Pacquiao presents the triumphs of the Filipino in his GMA-7 show Pinoy Records. The Pambansang Kamao is joined by his co-host Ateneo basketball heartthrob Chris Tiu. Together, the two sports idols deliver blow-by-blow accounts of physical challenges among amateur athletes and non-athletes and showcase fast-breaking celebrities and non-celebrities in their own sporty activities.
The program's segments are the following:
The Pacman Challenge - Non-celebrity challengers try to set or break records, hosted by the Pacman himself
Idol ng Bayan - Idols in different fields face non-celebrity challengers, hosted by Chris Tiu
Todo mo na - Record holders beat their own records
Iba ang Pinoy - Communities work together to set or beat a record
Pacman on the Road - Pacman goes around the Philippines to feature Filipino interests, practices and activities
Sikat on the Spot - Celebrities set their own records in different challenges
Pasikatan - Features celebrities with extraordinary abilities get challenged by non-celebrities
Engkuwentro - Chris gets to interview some Filipino personalities of various fields of endeavor
Astig ni Kid - Focuses on kids' extraordinary abilities
Pinoy to the Max - Features over-the-edge Pinoy abilities
This Saturday, February 23, marks the start of the official countdown for Manny's boxing match against Mexican boxer Juan Manuel Marquez. In the segment "Pacman on the Road," viewers will see exclusive footage of Manny's training for the match on March 15. Marquez will defend his WBC junior lightweight title against Pacquiao at the Mandalay Bay Resort and Casino in Las Vegas.
As for the other segments of Pinoy Records, viewers can expect to see Jen Rosendahl at K Brosas battle it out for the title of Rodeo Queen in "Sikat on the Spot." The show will also introduce eight-year-old Irah Cantiga who is considered the youngest mountaineer in the Philippines. The young child will try to climb Mt. Pico de Loro in Laguna.
ADVERTISEMENT - CONTINUE READING BELOW
In "Idol ng Bayan," basketball player Mark Cardona of the Talk 'N Text Phone Pals Team will show off his skills on the hard court. The Sampaguita Festival of Laguna gets the spotlight in the segment "Iba ang Pinoy." The locals will attempt to create the largest sampaguita lei. Four men will try to outrun each other in climbing a high-rise building in the segment "Lakas-Pinoy." "For the Record" highlights the story of Aling Luz Ocampo, the oldest pastillas wrapper maker and fruit carver in Bulacan.
Pinoy Records airs on GMA-7 after Wish Ko Lang.