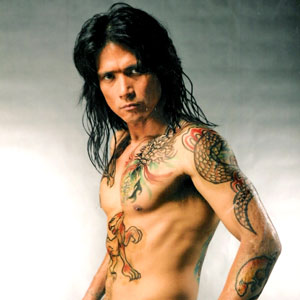 ---
Action superstar Robin Padilla returns to primetime television via his new action-adventure series in GMA-7, Joaquin Bordado. The show premiered last night, February 11, at No. 3 with 36.6 percent behind Marimar's 43.8 percent and Kamandag's 39.8 percent.
With the addition of Robin's Joaquin Bordado, the primetime lineup of the Kapuso network becomes more formidable. Three other GMA-7 programs made it in the Top 10: Coffee Prince (No. 4, 33.1 percent), 24 Oras (No. 5, 27.2 percent), and Kung Ako Ikaw (No. 10, 18.4 percent).
ABS-CBN, on the other hand, occupied the sixth to ninth slots. Piolo Pascual and Angel Locsin's Lobo was at No. 6 with 23.3 percent; followed by Kung Fu Kids, 21.4 percent; TV Patrol World, 19.8 percent; and Palos, 19.5 percent.
Joaquin Bordado took over the timeslot of Zaido, which ended last Friday, February 8. The metal-action series garnered a rating of 32.3 percent to finish at No. 3, behind Marimar's 43.7 percent and Kamandag's 39.1 percent.
24 Oras took the No. 4 spot with 30 percent while the premiere of Joaquin Bordado grabbed the fifth place with 27 percent.
ADVERTISEMENT - CONTINUE READING BELOW
TV Patrol World and Lobo tied at No. 6 with 24 percent; followed by Kung Fu Kids, Palos, Maging Sino Ka Man, and Bubble Gang.
Here are the Top 10 daytime and primetime shows from February 8 to 11 based on the overnight ratings conducted by AGB Nielsen Philippines among Mega Manila households:
February 8 (Friday)
Daytime:
Eat Bulaga! (GMA-7) - 21.6%
Daisy Siete (GMA-7) - 20.6%
GMA Flash Report: ZTE Scandal (GMA-7) - 18.8%
Hana Yori Dango 2 (GMA-7) - 17.1%
Wowowee (ABS-CBN) - 15.7%
Wheel of Fortune (ABS-CBN) - 15.5%
Maging Akin Ka Lamang (GMA-7) - 15.4%
My Only Love (GMA-7) - 15.2%
Pilipinas, Game KNB? (ABS-CBN) - 12%
Primetime:
Marimar (GMA-7) - 43.7%
Kamandag (GMA-7) - 39.1%
Zaido (GMA-7) - 32.3%
24 Oras (GMA-7) - 30%
Joaquin Bordado Primer (GMA-7) - 27%
TV Patrol World (ABS-CBN) / Lobo (ABS-CBN) - 24%
Kung Fu Kids (ABS-CBN) - 23.8%
Palos (ABS-CBN) - 18.8%
Maging Sino Ka Man (ABS-CBN) - 14.9%
Bubble Gang (GMA-7) - 14.1%
February 9 (Saturday)
Daytime:
Eat Bulaga (GMA-7) - 25.4%
Pinoy Records (GMA-7) - 21%
Wish Ko Lang (GMA-7) - 17%
Wowowee (ABS-CBN) / Volta (ABS-CBN) - 15.8%
Cinema FPJ (ABS-CBN) - 15.5%
StarTalk (GMA-7) - 15.4%
My Best Friend's Girlfriend: The Making (GMA-7) - 14.9%
Pilipinas, Game KNB? (ABS-CBN) - 11.6%
Entertainment Live (ABS-CBN) - 10.3%
Primetime:
Bitoy's Funniest Videos (GMA-7) - 35.2%
Kapuso Mo, Jessica Soho (GMA-7) - 30.7%
Kakasa Ka Ba sa Grade 5? (GMA-7) - 29.4%
Imbestigador (GMA-7) - 24.7%
1 vs. 100 (ABS-CBN) - 19.6%
TV Patrol World (ABS-CBN) - 18.5%
XXX (ABS-CBN) - 18.2%
Sabado Movie Specials (ABS-CBN) - 15.3%
Nuts Entertainment (GMA-7) - 11.2%
Sine Totoo (GMA-7) - 10%
February 10 (Sunday)
Daytime:
SOP (GMA-7) - 17.9%
Kapuso Sine Special: Moments of Love (GMA-7) - 17.1%
Showbiz Central (GMA-7) - 16.8%
Takeshi's Castle (GMA-7) - 15.2%
ASAP '08 (ABS-CBN) - 13.2%
Your Song (ABS-CBN) - 10.7%
The Buzz (ABS-CBN) - 10.6%
Love Spell (ABS-CBN) - 8.8%
Ka Pete Na! Totally Outrageous Behavior (ABS-CBN) - 6.5%
Primetime:
Kap's Amazing Stories (GMA-7) - 32.5%
Tok! Tok! Tok! Isang Milyon Pasok (GMA-7) - 29.4%
Mel & Joey (GMA-7) - 24.6%
All Star K (GMA-7) - 21.9%
Goin' Bulilit (ABS-CBN) - 16.9%
Rated K (ABS-CBN) - 15.4%
Ful Haus (GMA-7) - 14.4%
Sharon (ABS-CBN) - 14.1%
TV Patrol World (ABS-CBN) - 13.4%
That's My Doc (ABS-CBN) - 12.2%
February 11 (Monday)
Daytime:
Eat Bulaga! (GMA-7) - 20.2%
Daisy Siete (GMA-7) - 18%
Maging Akin Ka Lamang (GMA-7) - 15.5%
My Only Love (GMA-7) - 12.9%
Wowowee (ABS-CBN) - 12.8%
GMA Flash Report: ZTE Scandal (GMA-7) - 12.3%
Come Back Soon-Ae (GMA-7) - 11.8%
Wheel of Fortune (ABS-CBN) - 11.6%
Pilipinas, Game KNB? (ABS-CBN) - 11.1%
SiS (GMA-7) - 10.6%
Primetime:
Marimar (GMA-7) - 43.8%
Kamandag (GMA-7) - 39.8%
Joaquin Bordado (GMA-7) - 36.6%
Coffee Prince (GMA-7) - 33.1%
24 Oras (GMA-7) - 27.2%
Lobo (ABS-CBN) - 23.3%
Kung Fu Kids (ABS-CBN) - 21.4%
TV Patrol World (ABS-CBN) - 19.8%
Palos (ABS-CBN) - 19.5%
Kung Ako Ikaw (GMA-7) - 18.4%