GMA-7's hit epic telefantasya, Encantadia, is set to make a comeback via its spin-off titled Sang'gre.
The spin-off was revealed through an omnibus plug of GMA-7's upcoming 2022 shows aired during the Kapuso New Year Countdown on December 31, 2021.
Back then, the only hint that was dropped about the show was: "Ang pinakamalaking telefantasya sa kasaysayan ng Philippine television, ngayo'y may bagong kabanata."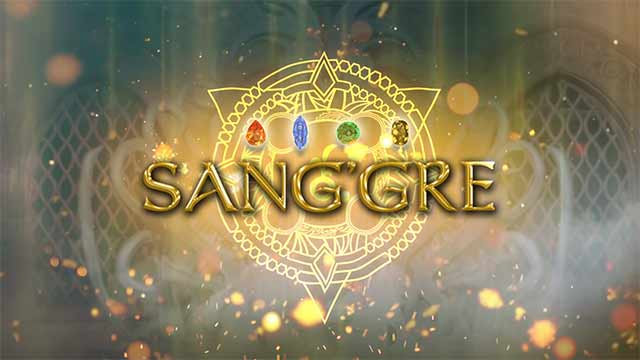 According to a press release by GMA-7 about its upcoming teleseryes, Sang'gre is about a girl who manifests magical superpowers without knowing that she is the only daughter of Danaya, the youngest among the four Sang'gre sisters and the keeper of the earth gem.
Danaya was once portrayed by Diana Zubiri in the 2005-2006 version and Sanya Lopez in the 2016-2017 version.
No further details were revealed if Sang'gre has a connection to one of GMA-7's Encantadia versions, but the 2017 version ended with each of the Sang'gres (Sanya Lopez, Gabbi Garcia, Glaiza de Castro, Mikee Quintos) bearing a child who will be groomed to become the future heirs of the gems.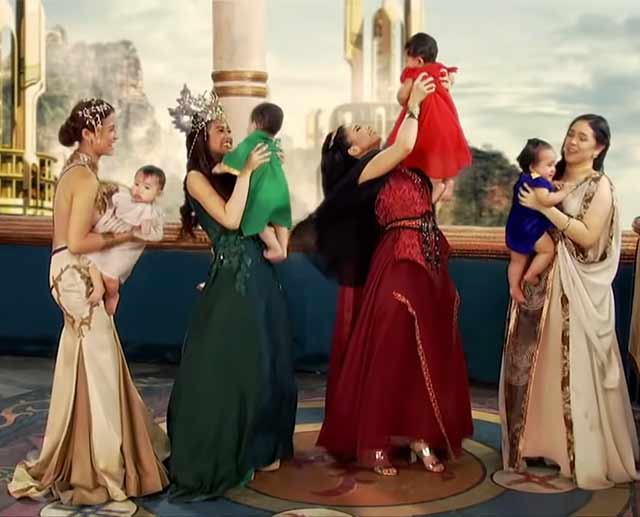 The Kapuso network has yet to reveal the cast of Sang'gre, and if Sanya or Diana will have a participation in the show.
GMA TELEBABAD IN 2022
A separate plug revealed GMA Telebabad's shows for the first quarter of 2022: Mano Po Legacy: The Family Fortune, I Can See You: AlterNate, False Positive, Widows' Web, and First Lady. The respective cast members of each show were also announced.
Sang'gre is set to be part of GMA Telebabad in 2022, alongside two exciting action-fantasy programs.
First is the GMA Public Affairs action-adventure series Lolong, headlined by Ruru Madrid, Arra San Agustin, and Shaira Diaz.
Viewers should look forward to Lolong's crocodile friend, Dakila. Made of fiberglass body and silicone skin, Dakila is manned by 14 people. The show is set to bring Dakila to life using a combination of pneumatic technology, an air compressor, and computer-generated imagery (CGI).
The other series is GMA Entertainment Group's live-action adaptation of Voltes V: Legacy. The show stars Miguel Tanfelix as Steve Armstrong, Ysabel Ortega as Jamie Robinson, Radson Flores as Mark Gordon, Matt Lozano as Big Bert, Raphael Landicho as Little John, along with Martin del Rosario as the Boazanian Prince Zardoz and Liezel Lopez as Zandra.
Completing the powerhouse cast of Voltes V: Legacy are veteran actor Albert Martinez who will be playing a character named Smith; Epy Quizon as Zuhl; Neil Ryan Sese as Dr. Hook; Carlo Gonzalez as Draco; and Gabby Eigenmann as Commander Robinson.
GMA Public Affairs' mini-series, Love You Stranger, is also pushing through this 2022 on GMA Telebabad. Originally planned to air on Gtv, the show stars real-life couple Gabbi Garcia and Khalil Ramos.
The omnibus plug also announced the second installment of Mano Po Legacy. Titled Her Big Boss, it is about the unlikely romance between a cold-hearted Chinese Filipino businessman and his street-smart secretary.
For the new titles, only a short premise about each show was announced. Its stars are yet to be revealed.
First is Bolera, which is about a smart, pool-hustling girl from the slums who fights her way to get a shot at becoming a pool champion in the male-dominated world of billiards.
The Witness, a title already announced in 2021, narrates the story of a man with Asperger's syndrome. After witnessing the death of a loved one, he becomes obsessed with seeking justice using martial arts and his knowledge in road navigation.
A family drama titled The Breadhouse revolves around the Maravilla clan, the owner of a huge property in Iloilo City. Tension ensues when the clan is torn between keeping the family bakeshop or turning it into a modern facility.
Love Before Sunrise follows the story of two ex-lovers who rekindle their feelings despite being married to other partners.
The last is titled What a Joy, a tale of a woman who is forced by her mother to assume another identity to improve their lives. Conflict arises when she ends up being the object of affection of two brothers.
GMA AFTERNOON PRIME IN 2022
GMA-7 has also revealed more titles that are set to be launched in 2022 for its Afternoon Prime block.
This is aside from the three titles revealed in the first omnibus plug: Little Princess, Prima Donnas book two, and Artikulo 247.
Some of these titles were previously part of GMA-7's line-up of almost 100 programs to air in 2021.
Among these are The Fake Life, a story of a man who realizes he is not living the life he thought he had; Raising Mamay, a tale of a young woman who takes care of her scornful mother stricken with brain regression; and Frozen Love, a story of a daughter who gets a chance to be part of a figure skating team when one of the members gets injured, only for the injured member to come back with a vengeance.
GMA-7 is also pushing through with its modern retelling of Underage, a Regal Entertainment movie about three girls whose lives are turned upside down when they transfer to the city. The show, which was part of its 100 programs for 2021, was first adapted into television by ABS-CBN in 2009.
The other GMA Afternoon Prime shows expected to air this year promise to be heart-warming series.
An advocacy-driven series titled Apoy Sa Langit showcases an unusual story of betrayal involving money and family affairs.
Abot Kamay na Pangarap tells the story of an impoverished but smart girl as she copes with the changes that will test her love, skills, family ideals, and attainment of her dreams.
Two strangers are at the center of Heaven In My Heart, as they learn to love each other as mother and child even if they're not related by blood.
Nakarehas Na Puso tells the tale of an ex-convict mother who successfully returns to her family by using a different identity in hopes of mending their broken lives.
The story of two college students trapped on an island is explored in Return to Paradise. The plot thickens when they are rescued because of their fighting parents, and this causes major conflicts in their relationship.
GTV SHOWS IN 2022
After the success of GMA Public Affairs' prime-time series The Lost Recipe in 2021, Gtv is gearing up to air a number of new series for 2022.
Sweet Sixteen is about the story of Abigail, a spoiled brat who is cursed by a beggar whom she wronged. Abigail must learn values in a span of 90 days in exchange for her normal life.
The miniseries Heart of an Angel is about a man's encounter with angels that walk and live amongst us.
Lastly, One Knife Only is a cooking show that will embody the sense of community that Pinoys are known for.
We are now on Quento!
Download the app
to enjoy more articles and videos from PEP.ph and other Summit Media websites.