Roxanne Barcelo had a moment as she reposted on her Instagram last Monday, January 10, 2022, a video of her guest appearance in ABS-CBN's daytime talk show, Magandang Buhay, in 2019.
In the caption of the video, she revealed a funny story behind her appearance in the episode.
Roxanne said she was running late at the time and had to ride a motorcycle wearing her white blouse, black pants, and stilettos to make it in time for her live guesting.
The former Click teen star wrote, "I remember doing this @_magandangbuhay interview almost 3 years ago. I rode @angkasph to get to the studio para di ako malate. I was wearing my outfit and nagdala lang ako ng pang-retouch."
She ended her story with, "Grabe, ambilis magbago ng ihip ng buhay."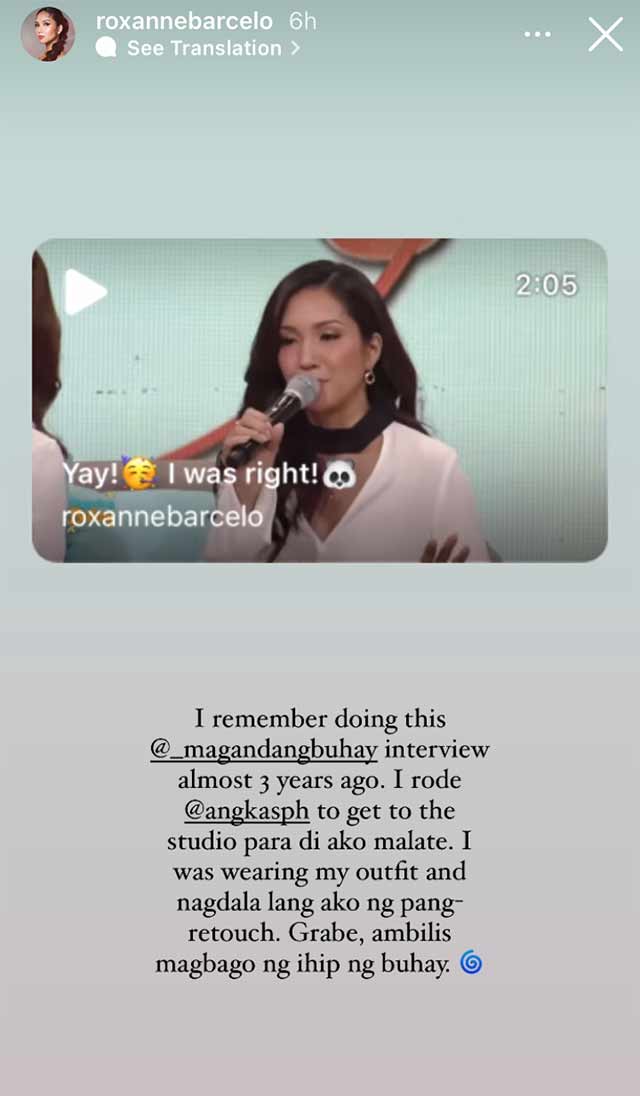 Roxanne meant being at the time in the whirlwind of a busy showbiz career in contrast to her life now, a family woman living abroad, happily settled with her foreigner husband, Jiggs, and their first-born, Cinco.
For Roxanne, it all happened in the wink of an eye.
She had said in her Magandang Buhay interview, "Dati kasi, noong bata ako, parang marami akong hinahanap sa isang tao gusto ko ganito ganito ganyan ganyan.
"But at the end of the day, all the things that you want, you can actually become.
"So, gusto ko ng someone faithful, then be faithful. Ikaw muna, you be faithful to yourself.
"You want to become a mother? Kunyari ako, I can't wait to become a mother, but right now, I don't have kids yet, but I can still become motherly."
In January 2021, Roxanne, already married at the time, talked about her husband and how she knew he was the one when they first met.
She wrote in the the video she reposted on Instagram, "For all the years that I waited, I would imagine and envision how I would feel when I would meet The One.
"And I was right! When I met my husband, it was everything I imagined and much more!
"Only you and your Creator know what you are truly looking for in a life partner. The wait can be painstaking but I promise you,
"IT IS ALL WORTH IT. Have faith and never ever give up on love."
Roxanne first revealed on December 25, 2020 that she had gotten married during the pandemic, without showing her groom.
She gave birth to Cinco in June 2021, and, in December 2021, finally revealed the face of her husband Jiggs.