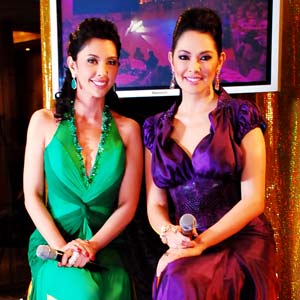 ---
Ballroom dancing aficionados will get a treat this Sunday, February 24, when ABS-CBN airs a TV special that features the country's first-ever open international ballroom dance event. Titled Philippine StarBall, this TV show will be hosted by Pops Fernandez and Ruffa Gutierrez.
The Philippines opens its shore to all dancing stars of the world, to be in front of an audience of natural-born dancers. The ABS-CBN Special Projects Group in cooperation with the Council of United Professional Dance Teachers of the Philippines, Inc. (CUPDTP) bring Philippine StarBall, which showcases the most excellent performers in competitive ballroom dancing.
The competition will have the top names of international ballroom dancing, with adjudicators and competitors flying in from different parts of the globe. It will be hosted by the country's most sought-after female entertainers, concert queen Ms. Pops Fernandez and beauty queen Ms. Ruffa Gutierrez as well as premier choreographer to the stars Maribeth Bichara.
ADVERTISEMENT - CONTINUE READING BELOW
The Philippine StarBall will feature various ballroom dances: the Standard—Waltz, Tango, Viennese Waltz, Foxtrot and Quickstep, and the Latin—Cha Cha, Samba, Rumba, Paso Doble, and Jive, for various age groups.
Two international personalities who are part of the 1st Philippine StarBall as adjudicator and emcee for live event are Charlotte Jorgensen and Gary McDonald, respectively. Interestingly, they were part of the production of the Hollywood movie, Shall We Dance? which starred Richard Gere and Jennifer Lopez.
Expect to see astonishing performances by select foreign and local competitors clad in their lovely, elegant evening ball gowns, capped off by their graceful, powerful moves and performances.
Special guests are Nick and Lena Kosovich. Nick is a professional ballroom dancer specializing with American Smooth/TenDance and is noted for his participation in ABC's Dancing with the Stars. He has also appeared in several movies such as Shall We Dance?, Everyone Says I Love You, Blue in the Face and Only With You. The Australian ballroom dancer resides in New York with his wife and dance partner, Lena. Meanwhile, Maxim Kozevnikov in a solo number gives us a taste of Russian folk dance.
ADVERTISEMENT - CONTINUE READING BELOW
Lending their expertise, knowledge and quick eye for ball room dancing, the adjudicators for the night are Shirley Ballas (England), Charlotte Jorgensen and Irina Suvorov (USA), Catia Vanone (Italy), Espen Salberg (Norway), Richard Morrisey (Australia), Wantanee Kanchana (Thailand), Ron Bennett (USA), John Lim (Malaysia), Mikhail Pavlinov (Russia), Aleena Tan (Singapore), Stephen Hannah (England), Gloria Alcala and Chona Mercado (Philippines). Agnes Ang will serve as the scrutineer for the night.
Watch the 1st Philippine StarBall this Sunday, February 24, on Sunday's Best (after That's My Doc) and witness international ballroom dancing at its finest.
This event was organized by the Chairman of the 1st Philippine Starball Organizing Committee, Ms. Pinky Puno and the President of the Council of United Professional Dance Teachers of the Philippines, Jojo Cariño. Production of TV airing is led by Ms. Chit Guerrero, ABS-CBN Head of Special Projects.