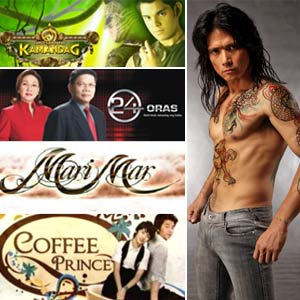 ---
Despite the ongoing ratings dispute between the country's two giant networks, ABS-CBN and GMA-7, the Kapuso network's Telebabad block is not giving any room to their counterparts in the Primetime Bida block of ABS-CBN as far as the Top 5 spots are concerned.
According to the overnight ratings of AGB Nielsen Philippines among Mega Manila households from February 12 to 14, the Top 5 primetime shows are all from GMA-7.
Marimar is consistent in its position as the No. 1 overall program while the second to the fifth spots are being occupied by Kamandag, Joaquin Bordado, Coffee Prince, and 24 Oras.
Marimar, starring Marian Rivera and Dingdong Dantes, posted one of its highest ratings Wednesday, February 13, at 46.7 percent. It garnered 44.2 percent on February 12 (Monday) and 40.5 percent on Valentine's Day (Thursday).
Kamandag, headlined by Richard Gutierrez, took the second spot Tuesday (40.5 percent) and Wednesday (41.6 percent). But Joaquin Bordado took over the lead Thursday with 37.5 percent.
Robin Padilla's Joaquin Bordado placed fourth Monday with 36.5 percent and moved to third place Wednesday with 39.7 percent.
ADVERTISEMENT - CONTINUE READING BELOW
After taking third spot last Tuesday with 37.6 percent, the Koreanovela Coffee Prince dropped to fourth place Wednesday (35.2 percent) and Thursday (31.5 percent).
GMA-7's primetime newscast 24 Oras was untouchable at No. 5.
Meanwhile, ABS-CBN's primetime newscast, TV Patrol World, was the highest-rated Kapamilya show, taking the sixth spot from Tuesday to Wednesday.
The action-adventure series Kung Fu Kids was also consistent at No. 7 while Lobo, starring the tandem of Piolo Pascual and Angel Locsin, was untouchable at No. 8.
Cesar Montano and Jake Cuenca's Palos, meanwhile, took the last spot in the Top 10 Tuesday and Wednesday before moving up to No. 9 Thursday.
GMA-7's reality show Kung Ako Ikaw grabbed the ninth place Tuesday and Wednesday while Iza Calzado's new horror-drama anthology E.S.P. took the No. 10 position Thursday.
In the daytime race, Eat Bulaga! was on top Tuesday and Thursday, but Daisy Siete grabbed the lead Wednesday.
Here are the Top 10 daytime and primetime programs from February 12-14 based on the overnight ratings conducted by AGB Nielsen Philippines among Mega Manila households:
ADVERTISEMENT - CONTINUE READING BELOW
February 12 (Tuesday)
Daytime:
Eat Bulaga! (GMA-7) - 22.6%
Daisy Siete (GMA-7) - 21.1%
Wheel of Fortune (ABS-CBN) - 18.1%
Pilipinas, Game KNB? (ABS-CBN) - 16.5%
My Only Love (GMA-7) - 15.4%
Maging Akin Ka Lamang (GMA-7) - 15.1%
Takeshi's Castle (GMA-7) - 15%
Wowowee (ABS-CBN) - 13.9%
Come Back Soon-Ae (GMA-7) - 12.8%
Hana Yori Dango 2 (GMA-7) - 11.1%
Primetime:
Marimar (GMA-7) - 44.2%
Kamandag (GMA-7) - 40.5%
Coffee Prince (GMA-7) - 37.6%
Joaquin Bordado (GMA-7) - 36.5%
24 Oras (GMA-7) - 28.7%
TV Patrol World (ABS-CBN) - 24.8%
Kung Fu Kids (ABS-CBN) - 23.9%
Lobo (ABS-CBN) - 22.5%
Kung Ako Ikaw (GMA-7) - 21.5%
Palos (ABS-CBN) - 18.5%
February 13 (Wednesday)
Daytime:
Daisy Siete (GMA-7) - 24.4%
Eat Bulaga! (GMA-7) - 21.7%
Maging Akin Ka Lamang (GMA-7) - 19.4%
My Only Love (GMA-7) / Hana Yori Dango 2 (GMA-7) - 16.6%
Wheel of Fortune (ABS-CBN) - 16%
Pilipinas, Game KNB? (ABS-CBN) - 15.4%
Wowowee (ABS-CBN) - 14.1%
Takeshi's Castle (GMA-7) - 13.6%
Come Back Soon-Ae (GMA-7) - 13.5%
SiS (GMA-7) / Prinsesa ng Banyera (ABS-CBN) - 10.4%
Primetime:
Marimar (GMA-7) - 46.7%
Kamandag (GMA-7) - 41.6%
Joaquin Bordado (GMA-7) - 39.7%
Coffee Prince (GMA-7) - 35.2%
24 Oras (GMA-7) - 31.5%
TV Patrol World (ABS-CBN) - 22.6%
Kung Fu Kids (ABS-CBN) - 22.4%
Lobo (ABS-CBN) - 20.2%
Kung Ako Ikaw (GMA-7) - 17.3%
Palos (ABS-CBN) - 16.4%
February 14 (Thursday)
Daytime:
Eat Bulaga! (GMA-7) - 21.4%
Daisy Siete (GMA-7) - 20.5%
Wheel of Fortune (ABS-CBN) - 19%
My Only Love (GMA-7) - 18%
Pilipinas, Game KNB? (ABS-CBN) - 17.5%
Maging Akin Ka Lamang (GMA-7) - 17.2%
Wowowee (ABS-CBN) - 15.8%
Takeshi's Castle (GMA-7) - 15.3%
Hana Yori Dango 2 (GMA-7) - 14.3%
Come Back Soon-Ae (GMA-7) - 13.9%
Primetime:
Marimar (GMA-7) - 40.5%
Joaquin Bordado (GMA-7) - 37.5%
Kamandag (GMA-7) - 37.3%
Coffee Prince (GMA-7) - 31.5%
24 Oras (GMA-7) - 30.5%
TV Patrol World (ABS-CBN) - 25%
Kung Fu Kids (ABS-CBN) - 24.5%
Lobo (ABS-CBN) - 22.6%
Palos (ABS-CBN) - 18.3%
E.S.P. (GMA-7) - 14.6%
Source: AGB Nielsen Philippines