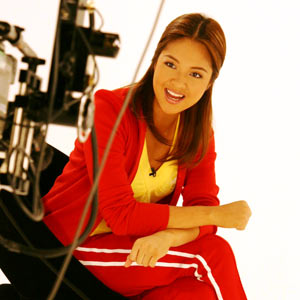 ---
Gaby dela Merced is a no-nonsense woman. She loves thinking out of the box. She is not your average Filipina—she is into a man's sport but still every inch a lady. Truly Xtraordinary.
This former housemate of Pinoy Big Brother Celebrity Edition 2 became a household name when she showed that she was unafraid to speak her mind and display her leadership skills while inside Kuya's House. Gaby is known for exuding a good balance of power, brains, and beauty. She's also one of the few Filipinas to dominate the Asian Formula 3 circuit. She is the only Filipina who competed in the full season of the series and her efforts paid off when she became 1st Runner-up in the Philippine National Formula championship.
During the finale of PBB Celebrity Edition 2, she emerged as the 3rd Big Placer, proving that she has won the hearts of the millions of viewers by her strength of character. As an icon in the sports arena, she is now one of the youth's most respected role models.
When asked to relate her favorite sport to life, she enthuses: "Racing gives me a big sense of freedom, the world is yours, kaya mo lahat-lahat."
When ABS-CBN's Management and Creative Team conceptualized this new show featuring scenes from the very popular Discovery Channel, no other host came to mind but xtraordinary Gaby.
Starting March 23, before ASAP '08, comes this unique show that showcases interesting facts and amazing features on science, history, travel, food, culture, technology, civilization and a lot more. Tagged as Gaby's Xtraordinary Files, the 45-minute trivia show brings in a lot of extraordinary videos and information from The Discovery Channel.
ADVERTISEMENT - CONTINUE READING BELOW
Gaby's Xtraordinary Files is a way for families to bond as parents and kids broaden their horizon while being entertained. The show is kid-friendly and very easy to understand for it uses Tagalog as the primary language in most of its features. In the pilot episode, Gaby will take us to some countries with unbelievable culture, like Austria where couples bathe in beer and Bolivia where men court their women by throwing stones at them.
In the succeeding episodes of the show, Gaby is also set to discover a lot, which includes holding a 7-foot snake while doing one of her spiels, riding a big bike, playing an electric guitar like a rockstar, and a lot more!
Gaby's Xtraordinary Files (from the Discovery Channel) airs every Sunday before ASAP '08 on ABS-CBN.