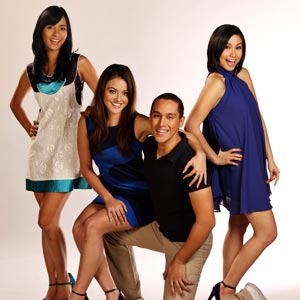 ---
Cable channel Cinema One has reshaped its primetime schedule by launching one new premium block of original shows every weekday, now popularly known as the Celebrity Central Block. Every night at 9 pm, ABS-CBN's movie channel will give way to original programs that appeal to fashionistas and showbiz denizens alike.
On Mondays, Cinema One counts down the coolest celebrity favorites in Celebrity Hit List. Hosted by former Pinoy Big Brother Celebrity Edition 2 houseguest Mariel Rodriguez, this 30-minute show will give pop culture aficionados and celebrity enthusiasts the latest and the hottest, who's in and who's out, who's fabulous and who's duh, even the most desirable to the most controversial personas in the local entertainment today.
The show features a random man-on-the-street treatment and will include interviews with key people, like personal friends, members of the press, business colleagues and fans. Resource persons will be tapped to explain why a particular celebrity is either a credible product or service endorser or a role model worthy of emulation by today's generation. Celebrity Hit List indicates everything that makes select celebrities become more than just screen luminaries.
On Tuesdays, Cinema One's venerable in-depth interview show Persona unveils its newly made-over self via well-loved celebrities who tell all about their lives and stories that are little known to the public.
My Space on Wednesdays. On the net, MySpace is the coolest social-networking site in the world right now. On TV, however, Cinema One's My Space is set to be the celebrity lifestyle must-see of the season. It features the best of celebrity houses and living spaces and brings out the entertaining panache of various celebrities with host Mylene Dizon.
Ever wondered which places you should go to or what events to see? Celebrity Central gives you your very own ticket in the program.Kat Alano is your guide to the hot new places and events with Cinema One's VIP Pass on Thursdays. Be aware of the coolest product launchings, fashion and style shows, weddings, birthday parties, and movie premieres in Philippine entertainment and lifestyle.
ADVERTISEMENT - CONTINUE READING BELOW
Capping off the week on Fridays is our source of the entire week's entertainment news. Condensed into one big show, Cinemanews Weekend Edition is packed with the best of the past week's hottest celebrity updates and showbiz intrigues. Know more about the lives of celebrities, their upcoming TV shows, concerts, movies and everything else you would want to know about entertainment. This is hosted by ex-PBB housemate and model Bianca Gonzalez and Wazzup Wazzup co-host Eri Neeman. Watch entertainment news delivered with a different twist and flavor.
Make sure you tune in to Celebrity Central's primetime daily offerings Celebrity Hit List, Persona, My Space, VIP Pass and Cinemanews Weekend Edition on Cinema One. These shows are aired every night for 30 minutes each starting at 9 p.m.


Cinema One is available on SkyCable Gold SkyCable Silver and other quality cable operators nationwide.