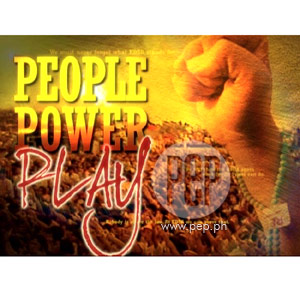 ---
Three EDSA revolutions have been recorded in Philippine history, but their recurrence has tarnished the concept of people power, a model for non-violent resistance and change that the country introduced to the world 22 years ago.
The first People Power revolution in 1986 earned praises from the world and even sparked democratic changes globally, but the succeeding People Power uprisings drew more flak as critics started to ask: was it really people power that happened in EDSA or was it a mere power play?
Former CNN journalist and ABS-CBN news chief Maria Ressa takes another look at People Power in the thought-provoking documentary People Power Play, airing on March 1 and 2 on ANC (Ch. 27 in Sky Cable).
For Ilocos Norte Representative Ferdinand "Bongbong" Marcos Jr., EDSA People Power was clearly a power play. He claimed that his father, then Pres. Ferdinand Marcos, knew what was going to happen in the last few days of his administration.
ADVERTISEMENT - CONTINUE READING BELOW
"We knew exactly what was going to happen. We knew who where involved. We knew what their plans were. Some of the people involved in the coup informed us of what they are going to do," he said.
The son of former president Ferdinand Marcos said the Americans were involved in the historic uprising. "It was a deception from the American government. They sent helicopters and took us to Clark instead of Ilocos. The Americans had backed the entire move and probably inspired them," he said.
One of those who joined the EDSA 1 revolution was Solita Monsod, who later headed the National Economic Development Authority under President Cory Aquino.
She said the first People Power was an act of desperation. Filipinos decided to wield power themselves when institutions stopped working. She also joined the People Power revolution in 2001, a decision she now regrets.
"I think we were manipulated a little because behind the scenes, which we do not know about, there was already or seems to be negotiations with the military. It was a mistake and I don't want to do it again," said Monsod.
ADVERTISEMENT - CONTINUE READING BELOW
Today, the world is watching the Philippines as it faces another political upheaval following the exposé of NBN-ZTE witness Rodolfo Lozada Jr. about a questionable multi-million dollar deal by the government.
As spontaneous calls for people power mount, is the stage now set for genuine people power? Will it do more good or bring more harm?
This is the documentary of our times. People Power Play airs Saturday (8:30 pm on March 1) and Sunday (8 pm on March 2) on ANC.