The hit Korean thriller drama Squid Game is coming back for a second season, Netflix has announced.
Netflix's teaser on Instagram earlier today, June 13, 2022, reads: "On your mark. Get set. Green light. Squid Game continues, only on Netflix #SquidGameS2"
Squid Game director Hwang Dong-hyuk has confirmed the return of Squid Game in a letter thanking the fans for the show's popularity.
He wrote, "It took 12 years to bring the first season of Squid Game to life last year. But it took 12 days for Squid Game to become the most popular Netflix series ever.
"As the writer, director and producer of Squid Game, a huge shout out to fans around the world. Thank you for watching and loving our show."
In the letter, Dong-hyuk also revealed what to expect from the second season.
"And now, Gi-hun returns. The Front Man returns. Season 2 is coming. The man in the suit with ddakji might be back. You'll also be introduced to Young-hee's boyfriend, Cheol-su.
"Join us once more for a whole new round."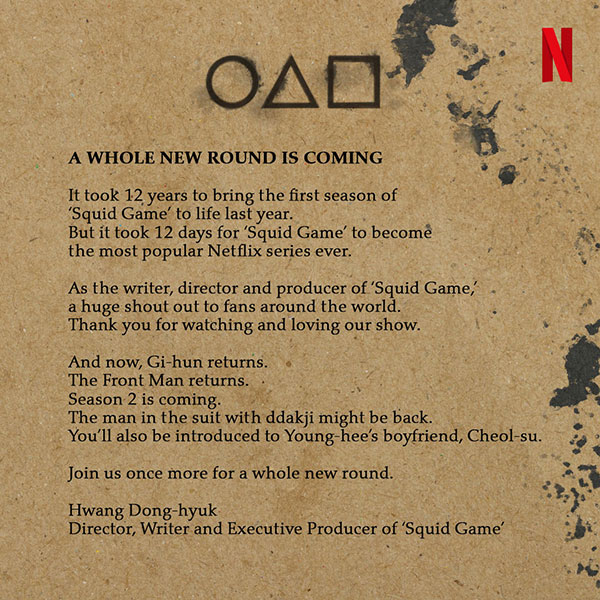 Gi Hun, played by Lee Jung Jae, is Player 456—the game's winner.
Young Hee is the iconic doll known for the "red light, green light" game.
Squid Game first streamed on Netflix on September 17, 2021.
According to Netflix in October, 142 million subscribers watched the show—a record that demands a new season for the series.
Netflix has yet to announce the premiere of Squid Game's second season.
READ MORE STORIES: