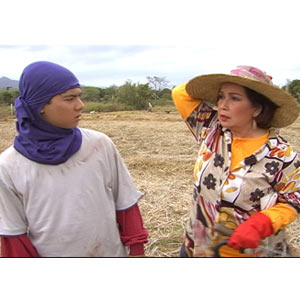 ---
ABS-CBN's drama anthology brings to TV screens the reunion of two of Philippine showbiz's legendary icons—Ms. Susan Roces and Eddie Gutierrez. The two showbiz pillars will star in a special episode of Maalaala Mo Kaya this Friday, March 7, after Maging Sino Ka Man.
In the 1960's, the loveteam of Sampaguita Pictures heartthrob Eddie Gutierrez and Queen of Philippine Movies Susan Roces stormed movie theaters all over the country. Their undeniable chemistry made them one of the hottest tandems of their generation. Together they made unforgettable movies and performed dance and song numbers to the delight of their fans.
In the late '70s, Eddie felt the need to focus on his family life and left the country for the United States. But when he came back, his teamup with Susan was revived in some projects. Even after making their mark as solo performers, Susan and Eddie remained close friends and their love team is definitely one of the most memorable in Philippine showbiz.
ADVERTISEMENT - CONTINUE READING BELOW
This Friday, March 7, the regal tandem returns to the TV screen in a remarkable episode of Maalaala Mo Kaya. Directed by Jeffrey Jeturian and written by Dado Lumibao and Maribel Ilag, the story revolves around the ambitious and self-important "scrap queen" of Bacolod, Lola Anecita (Susan Roces). Behind the elderly lady's materialistic and unforgiving nature is a past full of unrequited dreams, lies and broken promises involving her husband, Lolo Domeng (Eddie Gutierrez).
This special offering also features the most outstanding actors and actresses today: Jiro Manio, Gardo Versoza, Ana Capri, Basti Alcanses, Kristel Fulgar, Angelo Ilagan, and Empress Schuck.
Don't miss the historical reunion of two pillars of the industry in ABS-CBN's drama anthology. Watch Ms. Susan Roces and Mr. Eddie Gutierrez in the March 7 episode of Maalaala Mo Kaya.
SYNOPSIS. Shot partly in Bacolod, this episode narrates the life of a miserable woman named Lola Anecita. Known as the "scrap queen," she is fond of salvaging junk from the river and displaying them on her shelf. She lives in peace until her grandson Jonel's family comes to live with them. Feeling invaded, Lola Anecita treats them harshly and screams at their slightest misconduct.
ADVERTISEMENT - CONTINUE READING BELOW
The narrator Jonel could not pinpoint why his grandmother behaved cruelly until his Lolo Domeng narrated Lola Anecita's childhood: Battered by her mother and left to the care of her aunt, young Anecita tried to survive and dreamt of marrying a rich man. The handsome Domeng came along and pretended to be a rich haciendero. Believing that the guy was her ticket out of hardship, Anecita agreed to marry Domeng, only to find out that he was a fraud and a mere "katiwala" in the hacienda.
Anecita resigned herself to a life with Domeng but dominated their children by pairing them with rich suitors. But her son Johnny ran away with his girlfriend, followed by his sister Edna who eloped with her teacher-boyfriend. Lola Anecita lived her shattered life in misery, still dreaming she would be rich someday.
Jonel understood his grandmother and tried to adjust to her moods. But Lola Anecita's fury was fully unleashed when her grandchildren accidentally bumped her shelf, sending her collectibles crashing to the floor. Lola Anecita started hitting them with a slipper until her husband arrived. Towards Domeng now she turned her rage not only for her broken collectibles but, cursing him, because he never gave her the life she dreamed of.
ADVERTISEMENT - CONTINUE READING BELOW
Racked by his wife's angry revelations, Lolo Domeng suffers a heart attack. And with her husband's life at risk, Lola Anecita realizes the vanity of her dreams.
Maalala Mo Kaya is hosted by Charo Santos-Concio, the newly appointed President of ABS-CBN. The show airs this Friday, March 7, after Maging Sino Ka Man on the Kapamilya Network's Primetime Bida block.