Religious dramas are not exactly the stuff top-rating shows are made of. The mere term turns some people off, because it connotes sermons rammed down throats and tired rituals repeated over and over.


GMA-7 ignored these red flags and came up with Pari 'Koy, with its Primetime King, Dingdong Dantes, in the title role. Now, with the season of Lent upon us, the new series is right on time for the coming Holy Week.


It can be said that the faith-serye Pari 'Koy takes the road less taken.


Dingdong plays a parish priest named Father Kokoy who is assigned to care for his flock in Barangay Pinagpala.

Nicknamed Pari 'Koy, his priest character is less of a dogmatic preacher and more of a regular guy who plays drums with friends then rushes to preside over a wedding.


The pilot episode's opening scene can come straight out of a teleserye -- a mysterious man (Father Kokoy, it turns out) is having the time of his life competing in a band contest. He lets his hair down while jamming with all his might.
What differentiates this from other soap operas is that at the end of the day, viewers will see Father Kokoy down on his knees talking to God whom he calls his "Boss."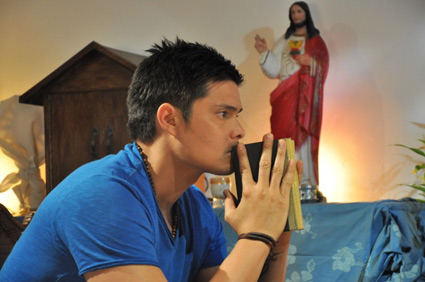 The pleasure seeking – although squeaky clean - is not what you'd expect from a man of the cloth. You'd expect to see a priest cooped up in his room reading the Bible or writing notes for his upcoming sermon, but not pounding on the drum for all he's worth.


The surprise element can work two ways – it can keep you glued to your seat to find out what other twists and turns await you. Or it can make you feel let down, because you expect something less surprising, like the drummer rushing to a gig instead of a church wedding.


GMA-7 took the risk. It figured that it could catch viewers' attention for good by shifting to a scene they do not expect to see after that jam session with the band.


It's too early to tell if the Kapuso Network succeeded or not. But make no mistake. Pari 'Koy nudges viewers towards the straight and narrow path – with scenes of a happy wedding, a loving family, etc.


It bears watching in the weeks to come.



Ed's Note: The "PEP Review" section carries the views of individual reviewers and does not necessarily reflect the views of the PEP editorial staff.