Filipino boxing icon meets South Korean runners!
Boxing champ and former senator Manny Pacquiao is set to appear in an upcoming episode of the South Korean variety show Running Man.
Read: Manny Pacquiao, bidang-bida sa Easter Sunday ni Jokoy kahit wala sa pelikula
Running Man Korea confirmed this on Thursday, October 13, 2022, via their official Instagram page.
The show posted a photo of Manny with Running Man cast members Yoo Jae-suk, Haha, Jee Seok-jin, Kim Jong-kook, Song Ji-hyo, Jeon So-min, and Yang Se-chan.
Other photos showed Manny speaking with Song Ji-hyo and having a boxing match with Kim Jong-kook.
The post's translated caption read, "[Running Man × Pacquiao.] The best ever meeting. Finally received it in person. Members and crew are all in fan mode. The best race ever with 'legend boxer' Manny Pacquiao."
Manny's Facebook page also released behind-the-scenes footage of him sparring with Kim Jong-kook.
Read: Manny Pacquiao and Chavit Singson bury the hatchet
The episode with Manny will air on October 23, 2022.
Produced under Seoul Broadcating System (SBS), Running Man is a South Korean variety show wherein the cast members and celebrity guests take on games and challenges.
Recently, a Philippine version of Running Man was launched by GMA-7.
It stars Mikael Daez, Glaiza de Castro, Ruru Madrid, Kokoy De Santos, Buboy Villar, Lexi Gonzales, and Angel Guardian.
Read: Glaiza De Castro reveals "emotional" last day of taping Running Man PH in South Korea
MANNY JOINS SANDARA PARK IN KNOWING BROS
Aside from Running Man, Manny will also guest in the South Korean variety show Knowing Bros alongside Sandara Park.
Sandara announced this through her Instagram stories on October 12, 2022.
Her post showed a collage featuring photos of herself, Manny, Korean singer Kim Yohan, and actors Yoon Hyungbin and Lee Hoo, all of whom will be guests on the same episode.
Read: Sandara Park recommends Pinoy food tocilog to GOT7's BamBam
The caption read, "Long time no see Pacquiao. Wow… In the middle of these huge fights… I'm just.. a food fighter?!"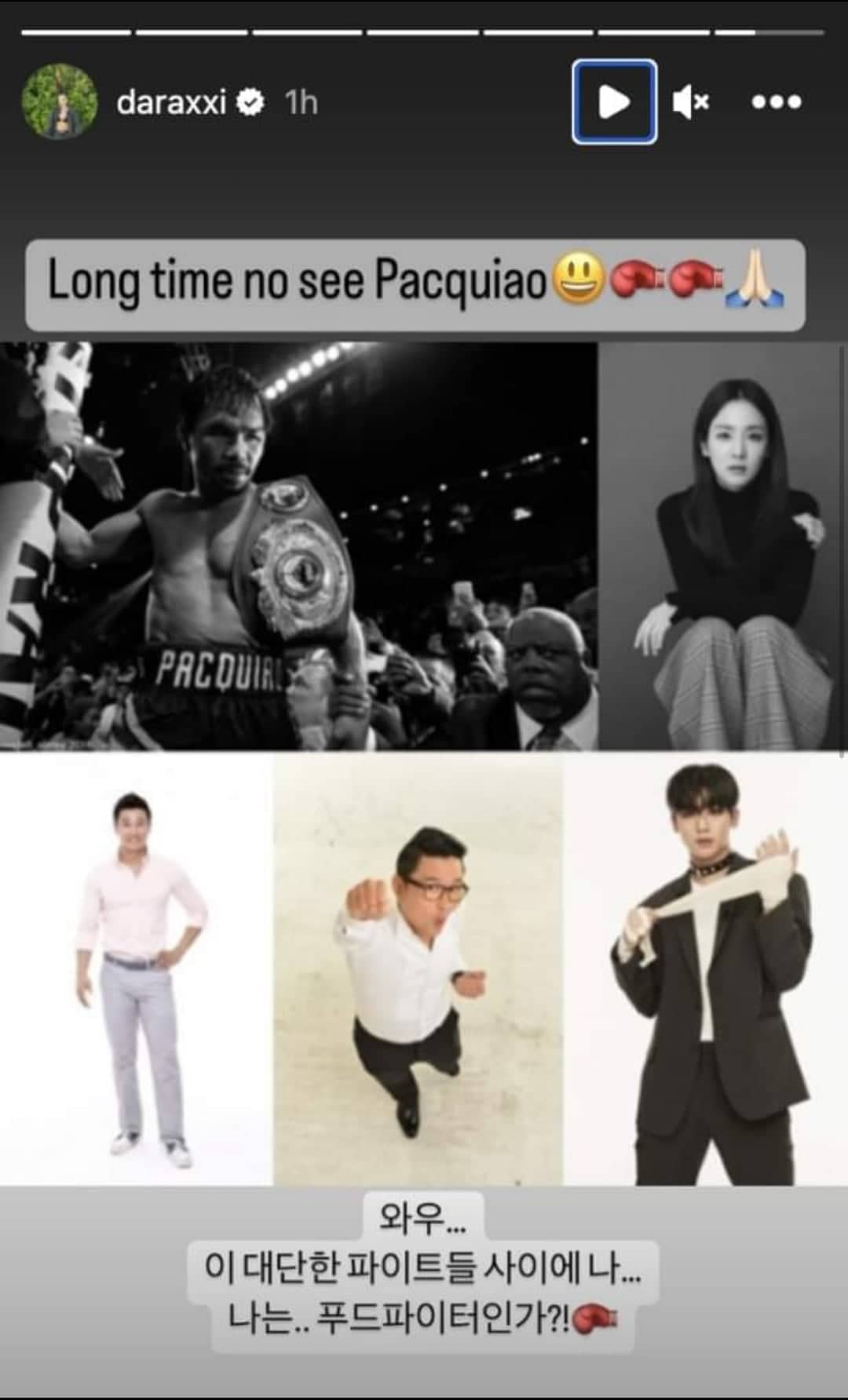 At this writing, Knowing Bros, which airs on JTBC, has yet to announce the airing date of Manny's guesting.
Meanwhile, the former senator is in South Korea for an upcoming exhibition fight with Korean mixed martial artist DK Yoo.
This is not the first time that Manny will appear in a Korean show.
In 2017, he was a guest in the variety show Infinite Challenge, which was also hosted by Yoo Jae-suk and Haha.