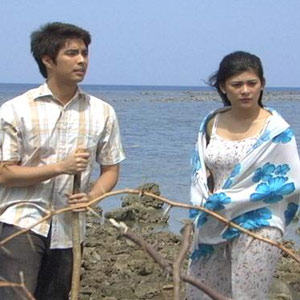 ---

Former lovebirds Roxanne Guinoo and Joross Gamboa reunite on the small screen to portray two young people who put their love for God above their love for each other. ABS-CBN pairs the two stars in the March 14 episode of the drama anthology show. Viewers who are torn between pursuing a religious vocation or settling down to raise a family will be able to relate to the characters of Roxanne and Joross.


Maalala Mo Kaya (March 14 episode)
Director: Nuel Naval
Writer: Joan Habana
Cast: Roxanne Guinoo as Sheila
Joross Gamboa as Dennis
Gileth Sandico as Sheila's Mother (Lita)
Allan Paule as Sheila's Father (Bert)
Allyson Lualhati as Sheila's Cousin (Risa)
Jenny Miller as Sheila's friend (Alex)
Coco Martin as Sheila's ex boyfriend (James)
KC Abolos as young Sheila
Kathleen Hermosa as Sheila's sister (Li-an)

SYNOPSIS. For more than eight years, Sheila (Roxanne) and Dennis (Joross) were good pen pals. They both realized that they were falling in love but they could not pursue a relationship because Dennis was serving God as a seminarian.


While Dennis was in the seminary, Sheila worked as a dietician in Saudi Arabia. Sheila had many suitors while in the Middle East but she was not interested in any of them. One day, a mysterious illness suddenly struck Sheila. Even the best doctors in Saudi could not explain why she became blind and paralyzed. After undergoing different tests, Sheila decided to go home to the Philippines after she lost hope for her recovery.
While staying in her hometown Iloilo, Sheila was surprised to see Dennis when he visited her there. Sheila learned that Dennis left the seminary so that he could confess his love for her. In return, Sheila admitted that she loved Dennis as well. Their joy became complete when Sheila miraculously recovered from her illness. Dennis decided to ask Sheila to marry him and she willingly agreed. But before the ceremony, Sheila had second thoughts about settling down and she decided to leave again for Saudi to think things over.
ADVERTISEMENT - CONTINUE READING BELOW
In the Middle East, Sheila had a dream that she first had when she was just 15 years old. In her dream, God was calling her and without hesitation, she responded to the call. Dennis was heartbroken to learn that Sheila was going to enter the convent. He wanted to stop her, but because he loved Sheila so much, he gave her the freedom to enter the convent.
After several years, Sheila and Dennis meet again unexpectedly. She is happy and content in her vocation as a nun while Dennis, still single, continues to serve God.
Maalala Mo Kaya is hosted by Charo Santos-Concio. The show airs this Friday, March 14, after Maging Sino Ka Man on the Kapamilya Network's Primetime Bida block.