American actress Raquel Welch is not alone in thinking the brain is sexy because it happens to be an erogenous zone. So many other people think the same way.

Watching the pilot episode of Asia's Next Top Model Season 3 proves how this is true all over again. It shows that yes, pretty models are a dime a dozen. But none of them will make the grade in the reality show if all they have is a beautiful face and a model's body.

The model to beat must have fire in her belly, soul in her eyes, confidence in her strut. These hard-to-define traits give her character that makes her every attire look classy even if it came from your ukay-ukay (flea market) next door.

The 14 aspiring models from all over Asia (three of them, Amanda Chan, Franchesca Lagua and Monika Sta. Maria are Filipinas) who joined the show have faces that can launch a thousand products.

But some have intensity written all over them—from the eyes, the walk, the upturned look. Others might as well fade in the background for lack of oomph.

The first will make the cut; the second will go home.
Age is no excuse in giving your best shot.

At 17, Amanda is her giggly self off-cam. But she transforms into a sophisticated woman on stage. Born and raised in Australia, Amanda was able to earn the "Best Photo" during the first challenge of the reality show.

Franchesca already has the experience since she has been a professional model for the past five years. Yet she still received a reminder from one of the judges to "step up" her game if she wants to stay ahead of the competition.

Monika admits not being that serious about modeling before the show came into her life. But the discipline the boot camp training gave her and the other girls gave her an all-new attitude.
It's this attitude that will carry her and the rest of the contestants throughout all show's challenges (e.g. strutting the stage on high heels and stepping on a turntable without flinching or falling).

Host-judge Georgina Wilson, top couturier Alex Perry and TV personality-model Joey Mead King will help the girls out. But they can only do so much.

It's still the girls' battle. In the end, only the one with utmost confidence and style will stay. She will be Asia's Next Top Model.


AsNTM airs every Wednesday at 8:45 p.m. on StarWorld.


(Read: Meet the three Pinays competing in Asia's Next Top Model Cycle 3)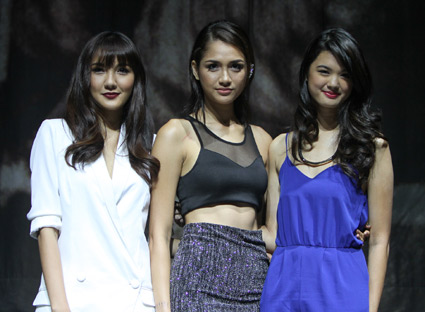 (L-R) Franchesca Lagua, Monika Sta. Maria, and Amanda Chan are the three Filipinas competing in Asia's Next Top Model Cycle 3



Ed's Note: The "PEP Review" section carries the views of individual reviewers and does not necessarily reflect the views of the PEP editorial staff.