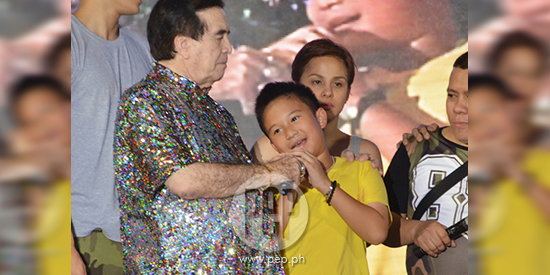 ---

During a recent Kris TV episode, Kris Aquino enumerated what kind of girl she wants her son Bimby to marry.
"You deserve pretty, and smart, and not malandi," says the TV host.
Bimby agrees, saying that if "mama likes" he will also be sweet to her [his future girlfriend].

The seven-year-old boy then stressed, ""If she doesn't like my mom, I will break up with her."

This declaration from Bimby made Kris clap and she gave a high five to her son.
Bimby also showed his affection for his mom by saying "I love you" on air.
Kris adds, "Kanina ginawan niya ako ng I love you, tapos nung sinabi kong I love you more, nilagyan niya ng more, tapos pina-cut niya ginawan niya ng malaking heart."
Bimby also made his mother Kris and Kris TV head writer Darla laugh because of his antics on air.

Kris repeatedly told Bimby that he should "protect" Darla from discrimination.

The single mother pointed out, "Darla is a bakla so you have to defend him. Other people will discriminate against Darla...you defend Darla. Protect him also."

The child actor then promised he would "protect" Darla.

Kris adds, "That's what gentlemen do."

In response, Bimby quipped, "Gentlemen don't date bakla," prompting Kris and Darla to burst into laughter.
During this particular episode, Bimby also confesses that he will "wait like Tito Noy" before he gets married.
President Benigno Aquino III is currently a bachelor at age 55.