The official reunion of Jennifer Sevilla and Romnick Sarmenta onscreen for iWantTFC's original series titled Teen Clash filled fans of the popular '90s love team with joy and excitement.
Teen Clash also stars Jayda Avanzano, Aljon Mendoza, Markus Paterson, Zach Castañeda, Kobie Brown, and Andi Abaya.
Prior to being paired with Sheryl Cruz, Romnick was first paired with Jennifer on GMA-7's iconic youth-oriented variety show, That's Entertainment, in the late '80s.
They were also paired in some movies of their previous home studio, Seiko Films.
On Friday night, March 17, 2023, Jennifer took to Instagram to share her photo with Romnick taken while they were on the set of Teen Clash.
In the caption, she wrote (published as is): "Reunited with my ka-loveteam and good friend, bro Romnick Sarmenta after many years! [emojis] Watch us work together again in #teenclash #teenclashseries ! Starting tonight 8 pm on @iwanttfc ! Catch it every Friday at 8pm!"
The fans were thrilled by the photo and shared their joy and nostalgia for the beloved duo in the comments section of the post.



Jennifer expressed her gratitude in the comments section of her post, feeling very grateful for the overwhelming support from fans.
She wrote: "WOW!! Thank you so much everybody!! Nakaka kilig naman ang love and happy vibes! Happy and unforgettable memories natin nung teenagers. Godbless.. [emojis] Remember to watch #teenclashseries #teenclash every Friday , 8pm at IWantTFC !"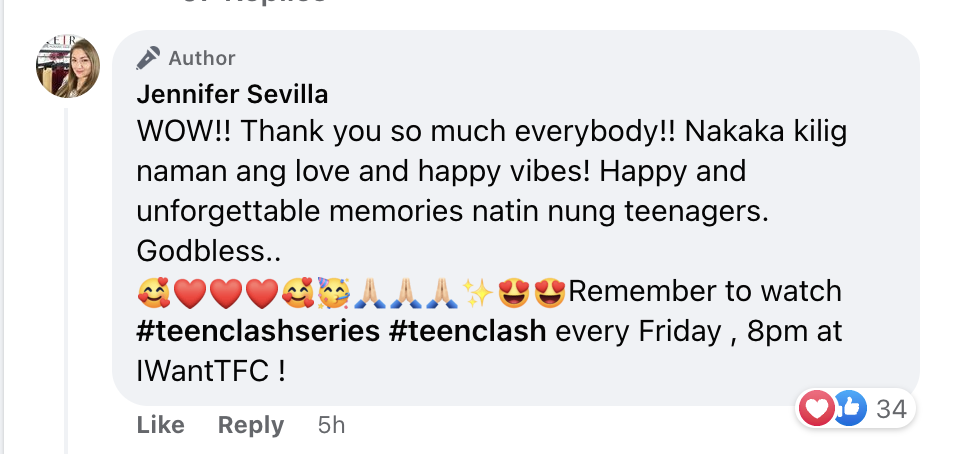 Jennifer and Romnick are curently both happily involved with their significant others.
Jennifer has been married to her husband Seymour Go for 16 years. They have two sons: Simon Rafa, 14, and Mavi, 10.
Romnick was previously married to actress-producer Harlene Bautista with whom he has five children. He is now in a relationship with actress Barbara Ruaro. They have a child together.
READ MORE: