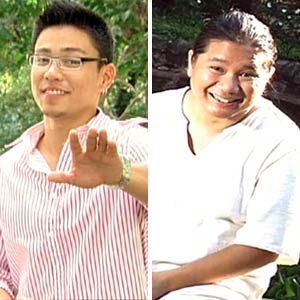 ---
Holy Week is the perfect time to get away from the hassles of city life and indulge in rest and relaxation. But the sheer effort, planning and expense it takes to go on an out-of-town vacation is almost as aggravating as staying in the city and working throughout the holidays.
ABC-5, in partnership with Jesuit Communications Foundations Inc., observes this season of reflection by offering viewers with programs that promise to be enlightening, entertaining and relaxing from Maundy Thursday (March 20) to Black Saturday (March 22).
Ang Pagtanggap: A Journey of Faith is ABC-5 and Jescom's Holy Week Special, which will be aired on March 20 at 5:00 pm, March 21 at 4:00 pm, and March 22 at 6:00 pm.
The 2-hour, 3-day Holy Week presentation will focus on the inner life of emotions and spirituality of eight retreat participants. Journey of Faith will trace how their spiritual understanding, acceptance and faith evolve with the help of the retreat master, Fr. Albert Alejo.
The eight pre-selected retreatants were cloistered at the Sacred Heart Novitiate retreat house in Novaliches, Quezon City, for two whole days. Through Fr. Bert's passionate and energetic style, they learned the importance of finding a sacred center and a sense of peace. Together, they discussed God's sacred vision. Fr. Bert helped them answer the questions that kept bothering them.
The retreat offered a quiet time for reflections and insights. Session after session, they developed a deeper connection to God, to others, and to themselves. The retreat helped participants cultivate a sense of peace and an awareness of the sacred in everyday life. The more they understand Church teachings, the deeper their "acceptance" of their faith.
Four TV specials/docu presentations produced by Jescom are also scheduled over three days starting with Tubig ng Buhay (7:00 pm, March 20). The catechetical documentary on "Baptism" which will help viewers understand the theology behind the sacrament. It is hosted by TV host and singer Gabe Mercado.
ADVERTISEMENT - CONTINUE READING BELOW
Panata (6:00 pm, March 21), is another reflection fare hosted by TV journalist Bernadette Sembrano and featuring Gaudencio Cardinal Rosales. It showcases the unusual journey of four individuals toward the fulfillment of their Christian vows—their commitment to life, marriage, charity and peace. This is followed by Gabing Kulimlim, a Kerygma Lenten TV Special hosted by the "preacher in blue jeans" and best-selling author Bo Sanchez.
Actor Drew Arellano narrates Paghilom (5:00 pm March 22), an hour-long Lenten presentation that explains why the blessed sacraments of "Reconciliation" and "Anointing of the Sick" have been so important in the life of the Church.
Viewers can also participate from their homes in the traditional Holy Week religious services, all of which will be broadcast live from the Church of Gesu at the Ateneo de Manila University Campus. Catch the Lord's Supper Mass, 4:00 pm on Maundy Thursday; Siete Palabras (Seven Last Words), 12:00 pm on Good Friday and Easter Vigil, 8:00 pm on Black Saturday.
Make this week holy and be sure to catch these special Lenten offerings that touch the heart and lift the spirit only from ABC-5 and Jesuit Communications Foundation Inc.