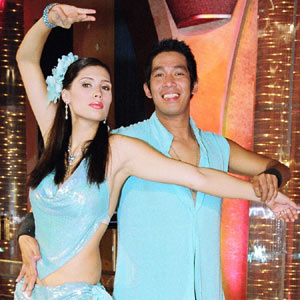 ---
Shall We Dance: The Celebrity Dance Challenge pairs a celebrity with a professional dance partner as they train and compete in front of a studio audience in a televised ballroom dancing competition.
It airs every Sunday on ABC-5 and is hosted by dance goddess Lucy Torres-Gomez with co-host Dominic Ochoa and Arnelli Ignacio. The competing pairs are judged by a panel of experts and the studio audience, with one couple being eliminated each week.
The formidable panel of judges consists of: Ednah Ledesma, Grand Prize winner in the Latin Dance Senior Category of the Latin Blackpool Ballroom Dancing Competition; stage director-actor Audie Gemora, and dancer-TV host Regine Tolentino.
Renowned choreographer Douglas Nierras also serves as a judge in the show once in a while. At the end of each performance, the judges give each couple a score. The couple with the lowest score will be eliminated. The contest, however, comes up with new rules for elimination every now and then in its aim to keep the competitors on their toes.
ADVERTISEMENT - CONTINUE READING BELOW
Now on its seventh season, this reality dance competition makes sure to come up with new and exciting gimmicks every week and every season. The audience always has something to look forward to every Sunday—what dances the celebrities will perform next, who will stand out on the dance floor, and who will be eliminated next. Moreover, the TV viewers are treated to seeing the stars in a different light and in their most candid selves, especially when trying to learn the intricate dance steps just to impress the judges and the audience.
The show premiered on Philippine television in November 2005 with four celebrity contestants—actor Gardo Versoza, Hot Babe JC Parker, boxing champ Onyok Velasco, and actress Angelu de Leon—comprising the first batch.
The second batch of contestants, introduced a few months later, included celebrities Long Mejia, Paolo Paraiso, Maui Taylor, and Angelika dela Cruz. It was in this batch that a pair got a perfect 10 score from a judge (for the very first time) and this was Angelika and her dance partner.
ADVERTISEMENT - CONTINUE READING BELOW
It was also in season 1 where, for the first time on television, a basketball player danced ballroom in the person of Ren-Ren Ritualo.
The third batch of season 1 was probably one of the most interesting batches. During this time, the show featured other celebrities such as Sheryl Cruz, Arnelli Ignacio, and Juliana Palermo.
Season two proved to be as exciting as season one. It was also a season of transformation. Sexy singer-actress Mystica transformed from a singing diva to a serious dance competitor. She was also the first celebrity to get perfect scores from all three resident judges.
Another highlight of this season was the transformation of Tirso Cruz III from a dramatic actor to a dance sensation. Tirso won in the grand finals, thanks to his dedication and commitment to the show.
Season three featured a mix of personalities on the dance floor. Roderick Paulate was pitted against Tuesday Vargas, Sheree, and Emilio Garcia in the grand championship night of Shall We Dance season 3. Roderick Paulate was declared the ultimate winner of this season.
ADVERTISEMENT - CONTINUE READING BELOW
The highlight of season four, in turn, was the grand finale showdown of the five finalists Archie Alemania, Alex Crisano, Amy Perez, G Tongi, and Carlos Morales. It was truly a celebration of different dances as these five fierce competitors, who are known in other fields, battled it out on the dance floor.
Season five took a different turn when Shall We Dance finally gave a chance to non-celebrity dancers. The show adopted the tagline: "It's your time to shine," emphasizing the amateur dancers' turn to grab the spotlight. Hundreds auditioned in the reality dance competition, hoping to get the rare privilege of being able to dance and compete in the show, and even win in the prestigious ballroom contest.
Season six featured a thematic approach where each batch of competing dancers had to follow a theme. There was a batch of dancers where Streetboys member Spencer Reyes was pitted against Body Language diva Pia Moran in the finals. There was also a batch of comedians who competed, with Empoy, Joy Viado, and Malou Crisologo vying for the title. There was an "all-singers" batch where Nina, Tuesday, and Sitti traded their microphones for their dancing shoes.
ADVERTISEMENT - CONTINUE READING BELOW
The seventh season of the show, which is ongoing, kicked off with not just three but five celebrity contestants in the first batch. In this season, SWD gave a second chance to former challengers who weren't able to make it to the finals during their first stint in the show. These were funnyman Long Mejia, actress Assunta da Rossi, boxer-turned-comedian Onyok Velasco, and sexy star Angelica Jones. SWD's very own Dominic Ochoa, Lucy Torres-Gomez's co-host since the show's inception, completed the line-up for the first batch.
Onyok and Angelica were the last two standing and competed in the finale with wildcard finalist Alex Crisano. For the first time in the show, a wildcard finalist won in the finals when Alex defeated Onyok and Angelica in one intense dance battle royale.
This Sunday, March 23, Shall We Dance: The Celebrity Dance Challenge welcomes a new batch of celebrity contestants as it airs at 9 p.m. on ABC-5. For batch two, Shall We Dance will feature celebrities who have already transformed themselves:
ADVERTISEMENT - CONTINUE READING BELOW
Teen star turned sexy starlet Michelle Madrigal, Fil-German beauty and Hot Babe Jen Rosendahl, Kilabot ng Senado turned big winner Keanna Reeves, noontime host turned vice-mayor Teri Onor and simple man turned rapper Gloc 9.
They will compete every week until someone transforms again, this time into a champion ballroom dancer.