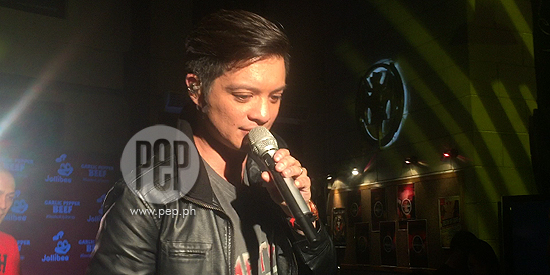 ---

Whenever Bamboo walks into a room, his magnetic presence, charm and quiet confidence instantly draws people's attention.
That's why he's perfect as the new AXE Black Man.
He tells us an anecdote of how he landed his latest endorsement.
He recalls, "What's great about this when they first presented and we talked about it, my manager spoke to me, he said, 'Check this out,' because the qualities that they were looking for in AXE Black were something similar to who I was.
"There was no changing myself, they wanted someone who's comfortable in their own skin and that's me these days."
The rock singer also reveals, "Abangan ng mga tao yung AXE Black Facebook kasi we're gonna be having AXE Pop Up Bars and events, I'll be there for the whole ride!"
These bars were all designed by the three celebrity ambassadors and the winning bar will be judged on concept, crowd impression, and votes. From June to August, the different brand ambassadors Victor Basa, Fabio Ide and Frank Magalona will have the chance to showcase their entries.
ADVERTISEMENT - CONTINUE READING BELOW
Bamboo comments, "It's great! The more the merrier. It should be fun for all of us, looking forward to working with them and just having fun."
THE VOICE KIDS SEASON 2. Bamboo is also excited about the second season of The Voice Kids.
He says, "Magte-taping na kami, and it's another year, I mean from our first season with The Voice Kids, Darren [Espanto], Lyca [Gairanod], look what's happened in the year so far.
"It's been so helpful so I look forward to mentoring the next batch of our season 2 of The Voice Kids."
With the incoming season, Bamboo says he won't be changing his coaching style.
The Pinoy rock icon asserts, "Yun talaga, when I say I'm a coach, I'm a coach talaga.
"Iba yung kids, yung dynamics sa adults, masaya lang.
"Yun ang gusto ko—na wala akong babaguhin, I just have to stick to my guns kung paano ako, yung prinsipyo ko kung paano ako nagsimula, kung ano gusto ko gawin, kung ano gusto ko ituro...
ADVERTISEMENT - CONTINUE READING BELOW
"Yung rule ko parati is growth of a prize, that's always my first rule, it's more of what I can teach them, even 'pag tapos na yung show, sana natuto sila, sana may na-absorb sila and sana they can move on with that.
"Yun ang importante. So sana manalo din yung akin!"
He is excited with the level of the competition.
He describes, "Parang season 2 ng adults. I think may level up na kasi mas madami na yung nag-audition, so kung saan nanggagaling yung mga bata, mas madami.
"They are coming from different parts of the world, the Philippines, napaka-interesting. Una, parang introduction lang yung The Voice. Now, everyone knows what The Voice is."
LEVEL-UP. In particular, Bamboo feels he is going to be a tough coach to beat this year.
He boasts, "I expect sa akin, sa mga bata, this year, level-up!"
When we ask him how he intends to level up the rest of his year, he quickly chimes in, "Uhm, I can't do it in a couple of words lang. Last year I tried to do it, I said I was gonna balance my life, and try to find that.
ADVERTISEMENT - CONTINUE READING BELOW
"I failed miserably. This year, it's balancing this and I'm coming up with my new album, that is something I really am dying for."
This is his sophomore solo album and Bamboo looks forward to what will happen.
So far, where has this album taken him? What has he learned of Bamboo, the person?
"That we don't know, but it's taken me on some sort of a personal journey.
"As always, I like to think it's captured how I felt these past few years—the circus. It should be fun. It should be fun."
PERSONAL CHANGE. How much of Bamboo, The Voice coach, has come in or affected his work as Bamboo, performer and singer?
He ponders, "No, there is no... there is no line, no title.
"I just go in there and I've been doing this for quite some time.
"I just go in like a student, like a newbie, that's the mindset that you come in fresh, with just fresh ideas and just try to find the distinct voice regardless."
ADVERTISEMENT - CONTINUE READING BELOW
Has The Voice itself had any effect on him though as a singer?
"I think what's changed is myself as a person.
"I'm someone who's sort of kept to myself, stayed within my same old group of people.
"And to open myself up to the public, and not only to them, to open up yourself, it's like adding another extension to the family when you have every season.
"That's how it feels like, it's a personal connection with each guy on the team."
He says this hits home hardest for him "especially when there are some guys on the team who you favor and really connect with, that's something special."
With all the musicians they listen to and hear about, is there any budding musician, outside of The Voice property that he is excited about?
Bamboo replies, "I don't know. I can't see that yet, I don't know.
"I'm strictly talking about music, right? I don't know yet.
ADVERTISEMENT - CONTINUE READING BELOW
"We shall see. I want someone to surprise me, that's the one thing. Kasi it's just hard.
"It's hard to sort of lock on to a particular artist these days because it's become a world of niches, right?
"Everyone is a niche now. So I say, pick your niche and then grow in it. That's my advice to any budding artist these days. Be your own voice, be special."