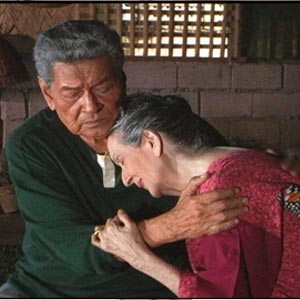 ---
This week's episode of Maalala Mo Kaya will remind everyone, cliché as it may sound, that first love never dies. Gloria Romero and Eddie Garcia are paired together in a heartwarming episode about two lovers who were separated when they were young but were reunited in old age to find happiness in each other's company until their last breath.
Maalala Mo Kaya (April 4 episode)
Director: Jeffrey Jeturian
Writer: Ruel Montanez
Cast: Gloria Romero as Etrona
Eddie Garcia as Panyong
Bembol Roco as Jun (Etrona's only son)
Megan Young as young Etrona
Janus del Prado as young Panyong
Archie Alemanya as Severo (Etron's Husband)
Glenda Garcia as Etrona's Mother
Simon Ibarra as Etrona's Father
Kyle Balili as Young Jun
Tanya Gomez as Jun's wife
SYNOPSIS. Jun (Bembol Roco) recounts the love story of his mother and her one great love. He comes to realize that true love neither ages nor fades away.
ADVERTISEMENT - CONTINUE READING BELOW
During her early years, Etrona (Gloria Romero) was hailed as the most beautiful lady in their barrio. But she was illiterate since her father forbade her from going to school because they were poor. She had always dreamed of becoming a teacher. She had a childhood playmate named Panyong (Eddie Garcia) who lived next door and eventually became her boyfriend when she turned 13. They dated each other in secret. But when Etrona was 16 years old, she was introduced to a 30-year-old man who just came from America. After a short time, she was married to the much older man.


Etrona had to leave her boyfriend and her family to move in with her new husband. She bore him a son but she chose to stay in a separate room from her husband. She would tell stories of her former lover to her son. Several years passed and Etrona became a widow in her old age.


One day, an old man came to their house, looking for Etrona. He turned out to be her long lost lover Panyong. Now 80 years old, he was also a widow and had been looking for Etrona. They spent several days together, reminiscing their happiest memories in the past. Unable to contain their feelings for each other, they eloped to Panyong's home in Isabela. There, Etrona eventually died and after a few months, Panyong breathed his last as well. They died happy, knowing that they would always have their perpetual love.
ADVERTISEMENT - CONTINUE READING BELOW

Maalala Mo Kaya, hosted by Charo Santos-Concio, airs Friday nights on ABS-CBN.