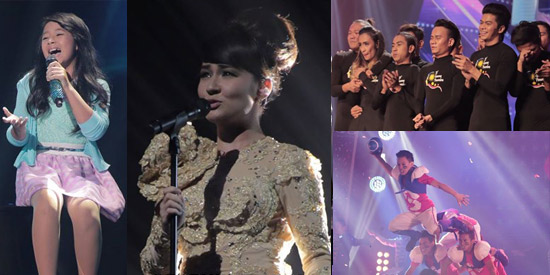 ---

Four Filipino acts brought honor to the country by competing in the grand finals of Asia's Got Talent.

Representing the Philippines in the pan-regional talent search are two singers, a dance act and a shadow play group.

Gerphil Flores and Gwyneth Dorado wowed judges and viewers with their singing prowess, Junior New System showcased their explosive dance skills while shadow dancers El Gamma Penumbra touched hearts with their moving messages.

Broadway star Lea Salonga showed her support for Gerphil by posting on her Twitter account:

"Dear Gerphil Flores, whatever happens at AGT, know that you are incredibly talented with a voice that could've only come from the heavens."

Regine Velasquez also showed her support for Gerphil by posting the voting code on her Instagram account.

Asia's Songbird posted this as her caption: "Let's all vote for our #pinoypride God Bless Gerphil Flores."

In 2010, Gerphil (who was known back then as Fame Flores) joined Pilipinas Got Talent Season 1 but only reached the competition's semi-final round.

(Read: Gerphil Flores THEN AND NOW: missed out on Pilipinas Got Talent to Golden Girl in Asia's Got Talent)


The other AGT finalists were from China (Gao Lin and Liu Xin), Singapore (Dance Thrilogy), Thailand (Talento), Mongolia (Khusugtun), and Japan (Triqstar).

The winner will receive $100,000 and an opportunity to perform at the Marina Bay Sands in Singapore.

Asia's Got Talent is hosted by Marc Nelson and Rovilson Fernandez. The judges were Grammy-winning musician David Foster, Taiwanese-American heatthrob Vanness Wu (of F4 fame), former Spice Girl Melanie C., and Indonesian rock icon Anggun.

Viewers will get the chance to choose who wins the first season of AGT.

Asia's Got Talent will conclude tonight, May 14, on TV channel AXN.

PEPsters, who do you think will be named as the first winner of Asia's Got Talent?

Here are the nine finalists of AGT:


Gao Lin and Liu Xin

China

Semi-final 1 (16 April 2015, Golden Buzzer from Melanie C)

The loving pair first became dance partners seven years ago in an acrobatic troupe. Romance blossomed between the talented duo and they have dated for the last four years. They hope to spread their name and showcase their craft on Asia's Got Talent.

Gwyneth Dorado

The Philippines

Semi-final 1, Viewers' Votes

The 10-year-old girl began singing at the very young age of three. She began playing the guitar two years ago with help from her father, after receiving the instrument as a gift. Gwyneth dreams of holding her own concert one day.



Triqstar

Japan

Semi-final 1, Viewers' Votes

Japan-based dance group Triqstar specializes in combining traditional Kabuki elements with new-age dance. Helmed by their charismatic leader-cum-choreographer, Dayoshi, the group hopes to touch people around the world with their performances.


Junior New System

The Philippines

Semi-final 2 (23 April 2015), Golden Buzzer from judges

The 9 young hip-hop dancers are from underprivileged families in Manila. Dancing enabled them to find new hope and drive in life and they are happy to continue dancing for the rest of their lives. They are aiming to win Asia's Got Talent to help their families.


Khusugtun

Mongolia

Semi-final 2, Viewers' Votes

The six Mongolian singers got together in 2009, first meeting during their time in college studying music and dance. They hope to spread Mongolian culture and music and see Asia's Got Talent as the stage for them to realize their dream. They plan to travel to perform should they win.


Gerphil Geraldine Flores

The Philippines

Semi-final 2, Viewers' Votes

The beautiful and gifted classical singer once lacked confidence to perform and was unsure about her vocal abilities. Gerphil's mother helped calm her fears and nerves. Gerphil is a student of the University of the Philippines College of Music. She dreams of performing with Andrea Bocelli one day.


El Gamma Penumbra

The Philippines


Semi-final 3 (30 April 2015), Golden Buzzer from Anggun

El Gamma Penumbra began as hip-hop dancers but decided to try dance with shadow play to stand apart from the many dancers back home. Their group name "Gamma" means "ray of light" while "Penumbra" means "shadow." They seek to inspire others and offer hope through their performances.



The Talento

Thailand

Semi-final 3, Viewers' Votes


These aspiring rockers ages 11 and 12 got together as a band three years ago as they shared the passion for rock music. They grew up together and are currently studying in the same school and practice after classes. They dream of releasing their own album and winning the adulation of many fans.


Dance Thrilogy

Singapore


Semi-final 3, Viewers' Votes


The next generation of girl power has been performing together for two years. These 11 girls are passionate for tap-dancing where they need to dance together to produce the amazing rhythm that can be felt and heard. They hope to continue their pursuit of dance after Asia's Got Talent.


ADVERTISEMENT - CONTINUE READING BELOW