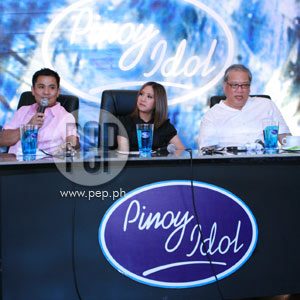 ---
The pilot episode of GMA-7's Pinoy Idol showcased the auditions from Mindanao, allowing the show to receive a rating of 26.3% on its pilot episode last Saturday, April 5.
Aspiring Idols have to receive two YES votes from the three judges—Ogie Alcasid, Wyngard Tracy, and Jolina Magdangal—to get a "Golden Ticket" to Manila. However, if the aspiring singer gets two NO votes then it means his/her Pinoy Idol journey ends there and then.
A lot of hopefuls from Mindanao tried their luck. The show highlighted those with interesting stories to tell, those who tried to sing but ended up making the judges laugh, and of course, those who shined and serenaded our judges, thus, earning the coveted golden ticket.
CAGAYAN DE ORO. One of the aspiring Idols who stood out was Mawi, a Muslim from Raja Soliman. When auditioning in previous singing contests, he tried to conceal his religion and even changed his name because there were times when he experienced discrimination because of his religion. This time, he became true to himself. Ogie found his life story very interesting and gave him a YES. Jolina thought he was still too shy so she gave him a NO. Wyngard thought Mawi had something to prove and gave him the much needed YES vote. The journey goes on for the Muslim singer.


ADVERTISEMENT - CONTINUE READING BELOW
Another Idol contestant was Jazzy, who said she was happy to be given the chance to face the judges. She revealed that she is a lesbian and even showed the Pinoy Idol judges a collage of pictures depicting her story. The judges, unfortunately, unanimously gave her a NO. She received the decision graciously and asked for a hug from her idol Jolina.
A lot of the contestants traveled over 700 kilometers to SM Cagayan de Oro, where the auditions were held. Singers RJ and Darlene were among those lucky enough to be chosen to travel to Manila for the next round of eliminations.
DAVAO. Most of the kengkoys or comedians shown on the pilot episode hailed from Davao. They gave singing a shot and most of them were horrendously shooed away by Wyngard. One particular Idol wannabe was told to try anything except singing since, according to Wyngard, he surely didn't have any talent for it. The talent manager's harsh remarks were similar to the style of Simon Cowell of American Idol fame.
ADVERTISEMENT - CONTINUE READING BELOW
But, of course, not all Davao singers were that bad. One of the deserving contestants is Gemma, a pastry chef in Davao. A bit on the chubby side, this girl managed to lose 112 lbs, stay fit and maintain her nightingale voice. She sang "Killing Me Softly" with excellence and got the judges to unanimously vote a YES.
A grandson of a Sultan of Cotabato also tried auditioning for Pinoy Idol. Unfortunately, Datu didn't make it and he was teary-eyed when he left the audition room. Another unsuccessful Idol contestant is a rocker who works as a tailor of sportswear, clothes and gowns. He came in wearing an all-black ensemble similar to a '70s rock star. The judges didn't think he had the potential to join Pinoy Idol and Wyngard advised him to just be a costume designer.
The pilot episode of this reality singing competition was filled with emotions and stories of forbidden love, orphaned children, and talented comedians.
ADVERTISEMENT - CONTINUE READING BELOW
The April 12 episode of Pinoy Idol will feature the auditions in Visayas. Watch this reality singing competition hosted by Raymond Gutierrez every Saturday after Pinoy Records on GMA-7.